School bus driver had 4 Fireball shots before crashing
February 10, 2015 - 8:21 am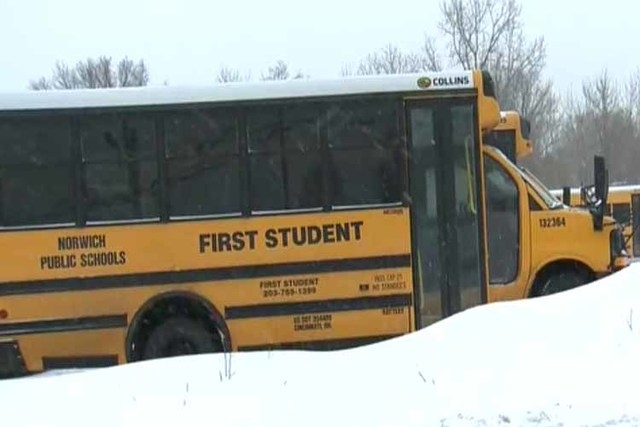 NORWICH, Conn. — A school bus driver faced a judge Monday after being charged with driving under the influence after crashing a bus full of students.
The crash happened on Friday morning where the bus being driven by Edwin Gonzalez crashed into a parked motor vehicle in Norwich.
Officers were called to the crash on North Main Street around 7:30 a.m. Police said the bus attempted to "flee the scene without stopping."
A call came from an eyewitness who said he saw the bus strike a snow bank and was swerving around the road, and driving the wrong way down a one-way street, and then hit a mirror of a parked car.
According to court records, Gonzalez, 30, didn't know he went down the wrong way, and admitted to forgetting to pick up a student and having to backtrack his route.
When police looked on the bus, there was Gonzalez, a driver's aide and seven students. None reported to police they were injured.
Police said, according to documents, they did not smell alcohol on Gonzalez but his eyelids were heavy.
A field sobriety test was given and Gonzalez reportedly could not follow pen direction smoothly, and was detained. He did, however, pass a breathalyzer with a .000 blood alcohol level.
According to documents, Gonzalez admitted he works as a bouncer at a bar and had four shots of Fireball around midnight, and had left work and went to bed at 1:30 a.m.
He also admitted to taking muscle relaxers because he was sore from shoveling and took a Percocet the day before. However, that drug was never prescribed to him.
"I would never put my kids on a bus and not be sure they're safe. I want somebody who knows what he's doing," said Raffalla Thompson of Norwich.
When Gonzalez took a breathalyzer it was 10 a.m., eight hours after he admitted to drinking the shots and even though his BAC came back clean, parents said they aren't cutting him any slack.
"No excuse at all," said David Thompson of Norwich.
Police said Gonzalez provided a urine sample, however the tests haven't come back yet which is partly why his bond was set at $5,000.
Gonzalez is expected to appear in court again March 2.
Gonzalez, who got his commercial driver's license in August 2014, completed the state's alcohol education program in March 2005 for an incident that occurred in April 2003, according to Department of Motor Vehicle records.
That incident was scrubbed off his record after 10 years.
After Friday's incident, DMV officials said Gonzalez's commercial license has been suspended.
Besides DUI, Gonzalez was charged with driving under the influence of alcohol or drugs, reckless driving, evading responsibility second-degree, reckless endangerment and two counts of risk of injury to a minor.