Sci Fi Center evolves as a subcultural hub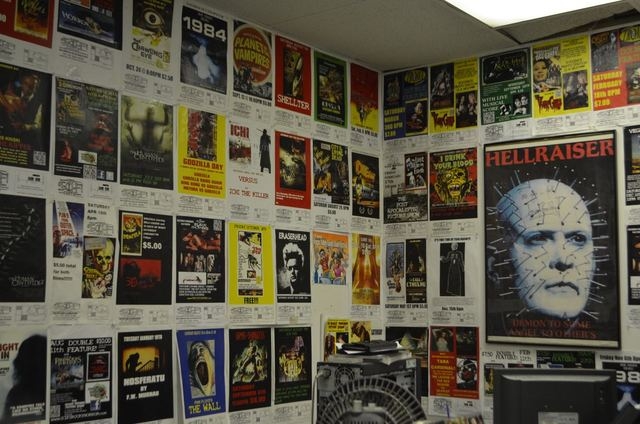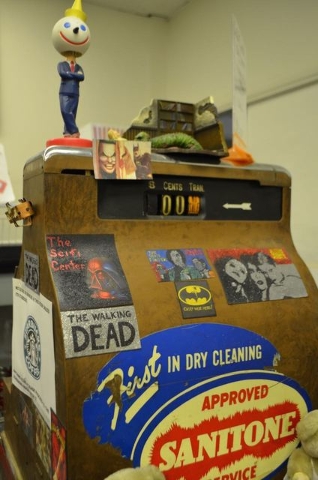 One block south of The Orleans, a former garage at 5077 Arville St. draws unique crowds.
The Sci Fi Center is home to horror film buffs, improv actors, fans of nerdy burlesque, "The Rocky Horror Picture Show" followers and more.
In the front, owner William Powell runs a shop selling comics, graphic novels and art alongside science fiction and horror toys and movies. In the back, 60 seats face a film screen and a stage that is home to a variety of performance groups.
"We're not giant," Powell said. "We're not even really a theater. It's a screening room — a multimedia room is what I call it."
Crowds range from six to 60.
"There is a subculture that knows who we are," Powell said. "We try to do things that you really can't do or see anywhere else."
Sometimes, that's "Night of the Living Dead," with full-on effects packed with blood and brain matter blowing up in the audience, and other nights, it's a much-tamer screening of the 1922 silent film "Nosferatu" or the 1931 film "Dr. Jekyll and Mr. Hyde," backed up with the original soundtrack played live on piano.
Other cinema offerings have included marathons of popular comic book-inspired films, showings of cult classics such as "The Princess Bride" and big draws like a screening of "Hellraiser" with Doug Bradley, who played lead cenobite Pinhead, providing live commentary.
What audiences won't see is anything common in the local cineplex.
"I'm not much into romance or anything like that," Powell said. "Drama is cool, but the stuff I grew up with and have always been close to is science fiction, horror and fantasy."
From the time the center owner was 14 growing up in California, he dreamed of running a comics shop. He went into the Army Reserve, and during basic training, his parents moved to Las Vegas. When he got out, he made the move, too, and started his first shop.
Along the way, he became acquainted with artists doing shadow casting of "The Rocky Horror Picture Show." Shadowcasters dress up and reproduce the action on a stage as the film runs in the background. The audience gets into the fun with costumes and props.
"At that particular time (around 2006), there were not a lot of places that would house those shows," Powell said. "As a sponsor, I got kind of tired of being turned down, so we decided to build our own environment to house that kind of stuff."
The center's first film screen was a tarp painted white. Now, several locations later, it has a professional movie screen made from vinyl. Powell doesn't like to count how many locations he's been through, but it's at least seven or eight.
"The number makes it seem like it's a little bit more haphazard than it really is," he said. "All the moves had a purpose. What brought me to this location (the center's home since November) was the size: Both the width and the height of the ceilings gave me an opportunity to build things the way I wanted to build them, and I didn't just want general walk-through. If you came here, it's because you meant to get here. I was dealing with a lot of random walk-through, and it's just not something I wanted to do anymore. We have a target audience. It's a destination point; if you're here, you're meant to be here."
Powell and his sister Jackie Powell run the shop and the film offerings and leave the live shows up to individual groups.
Directors Cristina Iglesia and Maribel Paez put on a sci fi-themed burlesque show called "A Typical Saturday Night" at 10 p.m. every third Saturday at the center.
"We just like the environment," Paez said. "William sets up a speakeasy kind of environment. It's hidden but not hidden. It's just a cool, cool feel."
The May show was space-themed, with women disrobing in tributes to "Star Trek," "Doctor Who" and "Star Wars." June's offerings are slated to be animation-themed. Other upcoming themes include Day of the Dead, steampunk, spy movies such as the James Bond series and a grand finish with an apocalypse theme for December.
"Because it's the end of the year," Paez said. "It is a lot of fun. It's a fully produced show; it's not just burlesque. We have variety in there, as well."
Iglesia and Paez hope to keep fans coming back with fictional characters, a couple of Eastern European girls dreaming of making it to Hollywood via Las Vegas. Their alter egos, Midna and Marijka, interact with magician Bizarro Galore and the audience between acts.
"We do our homework," Paez said. "We actually speak real Russian on stage," learned courtesy of YouTube.
"As the show progresses, more of the story comes out," she said. "We wanted something different, not just another burlesque show. We wanted to make it more entertaining and interactive with a full plot line."
Another show Powell is working on features Sean Smith, aka the Sinister Minister.
"I've been trying to work with him for six years, but our schedules never really worked out, and now they do," Powell said.
Once it launches, the show is slated for 10 p.m. Sundays. Powell said to expect something "like Elvira but a little more Satanic. He's got the full-on makeup, the alter girls, the candles — it's like 'Mystery Science Theater,' except with Satan. He has lightning and smoke; it's kind of cool."
The current Sunday draw is free screenings of the HBO series "Game of Thrones." Powell said tourists flock into the shop to catch the show when they find themselves in hotels that don't offer HBO.
One thing audiences are unlikely to see is a performance featuring Powell.
"You don't want to see me on stage," he said. "I'm not for public consumption. I don't even put my name on my business cards. I didn't name it William's Horror Shop or William's Comics. That puts the focus on the person instead of what you're doing."
For more information on The Sci Fi Center, visit thescificenter.com or call 702-792-4335.
To reach View contributing reporter Ginger Meurer, email gmeurer@viewnews.com. Find her on Twitter: @gingermmm.