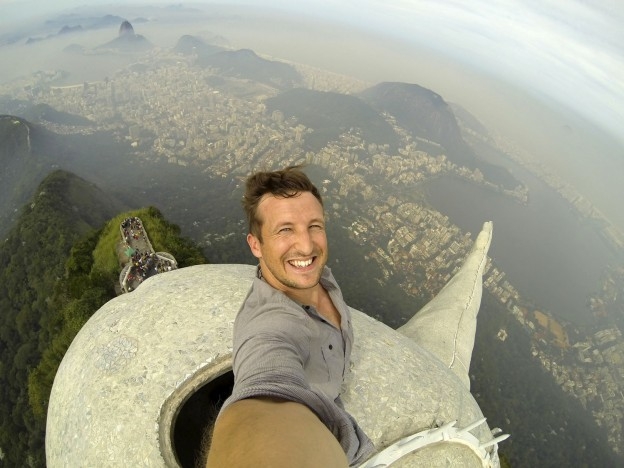 Ugh. Selfies.
Nothing seems more self-serving and "middle school" than snapping a photo of yourself and plastering it all over social media for whatever purpose you come up with to justify it.
At least that's what someone told me.
However, there is one exception: Extreme seflies.
Still self-serving, but at least you give your audience something else to look at beyond your familiar face.
Which brings me to Lee Thompson, photographer and co-founder of The Flash Pack, a British travel and adventure blog.
Thompson is in Rio De Janiero for the upcoming World Cup and was granted "extremely rare access inside the Christ The Redeemer statue."
And let's just say he took full advantage of the opportunity.
"When the opportunity arose to take the world's first (and so far only) selfie with Jesus, I couldn't resist," Thompson wrote on his blog.
Good call.
On May 29, Thompson and a colleague, accompanied by their GoPro cameras, "crawled in circles up 12 flights of rickety stairs" for 20 minutes before emerging from the "pressing heat" and "pitch darkness" through Christ's shoulder and evenutally on the head of the 124-foot statue.
"Talk about a religious experience!" Thomspon wrote.
Or that might just be the vertigo setting in.
Then Thompson does some deep thinking on selfies.
"To some, taking pictures of yourself is considered vain," Thompson wrote, "but this once-in-a-lifetime opportunity taught me that the selfie is a powerful medium through which we can share our perspectives, inspirations and personal stories with the world at large."
Okay, fine. But most 13-year-olds struggle with perspective.
Have you seen a video you'd like to share? Contact Graydon Johns at gjohns@reviewjournal.com. Find him on Twitter: @gjohns