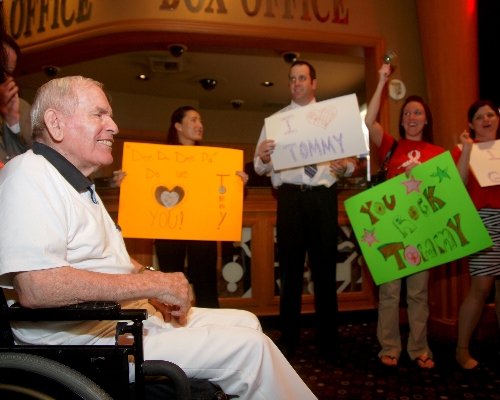 HEALTH FAIR FOR GOVERNMENT EMPLOYEES PLANNED FOR FRIDAY
A free health fair for current and retired federal government employees and their spouses or survivors has been scheduled for 9 a.m. to noon Friday in the second-floor ballroom at the Suncoast, 9090 Alta Drive. The event is sponsored by the National Active and Retired Federal Employees Association.
Representatives from the Federal Employees Health Benefits Program, including Blue Cross-Blue Shield, GEHA, Mail Handlers, United Healthcare and the Health Plan of Nevada are expected to attend and answer questions about 2013 health benefits. For more information, contact Jerry Mork at jmork26621@aol.com.
NEVADA PUBLIC RADIO PLANS
RECYCLING EVENT
Nevada Public Radio is planning a fall recycling event from 8 a.m. to noon Saturday at The Donald W. Reynolds Broadcast Center at the College of Southern Nevada, 1289 S. Torrey Pines Drive. The event is free and open to the public. Participating organizations and services available are:
Shred-it: paper shredding, document destruction and computer hard drive destruction for working and non-working hard drives. Hard drives must be removed from the computer before they will be crushed, and the crushed hard drive remains will be recycled.
Blind Center of Nevada: recycling or repurposing electronics such as computers (including data erasing), printers, appliances, mobile phones, etc.
Republic Services: recycling of commingled household and business recyclables such as plastic bottles, metals including steel and aluminum cans, cardboard, magazines, newspapers, junk mail, phone books, paper bags and glass (separation of materials is not required). For more information, visit www.knpr.org.
MGM RESORTS EMPLOYEES PLEDGE HOURS FOR MAKE A DIFFERENCE DAY
MGM Resorts employees pledged more than 2,000 volunteer hours, helping nonprofit organizations serve the communities for Make A Difference Day Oct. 27. Some volunteering took place during the week. Make A Difference Day saw more than 350 employees donate their time to organizations including Catholic Charities of Southern Nevada, Three Square food bank, Blind Center of Nevada, the Clark County Graffiti Abatement Program, Habitat for Humanity, the National Park Service and the Springs Preserve. In addition to participating in Make A Difference Day projects, MGM Resorts employees volunteer regularly throughout the year. So far, employees have logged more than 73,000 volunteer hours and have helped more than 820 nonprofit agencies meet community needs in 2012. For more information, visit mgmresorts.com.
HELPING HANDS SURGICAL CARE PLANS SECOND ANNUAL CHARITY SURGERY DAY
Dr. Kevin Petersen and his wife, Kelly, co-founders of Helping Hands Surgical Care, plan to host the second annual Charity Surgery Day Nov. 13.
Helping Hands Surgical Care is a nonprofit organization with the mission to fund and facilitate surgeries for uninsured Nevadans without the means to pay for medically necessary procedures. HHSC doctors will provide 10 free surgeries Nov. 13 to uninsured Nevadans without the means to pay and who do not qualify for government assistance.
HHSC is seeking patients who may qualify. Applicants must qualify both financially and medically. To review patient eligibility requirements and apply, visit helpinghandssurgicalcare.com and click on the "How to Apply" link.
FREE BEREAVEMENT SESSIONS OFFERED
FOR TEENS
The Center for Compassionate Care division of the Nathan Adelson Hospice is offering a series of free bereavement support groups for teens 13 to 18 who have experienced a significant loss.
The support group plans to meet from 6 to 7:30 p.m. Wednesdays, ending Nov. 14, at The Center for Compassionate Care, 4131 Swenson St. The program will explore grief, loss, emotional responses to memories and events surrounding loss, and coping skills.
To register, call 702-796-3167 or Christine Zazzeri at 702-796-3126. For more information, visit nah.org.
FLU VACCINATIONS AVAILABLE
ACROSS THE VALLEY
The Southern Nevada Immunization and Health Coalition and its partners plan to host no-cost flu immunization and health clinics from 9 a.m-noon Nov. 14 at the St. Rose Dominican Hospital San Martin Campus' Aljian Conference Center, 8280 W. Warm Springs Road; and noon-3 p.m. Dec. 8 at the Clark County Fire Department Station 26, 4030 El Capitan Way.
The Centers for Disease Control and Prevention's Advisory Committee on Immunization Practices recommends that everyone 6 months or older receive the flu vaccine each year. The clinics will provide shots on a first-come, first-served basis. Children older than 6 months, adolescents and adults are eligible for the inoculations.
For more information, visit snicnv.org.
Volunteers needed to transport patients to cancer treatments
Every day, thousands of Las Vegas cancer patients need a ride to their cancer treatment but don't have a means to get there. The American Cancer Society Road to Recovery program provides transportation to and from treatment for people unable to drive themselves. The program has just 50 drivers enrolled and the current need demands at least 100 to meet all the requests.
"We're in desperate need of volunteers," said Debra Armstrong, Quality of Life Manager in Las Vegas. "It's the perfect opportunity for students, members of retirement communities or anyone with just a few hours a week to step forward. We can raise all the money in the world, but if these patients can't get to their treatment, we're not meeting their needs."
Volunteer drivers must have a valid Nevada driver's license, a safe, reliable vehicle, proof of automobile insurance, a safe driving history and be in good health. The commitment is about four hours a week however it works with volunteers' schedules.
For more information, call Armstrong at 702-891-9023.
BRANDEIS COMMITTEE SET TO HOLD GENERAL MEETING NOV. 15
The Brandeis National Committee, a charitable, non-sectarian organization that supports Brandeis University, is scheduled to hold its general meeting at 7 p.m. Nov. 15 at Charlie's Lakeside, 8603 W. Sahara Ave. The cost is $10 and includes appetizers and one free soft drink, beer or wine.
The guest speaker is set to be Dr. Sondra Cosgrove, who will evaluate what kind of changes residents can expect in the next four years as a result of today's election.
Make a reservation by mailing a $10 check to Marilyn Shocket, 8837 Cortile Drive, Las Vegas, NV 89134. For more information, contact Meera Kamegai at meerakamega@cox.net or 702-845-3177.
IN PURSUIT OF EXCELLENCE GALA
TO RECOGNIZE NOBEL PRIZE WINNER WIESEL
The eighth annual In Pursuit of Excellence Gala is planned for 6:30-11 p.m. Nov. 17 at The Venetian, 3355 Las Vegas Blvd. South.
It will honor Holocaust survivor, Nobel Peace Prize winner and "Night" author Elie Wiesel for his literacy and activism in human rights. Live and silent auctions, a dinner and dancing are planned.
Tickets start at $250 per person. To purchase tickets or to make a donation, visit adelsoncampus.org or contact Davida Sims, Adelson Educational Campus director of development, at 702-515-8203.
TURKEY-A-THON PLANNED
BY HELP OF SOUTHERN NEVADA
HELP of Southern Nevada, 1640 E. Flamingo Road, is planning a Turkey-A-Thon Nov. 15-17 to benefit families in need.
Each Thanksgiving, HELP of Southern Nevada provides more than 1,200 families with a turkey for dinner. Donations of frozen turkeys and fixings will be accepted Nov. 15-17 at several specific locations to be announced soon. Those wishing to donate money online can do so at helpsonv.org/get_involved-donate.php with Thanksgiving in the subject line. A family of four can be fed with $35.
MAMMOVAN SCHEDULED TO OFFER
LOW-COST BREAST CANCER SCREENING
Thanks to a $10,000 grant from Food 4 Less, Nevada Health Center's Mammovan is scheduled to offer its last low- to no-cost breast cancer screening from 8:15 a.m. to 3 p.m. Nov. 21 at 2255 Las Vegas Blvd. North. For more information, visit nvhealthcenters.org.
DIVORCE INFORMATION GROUP PLANS MONTHLY MEETINGS
Second Saturdays Las Vegas is offering workshops from 8 a.m. to 1:30 p.m. at CoBiz CoWorking Space, 6445 S. Tenaya Way. The workshops offer information to women seeking or going through a divorce.
Following the business model of wife.org, the originator of the Second Saturday Divorce Workshops program, Second Saturdays Las Vegas has created a monthly seminar featuring financial advisers, divorce attorneys, family therapists and mediators to guide women through the next steps of divorce.
Professionals presenting information include: the divorce process and legal fees; protecting yourself legally and financially; child custody and child and alimony support; information about dealing with a hostile spouse; helping your family cope with the stress of divorce and rebuilding self-esteem; preparing for divorce; dividing property and the tax consequences of divorce; and avoiding divorce court and the benefits of the collaborative law process.
For more information about Second Saturdays Las Vegas and upcoming workshops, visit secondsaturdayslv.com.
HELP OF SOUTHERN NEVADA SEEKS
HOLIDAY VOLUNTEERS
HELP of Southern Nevada is calling for volunteers to assist with a number of programs this holiday season. Assistance is accepted from individuals who can donate any amount of time.
Areas where volunteers are needed include: assisting clients with their applications for holiday programs at HELP's main campus, 1640 E. Flamingo Road; assisting in receiving donated Thanksgiving turkeys at various locations (turkeys will be given to more than 1,200 families); and assisting in receiving holiday gifts for selected clients in the Adopt-A-Family program.
To volunteer, contact Joan Lima at jlima@helpsonv.org or 702-369-4357.
AARP TAX-AIDE SEEKING VOLUNTEER HELP
AARP Tax-Aide NV, which prepares free personal income tax returns for residents in the lower- to middle-income brackets, is seeking unpaid volunteers to prepare taxes, greet clients and program computers in early 2013. Training is scheduled for Jan. 7-11 on the west side of the Las Vegas Valley and Jan. 21-25 on the east side. For more information or to volunteer, email taxesbarb@cox.net or jerrytaxes@cox.net.