October 16, 2010 - 11:00 pm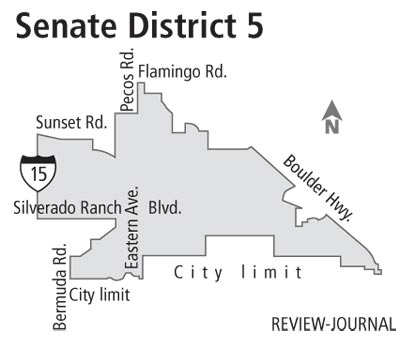 An ugly and expensive battle is under way in state Senate District 5, where Democratic incumbent Joyce Woodhouse and Republican challenger Michael Roberson have been trading blows in a series of slick mailers.
Some of the nastiest attacks have come from the Democratic Party and don't have Woodhouse's name on them. They paint Roberson as someone who wants to fire thousands of teachers and issue sidearms to the ones who are left.
Roberson has fired back with his own fliers that label Woodhouse as an "extreme liberal" and a "loony" who "can't stop lying."
"It's a good indicator of how worried the Democrats are about losing this seat," Roberson said. "They're just making stuff up."
For the record, he said he has never advocated firing thousands of public workers or letting kindergarten teachers carry guns in class.
Woodhouse said she had nothing to do with the attack ads and never saw any of them until they landed in her mailbox. She said negative campaigning is not her style but acknowledged that it is part of how the political game is played.
"I am the only Democratic incumbent on the Senate side," she said. "This is a competitive race."
Woodhouse, who spent 40 years as a teacher and administrator for the Clark County School District, said she is seeking a second term because "the task is not done" in Carson City.
Without offering specifics, she said she expects lawmakers to find more budget cuts and efficiencies during the upcoming session without harming core services.
She also said some form of tax increase should be discussed, though she wants more study before she comes out in favor of anything.
The most important task, Woodhouse said, is for the state and its stakeholders to come together and decide on a broader vision for Nevada going forward.
"We need to look into the future. We can no longer Band-Aid as we have for so many years," she said.
Roberson said he wants to bring a private sector approach to a Carson City dominated by public sector influence.
That would mean reductions in state spending, some layoffs and some common-sense adjustments to salaries and benefits for public employees, he said.
But he insisted he isn't out to slash and burn state government. In fact, he thinks some workers are underpaid.
"My wife is a public school teacher," Roberson said. "I think the world of teachers. I think they should be paid more, especially the good ones."
On the revenue side, he said businesses need fewer taxes, not more, to help them create jobs.
Roberson has never run for public office before. He moved to Las Vegas in 2000 after working in Washington, D.C., first as an intern for then-Rep. Tom Delay, R-Texas, and then as a GOP fundraiser.
He now works as an attorney representing small businesses and the commercial real estate industry.
Contact reporter Henry Brean at hbrean@reviewjournal.com or 702-383-0350.
2010 GENERAL ELECTION VOTER GUIDE
STATE SENATE DUTIES
The duties of state senators include passing state laws, approving the state budget and reviewing the performance of state agencies. They serve four-year terms. Candidates who prevail in this year's election will be paid $8,760 for the first 60 days of the 120-day regular legislative session. They also will receive $161 a day for living expenses and reimbursement for housing, travel and other expenses.