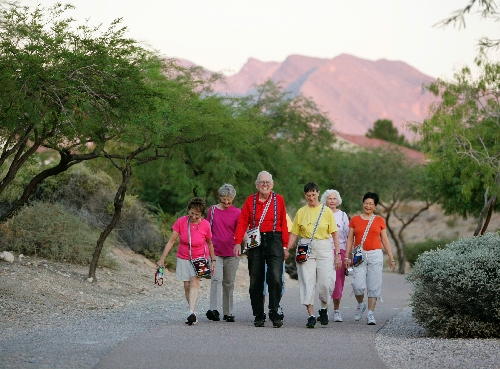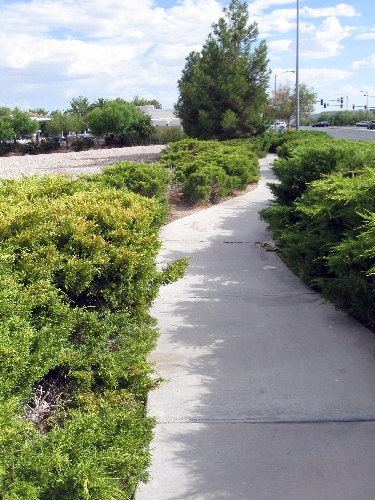 Walkability —- it's the new catch phrase for urban spaces.
Otha Spencer-Williams, 75, lives in Sun City Summerlin and walks every day. She and her friends formed an informal walking group, WEE (Walking, Eating and Emailing) Friends. The oldest member is 83.
In the past 10 years, the group has tackled various routes in Sun City and walked all the trails in Summerlin. They walk an hour each day.
"When it's hot, we're walking from (5 to 6 a.m.)," she said.
The trails in Summerlin, she said, are different distances and very attractive, and there's quite a distance before encountering a crosswalk. Spencer-Williams said when out-of-town friends come to visit, she lets them walk the Strip.
"Then I take them to show them 'my' Las Vegas," she said. "And that includes Red Rock (Canyon). And I'll take them on our trails in Summerlin, so they get a different view of what Las Vegas is all about. They like it (the trail system); they enjoy it. From where they've come, they walk on sidewalks in the city, not designated trails."
According to walkscore.com, six out of 10 Americans say they would prefer to live in walkable neighborhoods. The online group rates neighborhoods, providing detailed data on walkability for 2,500 cities and 6,000 neighborhoods across the United States. Another site, planetizen.com, ranked America's most walkable cities and metropolitan areas. Of the top 40, Las Vegas came in at 16th place.
"Walkable metros," it said, had higher levels of highly educated people (44 percent). Perhaps more significantly, they also had higher incomes (64 percent).
Want to see how your immediate area is rated for walkability? Type in your address at walkscore.com to see how your neighborhood rates in its walking accessibility to amenities such as restaurants, grocery stores, parks, book access, bars and schools. Type in 11011 W. Charleston Blvd., for example, and Red Rock Resort gets a walkability rating of 86 out of 100. The Lakes tab reveals that the general area received a score of 57, rated by the site as "somewhat walkable."
The Outside Las Vegas Foundation plans guided walks on trails inside the city of Las Vegas. Its site lists a number of walking trails in the valley, many within the city limits, such as the 3.1-mile Angel Park Loop Trail that begins near Bruce Trent Park, 8851 Vegas Drive. For more information, to register for walks and to suggest your own favorite trail, visit meetup.com/urban-trails. For more information, call 702-530-3143 or 702-789-3355, or e-mail volunteer@
outsidelasvegas.org.
In July 2011, Clark County District Attorney Steve Wolfson, then the Ward 2 city councilman, hosted an event at Peccole Ranch to get input on a proposed trail that included The Lakes community's perimeter, part of the city's master plan for 2020. Attendees gave input on the vision to connect the area to city trails such as the Durango Drive arm that loops around Bruce Trent Park. The plan would take out sidewalks that abut busy streets and move them back, giving them a meandering effect and planting trees as a safety barrier from rogue vehicles.
That sounded appealing to Barbara Alitt of Summerlin, who walks twice a day and said she sometimes uses golf courses for the shade.
"I can understand that they want to have shade trees," she said of people who would be affected by the proposed changes. "For me, it doesn't make a whole lot of difference, as long as I have a clear pathway. I don't like walking on the sidewalk where there are cars going up and down (next to her)."
Details of the Sahara West Walkable Community Plan can be viewed at lasvegasnevada.gov/government/19709.htm. The site includes examples of existing sidewalk stretches next to computer-manipulated ones showing how it might look when upgraded.
The city explained that money for the changes would come from various sources, including federal, state and local coffers. There was no time frame for when funds would be available.
District F Clark County Commissioner Susan Brager said funding involved "many different criteria for that. Its a city-county factor. I hope it has a high priority. It's 'How do we get people out of their cars?' It helps with (the Environmental Protection Agency); it helps with the gas being as expensive as it is right now. (We need to look at) 'How do we make a dent in making people's lives better? How do we make our communities healthy and strong and more viable?' "
Summerlin already makes its neighborhoods viable. It boasts more than 150 miles of trails, with plans to make them even more useful.
"Eventually, there will be trails heading out in the (Red Rock Canyon) National Conservation Area," said Tom Warden, senior vice president of community and government relations for The Howard Hughes Corp., developer of Summerlin. "There'll be some kind of trailhead. There'll be earthen trails, some of them in the community, like true hiking trails. The trails that we have going through the community now, a lot of them create those safe routes to school, and they have the grade-separated crossings."
He said he could not put a price on how valuable the trail system was to the master-planned community.
"When you go 'grade-separated' trails, like when they go under a busy street, that's extremely expensive," he said. "But it's a measure of how popular, how valued, the amenity is that we spend the capital to make that an important part of the design. When we do our surveys, we ask residents to rate their favorite amenities. Trails are by far the No. 1-ranked amenity in Summerlin and the most-used amenity. When you ask people for frequency and amount of time used, it's right at the top. Building a master-planned community is not just about building houses and building areas where people want to shop and building parks … you really want to build 'community.' One of the ways you do that … is by thinking about ways to get people out and about and meeting each other. The Summerlin Council has events … but a physical feature like a trail system serves as a great way for people to meet each other, learn their community and become more a part of the Summerlin fabric."
Besides enjoying the outdoors, walking is a good way to stay healthy and stave off the pounds. According to the Centers for Disease Control and Prevention, the overall obesity rate in Nevada stood at 22.4 percent in 2010, and the nation as a whole was doing considerably worse at 33.8 percent. Among children, about 17 percent (12.5 million) are considered obese in the United States, a rate that has tripled over the past 30 years.
The Community Associations Institute Nevada Chapter has initiated a Communities with a Cause program to bring neighborhoods together to fight childhood obesity while increasing overall neighborhood health and safety.
"The more people can enjoy the outdoors, eat healthy and get children active, the healthier everyone will be," said Mary Rendina, executive director for CAI Nevada Chapter.
CAI has launched a new Neighborhood Toolkit that people can download from cai-nevada.org to get people back outdoors and eating healthily and to help beat childhood obesity.
CAI offers tools and ideas to help guide homeowners associations, families and property managers through the process of spearheading their own neighborhood campaigns.
"Our goal is to help educate individuals on how to coordinate some simple programs that can bring neighbors together with a 'take back your neighborhood' philosophy," said Rendina.
Contact Summerlin/Summerlin South View reporter Jan Hogan at jhogan@viewnews.com or 702-387-2949.
How walkable is your neighborhood?
To find out how walkabout your neighborhood is, visit walkscore.com and type in your address.