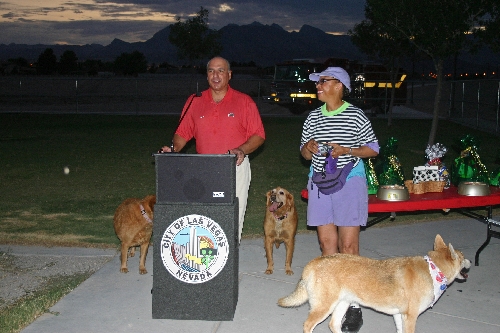 DOG ADOPTIONS SET AT WHOLE FOODS MARKET, TIVOLI VILLAGE
Foreclosed Upon Pets Inc. plans to host dog adoptions from 10 a.m. to 2 p.m. Saturday at Whole Foods Market, 8855 W. Charleston Blvd.
FUPI is a nonprofit organization dedicated to rescuing domesticated animals that have been abandoned due to economic hardship, illness or death.
For more information, contact FUPI at 272-0010 or email foreclosedupon pets@hotmail.com.
The Animal Foundation plans to host adoptions from 11 a.m. to 2 p.m. Sunday near The Dog House in Tivoli Village, 400 S. Rampart Blvd.
For more information, visit animalfoundation.com.
GOODIE TWO SHOES WALK SET FOR SUNDAY
The Goodie Two Shoes Foundation is scheduled to host Rockin' Walk, a fundraiser, at 9:30 a.m. Sunday at TPC Summerlin, 1700 Village Center Circle.
Help provide thousands of disadvantaged children with new shoes and socks. Participants can choose from three walking courses, including one-mile mixed hole, 2.5-mile back-nine or five-mile 18-hole options.
Enjoy live entertainment, great prizes, giveaways and goodie bags (while supplies last). All walkers will receive a free single-day admission ticket to return to the Justin Timberlake Shriners Hospitals for Children Open.
There is no cost. Participants are expected to collect donations.
For more information, visit goodietwoshoes.org/pages/events/rockin-walk.php.
UNITEDHEALTHCARE TO HOST 5K RUN
The UnitedHealthcare Children's Foundation plans to host the Teddy Bear 5K Run & 1 Mile Walk at 8 a.m. Saturday at 2700 N. Tenaya Way. Registration is set for 6:30 a.m.
To register, visit uhccf.org/teddybearrunwalk.html. For more information, call Amanda Penn at 242-7033.
CLUB TO AUCTION DOLLHOUSE AT SUN CITY SUMMERLIN ARTS AND CRAFTS FAIR
The Sun City Summerlin Arts and Crafts Fair is planned from 9 a.m. to 3 p.m. Oct. 1 at the Desert Vista Community Center, 10360 Sun City Blvd.
Various clubs will be represented, including the sewing club, ceramics club, model builders club and stained glass club, with items for sale. The Krafty Kritters Club plans a silent auction of a Real Good Toys' Vermont farmhouse dollhouse that its members built over the past 16 months.
Minimum bids of $300 or more will be accepted. Krafty Kritters supports various charities, including Safe Nest, Child Haven and University Medical Center. For more information, visit suncity-summerlin.com and click on "News & Events."
BEST OF SUMMERLIN RESULTS ANNOUNCED
The voting results of the Best of Summerlin campaign by The Howard Hughes Corp., developer of Summerlin, can be seen at facebook.com/summerlinlv.
Winners include Vintner Grill, best restaurant; Chronic Tacos, best meal for less than $10; TPC Summerlin, best golf course; The Paseos Park, best park; The Trails Paseo Park, best trail; and The Summerlin Council Patriotic Parade, best community event. Summerlin's Facebook page launched in 2010 and boasts more than 4,000 fans. For more information on Summerlin, visit summerlin.com.
MOUNTAINVIEW HOSPITAL RECEIVES AWARD
MountainView Hospital, 3100 N. Tenaya Way, has been recognized with the 2011 American Heart/American Stroke Association's Get With The Guidelines Stroke Silver Quality Achievement Award. MountainView achieved 85 percent or higher adherence to all GWTG-Stroke Performance Achievement indicators for 12 months.
It also earned a Target stroke honor roll designation for its commitment and success in implementing the most up-to-date guidelines and recommendations for stroke patients.
SMILES FOR SURVIVORS FOUNDATION TO HOLD FUNDRAISING EVENT
Smiles for Survivors Foundation plans to host its inaugural Blow Out Breast Cancer fundraising event from 6 to 10 p.m. Oct. 20 at Square Colour Salon + Spa, 1225 S. Fort Apache Road, Suite 160. The event is open to women and men and includes salon treatments, food, champagne, live music and a silent auction.
Smiles for Survivors is a nonprofit organization dedicated to raising awareness of cancer treatment's impact on oral health, providing necessary dental care for breast cancer patients and survivors and offering breast cancer education. Tickets for the event vary based on salon services. All proceeds go to Smiles for Survivors Foundation. All services will be performed by Square's highly trained team of stylists and beauty technicians.
Packages are available, and ticket prices are: General Admission, $20 for event admission only, no spa services included; Pretty in Pink, $30, includes admission and a customized blow out; Rocking Rose, $45, includes admission, a customized blow out and a polish change; and Fabulous Fuchsia, $70, includes admission, a customized blow out, brow shaping, polish change and a lash application. It is $20 for each additional service. Appointments are strongly recommended for the event. Space is limited and is available on a first-come, first-served basis.
For more details or to make an appointment, call 255-7050 or email info@smilesforsurvivors.org.
COMPUTER TROUBLESHOOTERS OPENS ON SAHARA AVENUE
Computer Troubleshooters Las Vegas, one of more than 500 in the world, has opened a retail location at 7795 W. Sahara Ave., Suite 103, in the Sahara-Buffalo Business Park.
It provides Las Vegas small businesses and individuals with their IT needs such as backup service, data recovery, setup and virus/spyware removal.
Jeff Berg, president of Computer Troubleshooters Las Vegas, said the new space will allow it to host small seminars for groups looking to find out about the latest computer hardware and software systems for their growing businesses. Visit ctlv.com for more information.
ARMY MASTER FITNESS TRAINER TO LEAD WORKSHOPS
U.S. Army Master Fitness Trainer Staff Sgt. Ken Weichert, creator of the nation's longest-running boot camp fitness program, START Fitness, plans to lead workshops during the Elevate Fitness Conference, scheduled to begin at 5 p.m. Sept. 30 and run through Oct. 2 at Summerlin Life Time Athletic, 10721 W. Charleston Blvd.
Learn workouts used to increase combat readiness while preventing stress or injury.
The class is open to the public and any military personnel. The cost for civilians is $20, and soldiers are admitted free with military ID.
For more information, visit empower fitnessevents.com.
BLM TO HOST FEE-FREE DAYS
The Bureau of Land Management, in conjunction with other agencies within the Department of the Interior, will waive recreation-related fees for visitors to the National System of Public Lands on Saturday for National Public Lands Day and Nov. 11-13 for the Veterans Day holiday weekend.
These fee-free days also apply to areas managed within the BLM's National Landscape Conservation System.
Other fees, such as overnight camping, cabin rentals and group day use, will remain in effect. For more information, visit blm.gov.