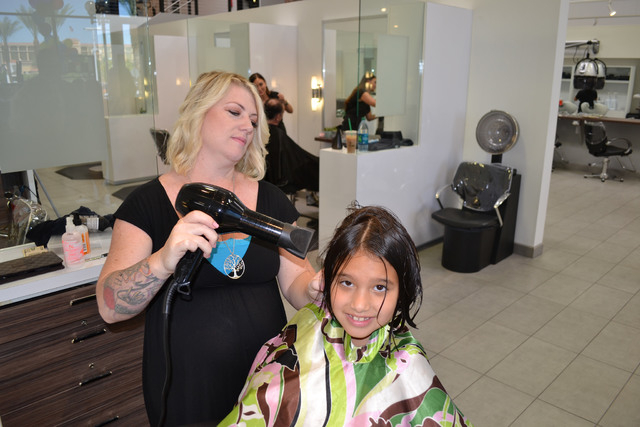 PETCO TO HOST PET ADOPTIONS AT NEW SAHARA CENTER STORE
Potential new pet parents are invited to connect with local shelter pets Sept. 6 and 7 during the grand opening of Petco's new store in Sahara Center, 10000 W. Sahara Ave. Pet parents who adopt during the event will receive a Think Adoption First Care & Savings Booklet with up to 50 percent off supplies and services.
The grand opening celebration is also set to include giveaways and activities. Guests are invited to bring their furry friends.
FREE MUSIC CLASSES PLANNED AT TEMPLE BETH SHOLOM
City Lights Music Together, an early childhood music and movement program, plans to offer free classes at Temple Beth Sholom, 10700 Havenwood Lane. Classes are planned for 11 a.m. Sept. 4 and 10:30 a.m. Sept. 8 for mixed ages. Another mixed-ages class is planned for Sept. 10 at a time to be determined.
To RSVP, call 702-838-4751.
GO ORANGE DAY TO RAISE AWARENESS FOR THREE SQUARE SEPT. 4
As part of Feeding America's Hunger Action Month in September, Three Square food bank is calling on community members and businesses to help bring attention to hunger issues in Southern Nevada on Sept. 4 for Go Orange Day. Southern Nevadans are encouraged to Go Orange in a visual representation of hunger awareness, through orange clothing, jewelry or social media. Participants can turn their Facebook or Twitter profiles orange by visiting hungeractionmonth.org/app/connect, clicking on the "Change" tab and following the instructions. Supporters also can share photos and ideas on social media using hashtags #GoOrange and #HungerAction, and by tagging @ThreeSquareLV.
Throughout the valley, hotels, restaurants and businesses will mark the day by adding Go Orange messaging to marquee signs, offering special menu items and encouraging employees to wear orange. Additionally, select businesses are further supporting the mission of Three Square through donations.
For more information, visit threesquare.org and click "Hunger Action Month" participants.
ADAM'S PLACE TO OFFER VOLUNTEER TRAINING DAY SEPT. 6
Adam's Place, 601 S. Rancho Drive, plans to host a volunteer training day from 9 a.m. to 6 p.m. Sept. 6 at Beacon Academy, 7360 W. Flamingo Road. Adam's Place is a center that provides a support group and education for children, teens and families coping with grief and loss.
To register, visit adamsplaceforgrieflasvegas.org.
WESTSIDE CHICAGO CLUB TO GATHER SEPT. 7
The Westside Chicago Club plans to meet at 2 p.m. Sept. 7 at the Sahara West Library, 9600 W. Sahara Ave.
The group meets the first Sunday of each month and consists mostly of people who have retired to Las Vegas. Monthly meetings start with a short business meeting followed by a program. The group is open to all residents.
For more information, call president June Edelman at 702-256-9542.
VICTORIAN RAILROAD LADIES TO MEET AT TIVOLI VILLAGE SEPT. 8
The Victorian Railroad Ladies, a Las Vegas Railroad Society Museum women's club, plan to meet from 6 to 8 p.m. Sept. 8 (and every second Monday of the month) at Cafe Leone at Tivoli Village, 302 S. Rampart Blvd. The club supports children's education in Las Vegas and offers monthly activities and hobby classes. Look for the women wearing hats. Membership is free. For more information, visit lasvegasrailroadsociety.org or call 702-656-9705.
PHILHARMONIC GUILD TO MEET SEPT. 10 AT LAS VENTANAS
The Las Vegas Philharmonic Guild plans to hold its first general meeting from 6 to 8 p.m. Sept. 10 in the Tuscany Room of Las Ventanas, 10401 W. Charleston Blvd. The meeting is open to the public and is set to include light refreshments.
The guild is an all-volunteer organization that supports the Las Vegas Philharmonic Orchestra. Now in its 10th year, the guild has raised and donated more than $400,000 to the orchestra, helping to support projects such as the annual Youth Concert Series. In addition to fundraising, it assists at concerts and special events.
For more information, call Toni Carpenter at 702-275-6565.
TOWN HALL MEETINGS SET AT MOUNTAIN CREST COMMUNITY CENTER
District C Clark County Commissioner Larry Brown plans to host town hall meetings from 10 a.m. to noon Sept. 9 and 5 to 7 p.m. Sept. 10 at the Mountain Crest Community Center, 4701 N. Durango Drive. Items to be discussed include the finalization of the Lone Mountain Five-year Land Use Plan and an overview of the next construction phase of the 215 Beltway improvements, including lowering and realignment to the west for the section near Lone Mountain Road, as well as new interchanges at Lone Mountain and Ann roads; and an overpass at Centennial Parkway. County ordinance revisions impacting the storage of trash dumpsters (2 and 3 cubic yards) in the public right-of-way is also set to be discussed, along with the Lone Mountain Equestrian Park project.
For more information, call 702-455-3500.
SPRINGS PRESERVE TO HOST PLANT SALE SEPT. 13
More than 2,500 native and water-efficient plant and tree varieties are set to be offered for sale from 8 a.m. to 2 p.m. Sept. 13 at the annual Autumn Plant Sale at the Springs Preserve, 333 S. Valley View Blvd.
Native and drought-tolerant plant species including agaves, creosote bush, penstemon and salvias will be sold in container sizes ranging from 4- to 24-inch boxes. In addition, Springs Preserve gardens staff experts will be on hand to answer questions about how to care for the plants.
A selection of trees also will be offered, including native honey mesquite, ash and oak in 5- and 15-gallon and 24-inch box sizes. Moon-Sun Cactus and Koi Ponds will have a large selection of cactuses and succulents available for purchase, and the Springs Preserve will be selling plant container dishes.
A special preview sale is planned from 7 to 8 a.m. for Springs Preserve members.
Admission to the plant sale is free. Regular admission prices apply for access to museums and galleries. Guests are encouraged to bring their own wagons to transport purchases to their vehicles. For more information, visit springspreserve.org.
NEVADA BALLET THEATRE ANNOUNCES PRE-PROFESSIONAL DANCE PROGRAM
The Nevada Ballet Theatre, 1651 Inner Circle Drive, announces the addition of its Pre-Professional Dance Program to its school, the Academy of Nevada Ballet Theatre. Joining its already established Pre-Professional Ballet Program, the all new Pre-Professional Dance Program will offer classes such as Tumbling for Dance, Extreme Stretch and Improvisation, taught by performers with Broadway, TV and film credits and international teaching experience.
The new program also will premiere the ANBT Competition Team, designed for students who wish to explore a commercial dance path.
Fall classes for all students are taking place now, and auditions for the ANBT Competition Team are scheduled for 3:30 pm Sept. 13 for ages 7 to 13.
For more information or to register, email info@nevadaballet.org or call 702-243-2623.
READING WITH RASCAL SET FOR SEPT. 13
The next Reading with Rascal is slated for 10 a.m. to noon Sept. 13 in the multipurpose room of Desert Spring United Methodist Church, 120 N. Pavilion Center Drive.
Children can read to a certified therapy dog. Families do not need to be members of the church.
For more information, call 702-561-4143.
RAILROAD WORKERS MEETING SET FOR SEPT. 16
The National Association of Retired and Veteran Railroad Workers plans to meet at 10 a.m. Sept. 16 at Mad Mattie's, 8100 W. Sahara Ave.
One of the group's goals is to keep people knowledgeable about political actions that affect their pensions. Meetings are a good way to say connected, meet others who worked in the industry and share tales from days on the job.
For more information, visit narvre.info.
GENEALOGY SOCIETY TO GATHER SEPT. 20 AT SAHARA WEST LIBRARY
The Jewish Genealogy Society of Southern Nevada plans to meet at 1:30 p.m. Sept. 20 at the Sahara West Library, 9600 W. Sahara Ave. The topic is slated to be How to Use Family Tree Maker, a step-by-step exercise in inputting individuals.
The society meets at 1 pm on the third Sunday of each month. Meetings are open to the public. For more information, contact president Abe Simon at abe_simon@cox.net or 702 523-9874.
FORECLOSED UPON PETS IN NEED OF FOSTER HOMES, PLANS FUNDRAISER
Foreclosed Upon Pets Inc. is in urgent need of foster homes for dogs and cats. The main responsibility is to offer a safe and secure environment and possibly some basic training, making the animal a better candidate for adoption. The foster is also responsible for transporting the animal to weekly adoption events.
To apply, visit forecloseduponpets.org. For more information, call 702-272-0010.
The group plans to host its sixth annual fundraiser from 5:30 to 8 p.m. Oct. 7 at a private residence. The event is limited to 125 people.
A donation of $30 per person will cover beer and wine, a buffet, live music, a raffle, a silent auction and a pet goodie bag. All proceeds go to assist the group with spay/neuters, vaccines and microchips for rescue dogs and cats.
RSVP by Oct. 1 by contacting Sandy Marsh at smarsh2009@yahoo.com or 702-279-2544.
WOMEN'S CLUB OF SUMMERLIN PLANS ANNUAL CHARITY EVENT OCT. 9
The Women's Club of Summerlin has slated its annual charity event for 6 p.m. Oct. 9 at the JW Marriott, 221 N. Rampart Blvd. Expect heavy hors d'oeuvres, a raffle, a silent auction, dancing and live music provided by Ronnie Lee Twist and The Future Cats.
Proceeds from the event will benefit Project 150, a nonprofit organized in December 2011 when founders learned of 150 homeless high school students in need of support over the holidays. The effort has expanded to helping more than 1,100 homeless and disadvantaged students in Las Vegas Valley high schools.
For more information, visit womensclubofsummerlin.org.