Summerlin area prepares to hail the holidays with family events
December 3, 2014 - 10:00 pm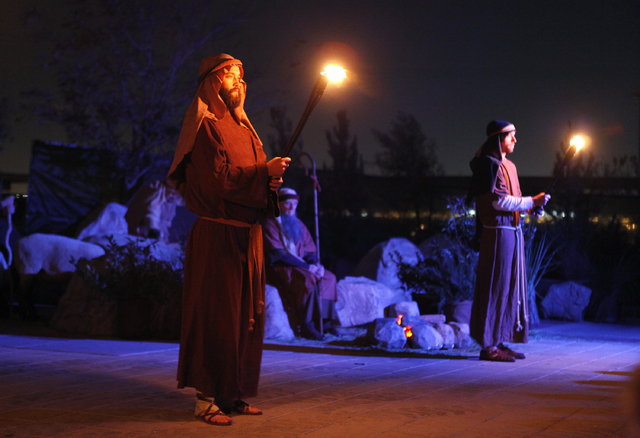 Yes, Virginia, there is a Santa Claus, and he's coming to the Summerlin area. Various local shopping centers and groups are gearing up to present holiday events through December.
Tivoli Village
Tivoli Village, 440 S. Rampart Blvd., has several holiday events scheduled. Santa Claus is set to be on hand for photos from noon to 4 p.m. Fridays, 9 a.m. to 4 p.m. Saturdays and 11 a.m. to 4 p.m. Sundays. Photo packages start at $5. Trackless train rides are offered for $3 per ride or $5 for two rides.
Pets also can have their photo taken with Santa at Shaggy Chic from 5 to 8 p.m. Dec. 10 and 17.
Tivoli is set to host the Jingle Bell Run 5K and 10K to benefit the Arthritis Foundation. The event is scheduled for 8 a.m. Dec. 13. Runners are encouraged to wear holiday-themed costumes and tie jingle bells to their shoelaces to get in the holiday spirit while raising funds to find a cure for arthritis. The event is also set to include live entertainment, vendors providing breakfast and a Reindeer Dash to Kidville.
If you're planning to ring in the new year at Tivoli Village, free rides home will be offered from 8 p.m. to 2 a.m. Dec. 31 for those who live within 10 miles of the shopping center.
For more information about Tivoli Village events, visit tivolivillagelv.com.
Boca Park
Snow is in the forecast as Boca Park Fashion Village, 750 S. Rampart Blvd., kicks off the holiday season with the Let It Snow event, set for 1 p.m. Dec. 6 in front of Kona Grill. The event will feature a real snow play area, Santa Claus and a tree lighting ceremony.
Mix 94.1 FM plans to host a live radio remote broadcast from 3 to 6 p.m. Santa Claus is set to arrive at 4 p.m., and the tree lighting ceremony is scheduled for 5 p.m. The Palo Verde High School Show Choir is set to perform and lead the crowd in Christmas carols. Restaurants are set to offer festive food and drinks while supplies last.
Take and post a photo with the hashtag #selfiewithBocaSanta for a chance to win a $100 Boca Park gift card or certificate to one of the high-end shops or restaurants. The Santa In The Store campaign is set to continue Dec. 7-24 with the same hashtag but with a twist. Each day a small Boca Santa statue will be hidden in a different shop or restaurant. The first person each day to find and post a photo of it with the hashtag #selfiewithBocaSanta will win a $100 gift card or certificate to the shop or restaurant in which Boca Santa was found.
For more information about events at Boca Park, visit facebook.com/bocaparklv.
Village Square
Regal Village Square Stadium 18 at the Village Square shopping center, 9400 W. Sahara Ave., plans to partner with Fathom Events and Paramount Home Media to celebrate the 60th anniversary of Irving Berlin's musical "White Christmas," scheduled to screen at 2 and 7 p.m. Dec. 14 and 7 p.m. Dec. 15.
For more information, visit fathomevents.com. For more information on Village Square events, visit govillagesquare.com.
Downtown Summerlin
At Downtown Summerlin, 1980 Festival Plaza Drive, shoppers can skate their way into the holidays at the Rock Rink, set to be open through mid-January from 4 to 9 p.m. Mondays through Thursdays; 4 to 10 p.m. Fridays; 10 a.m. to 10 p.m. Saturdays; 11 a.m. to 8 p.m. Sundays; and 10 a.m. to 10 p.m. school holidays. Holiday hours are set from 1 to 6 p.m. Dec. 24, 10 a.m. to 6 p.m. Dec. 31 and 10 a.m. to 7 p.m. Jan. 1. The rink will be closed Dec. 25.
Skating is $15, including skate rental. The rink is on the northwest side of Downtown Summerlin off of Rosemary Park Drive and Summa Drive.
For more information, call 702-832-1000 or visit downtownsummerlin.com.
Live Nativity
The Redrock Stake of The Church of Jesus Christ of Latter-day Saints plans to host its annual Live Nativity at the Buffalo Drive campus of Opportunity Village, 6050 S. Buffalo Drive. The free outdoor portrayal of the birth of Jesus Christ features live actors, live animals, scripture narration and music.
Performances are scheduled for 7 p.m. Dec. 9 and 10; 6 and 7 p.m. Dec. 11; and 6, 7 and 8 p.m. Dec. 12 and 13. The Dec. 10 performance will be offered in Spanish.
Parking is free, and all seats are offered on a first-come, first-served basis. For more information, visit thenativitylv.com.
Hometown Holidays
Summerlin plans to host its free Hometown Holidays event from 6 to 8:30 p.m. Dec.4 at the Gardens Community Center at The Gardens Park, 10401 Garden Park Drive. Summerlin residents are invited to enjoy holiday activities, including cookie decorating, reindeer rides, visits with Santa Claus and holiday music.
For more information, call 702-341-5500 or visit summerlink.com/events.
Contact Summerlin Area View reporter Jan Hogan at jhogan@viewnews.com or 702-387-2949.