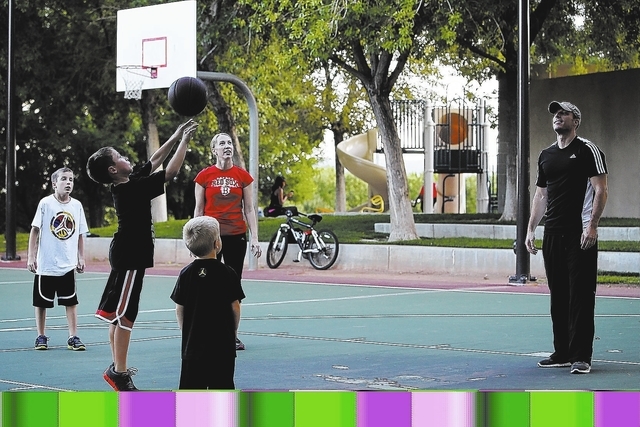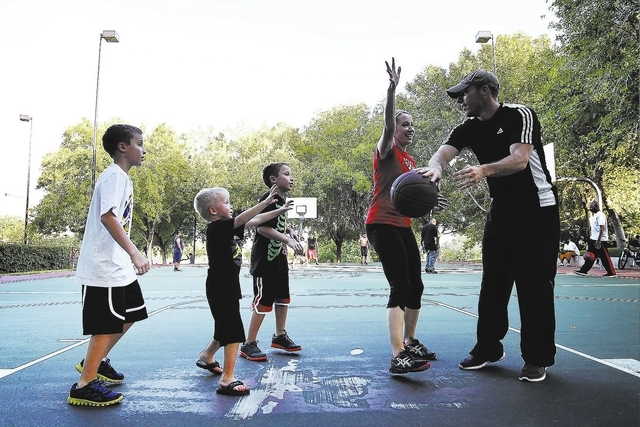 It's no surprise that parks are popular features for suburban populations. Who doesn't like the chance to get outdoors, shrug off work concerns and breathe some clean air?
Sue Christiansen is a frequent visitor to the park and pool at 2775 Desert Marigold Lane in The Willows. She and her husband, Robert, have three boys — Dane, 11; Cade, 8, and Hayden, 5. They visit The Willows Park, within walking distance of their house, a couple of times a week.
"I like that one for the pool; it accommodates the different ages for my boys," Sue said. "There are things for my oldest and things for my littlest."
The family makes use of the park space about once a week. The boys also enjoy the playground, where they practice baseball or basketball.
"Depending on the heat, they're out there anywhere from an hour to an hour and a half," Sue said. "But we usually try to go in the evening when it's not quite as hot."
She said she finds it relaxing to go to the park, an amenity that she said was a consideration when the family bought their house near Ober Elementary School. They also visit to Gardens Park, 10401 Garden Park Drive, for a change of scenery or when they want to do something that requires a lot of room.
"It gives us an opportunity to be together. Parks play a huge role in finding quality time," Sue said. "In our jobs or in our homes, you're doing something separately. (Park time) gives you a chance to do something together, something fun that you don't have to really think about. You just go and play and have fun and hang out together at the park.
"In Vegas, our yards are a little smaller, so it's nice to be able to get out and hit a ball, run or be crazy. We have dogs, and we love to take them on walks."
In the northwest, Lone Mountain Park, 9825 W. Lone Mountain Road, got a 20-acre expansion last year, which doubled the acreage and included six tennis courts and four basketball courts.
A survey conducted for the American Public Health Association found that 75 percent of adults believe parks and recreation must play an important role in addressing America's obesity crisis.
Anthony Cecchini had no weight problem but was at Lone Mountain Park "basically to kill some time."
While he didn't lay claim to any favorite park, Cecchini said it's not unusual for him to stroll a park in nice weather. He takes advantage of the trails and sometimes rides his bike. It's good alone time, he said, taking him back to the greenery of Missouri from which he moved about six years ago.
"They're really nice," he said of the northwest-area parks. "I wish there were more of them around. When I first moved out here, I thought, 'My God, there's not much out here as far as parks go.' "
Nearby, James Getle and Norman Bemis were playing basketball.
"Both our kids are in the same kindergarten class, and we just learned we lived in the same community, so (while the kids play) we've been hanging out," Bemis said.
They come to the park about once a week, and besides basketball, they also enjoy throwing a football. They said they liked that the playground was nearby so they could keep an eye on their children.
"We were trying to find basketball courts so we could shoot, and the one park, near Buffalo (Drive), is down in a gully, and you can't see the playground from there," Getle said.
They said their weekly park visits continue all summer.
"The heat doesn't bother me," Bemis said. "You bring water and sunscreen, and you're fine."
The 2013 American Fitness Index report of the American College of Sports Medicine shows that Las Vegas is sorely lacking in park space. According to the report, when it comes to acres of parkland as a percentage of city land area, Las Vegas has 4.2 acres. The target goal is 10.6. It also rated the city for acres of parkland per 1,000 people — Las Vegas has 5.4. The goal is 18.6. park units per 10,000 people is 1.3 in Las Vegas, with 4.1 being the norm. Clark County Commissioner Steve Sisolak acknowledged the valley's poor showing.
"We don't have enough parks; we're trying to do more, in terms of developing parks," he said. "Unfortunately, we've got a roof tax, a roof top fee, and with no development, we're not building any more parks. But we'll get back to it again."
Summerlin's numbers show 18 percent of its acreage designated as "irrigated open space," meaning parks, trails and golf courses. Summerlin has made parks — and the 150 (eventually to be more than 200) miles of trails that connect many of them — an integral part of its landscape.
Summerlin has 23 full-sized parks spread around its 22,500 acres. Add smaller ones such as pocket parks, and the number climbs to 150.
The smallest park in Summerlin is Paseos Park, 12122 Desert Moon Road, at 4.6 acres, which includes a private section with two lighted tennis courts, a half basketball court and a children's play area. The largest is Cottonwood Canyon Park, 915 Canyon Bluff Circle, which covers 69.4 acres. It features a linear park with trails, open grassy areas, seating areas, picnic ramadas, natural areas and children's play areas. Pueblo Park, 7663 W. Lake Mead Blvd., is not far behind, with 61.9 acres.
The parks are supported by homeowner association fees, and amenities such as the swimming pools at Trails and Willows parks require Summerlin resident ID for access.
The city provides a pool within Summerlin, Pavilion Center Pool, at 101 S. Pavilion Center Drive. For more information, call 702-229-1488.
Clark County operates the Desert Breeze Aquatic Facility, 8275 Spring Mountain Road. For more information, call 702-455-7798.
The Summerlin/Summerlin South View coverage area also includes these city of Las Vegas-run parks:
W. Wayne Bunker Family Park, 7301 W. Alexander Road. This park has 21 acres and the adjacent Barkin' Basin Dog Park.
The Charlie Kellogg and Joe Zaher Sports Complex, 7901 W. Washington Ave. This park shares the Darling Tennis Center complex.
Police Memorial Park, 2350 Metro Academy Way, off Cheyenne Avenue.
All American Park at Buffalo Drive and Oakey Boulevard. This 45-acre park includes four tennis courts and five football fields.
Clark County-run parks include:
Mountain Crest Park, 4701 N. Durango Drive. This park is popular for its disc golf course.
Lone Mountain Park at 4445 N. Jensen St. This park often sees hiking-inclined visitors trekking to the top of its namesake.
Contact Summerlin/Summerlin South View reporter Jan Hogan at jhogan@viewnews.com or 702-387-2949.