Summerlin/Summerlin South Neighborhood News, Feb. 26-March 4
February 26, 2013 - 12:00 am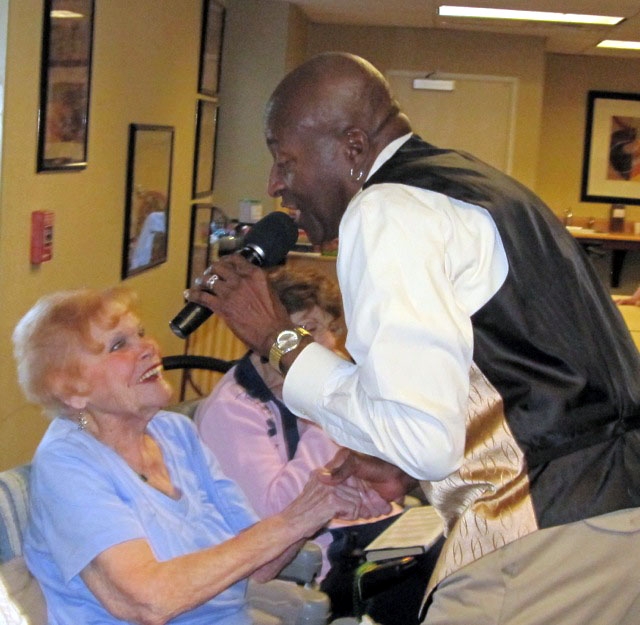 BUSINESS NETWORK PLANS MARCH 5 MIXER
The Large Vision Business Network plans to host its next mixer from 6 to 9 p.m. March 5 at the Suncoast, 9090 Alta Drive.
The theme is Gone Green, and attendees can learn what they can do to help the environment. More than 50 exhibits of businesses in Clark County that support going green are planned, including those on: electricity and the future of energy; going green with food; pollution; managing rubbish; the importance of rainforests (deforestation); and clean water.
The LVBNM Mega Mixer Consumer Expo will also include area businesses showcasing their products and services. The Chefs Corner will serve up bites of international flavors.
Admission is $10. For free tickets, visit pjproductionlive.com/LVBNM.html.
For more information, call 702-639-6964.
SAHARA WEST LIBRARY TO HOST
ASTROLOGY CLASSES IN MARCH
A series of astrology classes are scheduled to begin at 5:30 p.m. March 6 at the Sahara West Library, 9600 W. Sahara Ave. The series is planned to continue March 13, 20 and 27.
Learn how to chart your life in this beginners' look at the discipline. The classes are free and are offered on a first-come, first-served basis.
For more information, call 702-507-3630.
WESTSIDE NEWCOMERS TO GATHER MARCH 6
The Westside Newcomers Club plans to host a coffee event for prospective members at 10:30 a.m. March 6 at Grace in the Desert Episcopal Church, 2004 Spring Gate Lane.
The coffee events are planned for the first Wednesday of each month.
WNC is a social club for women who have lived in the area for 10 years or less or those who have had life-changing events, such as retirement. It offers a variety of activities. A luncheon with a program is planned for the second Wednesday of each month.
For more information, visit
westsidenewcomersclub.org or call Laura Gordon at 702-649-3922.
JEWISH SINGLES GROUP SET TO MEET MARCH 6
The Jewish Singles 55 Plus Social Club's next meeting is planned for 6:30 p.m. March 6 at the Jewish Community Center of Southern Nevada's building on the property of Temple Sinai, 9001 Hillpointe Road. The group plans its meetings for the first Wednesday of each month. Guests are welcome to attend at no charge.
For more information, call 702-233-8618.
FREE SEMINAR TO ADDRESS
FISCAL CLIFF LEGISLATION
John Leveritt plans to host a seminar, Outlook for 2013 and How The Fiscal Cliff Legislation Will Affect You and Your Portfolio, at 5 p.m. March 7 at the Siena Golf Club, 10575 Siena Monte Ave. Leveritt is a financial adviser with Merrill Lynch. The event is free.
For more information, call 702-341-2080 or email john.leveritt@ml.com.
LOWE'S PLANS KIDS' MODEL-BUILDING CLASS
Monster Jam, part of the Build and Grow program through Lowe's Home Improvement, is planned for 10 a.m. March 9 at the Lowe's store at 7550 W. Washington Ave. Children can put together wooden monster-style trucks. Participants will get to take their completed toy home, along with goggles, an apron and a completion patch.
Build and Grow classes are offered about twice a month at Lowe's. The class is free, but space is limited and registration is required. For more information, visit lowes.com/buildandgrow.
E BUNNY COLLECTING EASTER BASKETS
The E Bunny plans to begin delivering Easter baskets to agencies and shelters as early as March 18. Donated baskets can be dropped off by March 21 to an E Bunny drop-off site.
For more information, email ebunnylv@gmail or call 702-498-9808.
On March 29, E Bunny plans to "take it to the streets" with its annual Easter basket giveaway in some of the poorest neighborhoods in the Las Vegas Valley.
HADASSAH/AVIVA SPECIAL INTEREST GROUP
TO MEET MARCH 11
The Hadassah/Aviva special interest group plans to meet at 1 p.m. March 11 at the Jewish Community Center of Southern Nevada building on the property of Temple Sinai, 9001 Hillpointe Drive.
The slated guest speaker is Leona Cohen, Hadassah national board member, who plans to speak on Hadassah's centennial convention, which was held in Jerusalem in October. Light snacks will be provided. Admission is $5 at the door. For more information, contact Rose Lee Bell at rabell4@cox.net or 702-636-9616 or 702-636-9616.
SIGN UP FOR MARCH 17
WOMEN'S PASSOVER SEDER
The Hadassah Southern Nevada chapter plans to host a women's Passover Seder from 3 to 5 p.m. March 17 at the Bagel Café, 301 N. Buffalo Drive.
The women's-themed Seder will include a light kasrut meal. The cover charge is $36.
Reserve your space by sending a check made out to Hadassah to: HSNC, P.O. Box 401255, Las Vegas, NV 891240.
For more information, contact Julie Littman at eventsbyjuls@gmail.com.
WALK WITH ME FUNDRAISER TO COMING TO W. WAYNE BUNKER FAMILY PARK MARCH 23
Walk With Me, a fundraiser for Nevadans living with disabilities, is scheduled for 9 a.m. March 23 at W. Wayne Bunker Family Park, 7301 W. Alexander Road. This is Nevada's fifth annual event and entails a two-mile walk, live music and Easter activities for the whole family.
Flamingo headliner George Wallace is on tap as this year's host, and dance crew Jabbawockeez will serve as the grand marshals. The proceeds will help serve more than 8,000 Nevadans living with disabilities."
The walk portion is set to begin at
9:30 a.m. The Easter carnival is slated for 10:15 a.m. and is planned to feature an Easter egg hunt, photos with the Easter Bunny, games and activities, food, music and more. For a donation of $5, participants will receive entry into the Easter egg hunt. There will also be a special performance by School of Rock, the local chapter of the music school.
To register, visit walkwithme.org/lasvegas.
VALENTINES SENT TO TROOPS
American Legion Auxiliary Junior Unit No. 14 asked the community to make Valentines for soldiers and veterans who are ill. The community got on board, and 433 people who took part. Within three weeks, 1,103 cards were collected.
The Valentines were shipped in 14 care packages to troops overseas. The Veteran Valentines went also to nine elder care homes and other facilities for seniors.
For more information about the group, call 702-612-8982.
HUMANA INC. COLLECTING
CLOTHING FOR VETERANS
U.S. VETS-Las Vegas plans to host the annual Veterans Stand Down event from 8:30 a.m. to 4:30 p.m. March 27 and 28 at the Cashman Center, 850 Las Vegas Blvd. North. Veterans Stand Down is a grass-roots, community-based intervention program designed to help homeless veterans "combat" life on the streets.
To help prepare for it, Humana Inc. plans to host a clothing drive for donations of shirts, pants, socks, undergarments and hats, along with duffel bags and tote bags. Clothes should be dropped off to the Humana Guidance Centers by March 6 to allow for cleaning, sorting and necessary maintenance.
For greater Las Vegas and Summerlin, drop off donations at the Humana Guidance Center at 8975 W. Charleston Blvd. In Henderson, drop them off at 1000 N. Green Valley Parkway, Suite 720.
Also, Vons plans to have collection bins through March 6 for those who wish to donate canned and nonperishable food to the veterans group.
For more information, visit usvetsinc.org/lasvegas.
HADASSAH SOUTHERN NEVADA TO MEET
AT LADY SILVIA MARCH 12
The Hadassah Southern Nevada chapter plans a meeting at 7 p.m. March 12 at Lady Silvia, 900 Las Vegas Blvd. South, to form a special interest group of women age 20s through 40s.
For more information, call 702-265-8991 or email metarnow@gmail.com.
NV ENERGY GIVES BACK
NV Energy and its foundation contributed $6.1 million last year, including multi-year commitments, to support more than 400 nonprofits statewide. Its employees volunteered 39,500 hours to help nonprofits statewide, as well.
Grants and sponsorships were given to more than 225 Southern Nevada nonprofits, including The Rape Crisis Center, Heaven Can Wait Animal Society, Goodie Two Shoes, Junior Achievement and 100 Black Men of Las Vegas.
For more information, visit nvenergy.com/community.
WALGREENS COLLECTING FOR AFAN
Aid for AIDS of Nevada encourages Walgreens customers to shop for a cause and make a donation during checkout through March 30. All donations made during this period will help raise money for AFAN's largest annual fundraising event, the 23rd annual AIDS Walk Las Vegas, which is scheduled for April 14.
People of all ages are encouraged to participate in the walk. Registration is free, but a minimum donation of $50 per person is encouraged and includes an official AIDS Walk T-shirt.
For more information or to register for a team, visit afanlv.donordrive.com.
READING WITH RASCAL PLANNED
FOR MARCH 9 AT DESERT SPRING CHURCH
Reading with Rascal is planned from 10 a.m. to noon March 9 at Desert Spring United Methodist Church, 120 N. Pavilion Center Drive. Children will have the opportunity to sharpen their reading skills by reading with therapy dogs.
The program is set for the second Saturday of each month. One does not have to be affiliated with the church to participate.
For more information, call 702-561-4143.
FREE TAX PREPARATION AVAILABLE
FOR THOSE 50 OR OLDER
AARP is offering free tax form preparation for those 50 or older on Mondays and Thursdays through April 11, by appointment only. For Summerlin/Summerlin South View readers, the closest location is the Centennial Hills Active Adult Center, 6601 N. Buffalo Drive, 702-229-1702.
Advance appointments are required. Bring a copy of your 2012 income tax return and all applicable paperwork.
To schedule an appointment, call 702-229-1702 between 8 a.m. and 4 p.m. weekdays.
TRAVEL CLUB TO MEET AT TAP HOUSE
The Las Vegas Single Social Travel Club for Mature Adults invites prospective members to its meetings, which are scheduled for 7 p.m. the fourth Tuesday of the month at The Tap House, 5589 W. Charleston Blvd. The next meeting is set for today.
The meet-and-greet portion is set to start at 6:30 p.m. in the meeting room. Discussions focus on day trips, local events, in-state and out-of-state traveling, cruises and international traveling. A guest speaker frequently is featured. The meeting closes at about 8:30 p.m., when appetizers are served and the group mingles. For more information, call 888-324-2028.