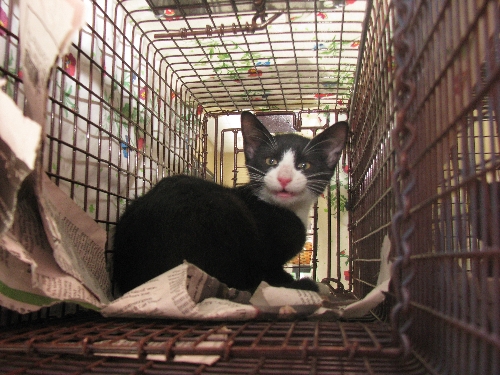 "When we first started trapping the cats, the people in the complex started calling my wife Cruella de Vil," said Doug, a manager of two mobile home communities who asked that his last name not be used. "They didn't realize what we were actually doing. Once they found out, they started pitching in."
Cruella de Vil, the villain from the Disney film "101 Dalmatians," was capturing dogs to skin and craft into a coat. What Doug and his wife are doing is capturing stray and feral cats, taking them to a veterinarian for shots and sterilization and dropping them back where they came from.
Operation Clean Sweep, a new program operated by the nonprofit Heaven Can Wait Animal Society, is helping Doug and others like him reduce the stray cat population.
"We got a grant from PetSmart Charities to spay or neuter up to 2,400 free-roaming/feral cats in a specific neighborhood," said Judy Erickson, clinic director for Heaven Can Wait. "We had initially selected another area, but in April we switched to an area that includes all of the 89156 ZIP code and some of 89115."
Heaven Can Wait chose the new area based on calls to animal control and turn-ins at the shelter. Both their initial area and the new area also were selected in part because they were in unincorporated Clark County, which allows registered colonies of feral cats under the Managed Care of Feral Cats ordinance enacted in October 2008. The program is designed to help feral cat caretakers connect and better manage feral cat colonies. The ordinance also provides a certain amount of legal protection for managed feral cat colonies.
"It's really important for people who are taking care of feral cats to coordinate their efforts," Erickson said. "If someone is trying to trap a cat and a neighbor across the street is leaving out food, the cat will just go there and avoid the trap."
Cats finding food at another location are just one of the challenges presented in trapping. The traps are essentially a small catch with a pressure trigger near the back that drops the door over the entrance to the cage. Each trap can catch only one cat at a time, and there's a tendency for the same cats, those that are particularly gullible or guileless, to be trapped over and over. To catch a colony of cats, several traps are needed, and even then there are times when the volunteers run into a particularly challenging cat.
"The other night I almost caught one I'd been trying to catch," said Randy Albright, who cares for a colony near his home on a cul-de-sac near Lake Mead Boulevard. "But while she was sniffing around the entrance, another cat just reached up and swatted the door down. That's not the first time that cat has done that, either."
Generally the traps are set for the wee hours of the night when the cats are more active and the sun won't beat down on a cat trapped in a cage. A blanket or other cloth over the cage helps to disguise it and provide a little cover for the captured animal.
The goal of the program is to determine the effectiveness of mass sterilizations in reducing the overpopulation problem, but Heaven Can Wait does a little more than simply sterilize the cats. The group distributes traps to area residents and property managers who are interested in helping. These volunteers then bring the captured cats to Heaven Can Wait's offices at 546 N. Eastern Ave., where the cats are given a quick checkup, spayed or neutered, receive vaccinations and then are held for 24 to 48 hours before being released to their original colony.
"We are working with the Las Vegas Valley Humane Society and the Community Cat Coalition of Clark County in this two-year project study," Erickson said. "We were almost a year into the study when we had to switch locations. The timeline hasn't been extended, so it will still wrap up two years from the start. We're well on our way to reaching our goal at the new location."
While Heaven Can Wait likes working with homeowners and managers because they know their territory and the colony, they also need additional volunteers to help colony caregivers who don't have the means or ability to trap and transport cats.
Generally, Heaven Can Wait takes in captured feral cats between 9:30 and
10:30 a.m. and leaves the other hours for scheduled appointments with privately owned cats.
"We're also offering residents of 89156 and 89115 a special price of $10 to spay, neuter and vaccinate their owned cats," Erickson said. "As we all know, an owned cat today can easily become a stray or abandoned cat tomorrow."
Albright and Doug are part of a growing segment of animal lovers who see the feral and stray problem compounded by the foreclosure crisis, and they aren't comfortable taking cats to an animal shelter where the chances of euthanasia are great.
There was a time when the shelters had an easier time adopting out animals, but the numbers of strays in the valley has overwhelmed them.
"We had one guy who moved out and left his dog in the home without power or air conditioning," Doug said. "It was 115 degrees outside the trailer. We were able to save that dog, and one of the other residents took it in. People move out all the time and just leave their pets behind. It doesn't even surprise me anymore."
For more information about Operation Clean Sweep or Heaven Can Wait, visit hcws.org or call 227-5555.
Contact Sunrise and Whitney View reporter F. Andrew Taylor at ataylor@viewnews.com or 380-4532.