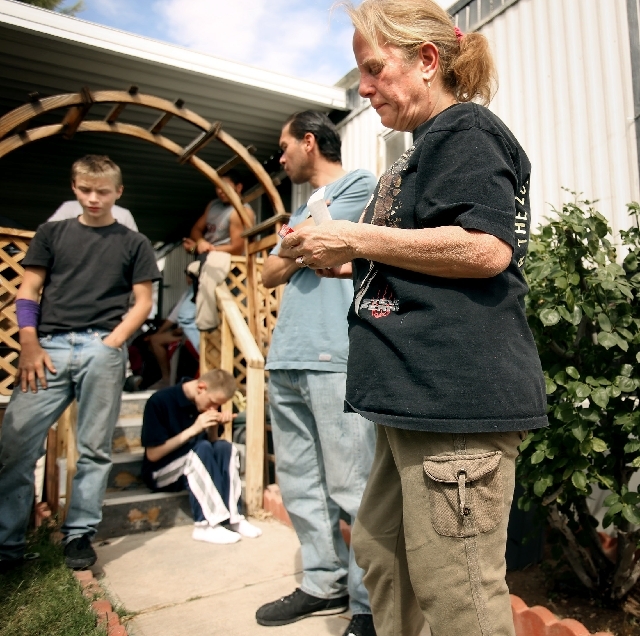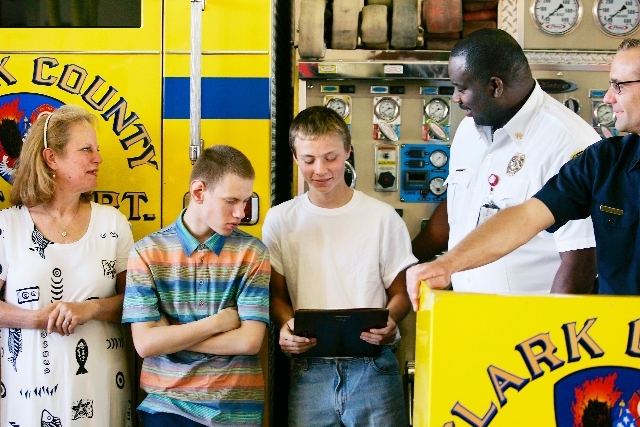 The Avila family survived a dramatic fire that destroyed its home, and now the family is trying to get back on its feet with the help of friends and neighbors.
The scene just before dawn on April 30 at the Carefree Manufactured Home Community at 3325 N. Nellis Blvd. was anything but carefree. Draven Avila, 16, woke to choking smoke and opened his eyes to see flames across the ceiling of his family's double-wide manufactured home. He and his 17-year-old brother Diego Avila helped their mother escape out the front door but then realized their 14-year-old autistic brother Geovanny was still inside.
Diego took off his shirt and wrapped it around his head to try to keep the smoke at bay and plunged back into the burning home while Draven ran around to Geovanny's window and smashed the glass with his bare arm. Diego handed the still-sleeping Geovanny through the window to his older brother and then followed suit with one of the family's three dogs.
Diego made it out the window less than a minute before the entire home erupted in flames.
"It's called a flashover," said Capt. Clark Lamping of the Clark County Fire Department. "It's when everything in the home reaches its ignition point at the same time and bursts into flames. The interior temperature will be about 1,500 degrees when that happens."
The boys' mother, Shelly Avila, is still at a loss as to how it happened. While her sons went on their rescue mission, she grabbed a nearby garden hose to attempt to douse the flames, but realized too late that someone had disconnected the hose from the spigot.
"If I'd lost a billion dollars in that house it wouldn't have bothered me," Shelly Avila said. "But I would have been a basket case if I'd lost my kids."
Lamping said, "The whole trailer was burned to the ground. "The fire was so intense that any kind of evidence was destroyed. It's going to be officially listed as 'undetermined.' ''
Lamping said that because they were touched by their plight and the brothers' heroism, members of the fire department put out the word to the community, and numerous organizations, individuals and companies have come forward to help.
"These people didn't have much to begin with, and now they've lost every single thing," Lamping said. "Right now they're living with neighbors, sleeping on couches and the floor."
Shelly Avila works from home, and her husband Edgar, who arrived home from work as firefighters battled the blaze, works in a low-paying manufacturing job.
"I'm not the kind of person with diamond rings on my fingers," Shelly Avila said. "I don't care about those things. I just care about doing for my family."
A ceremony was put on May 11 to give the heroic brothers a commendation and to deliver goods and money from the community to the family.
The family's dogs made it out unscathed, but several other pets, including parakeets, a parrot, fish and a bull python, died in the fire. The corporate offices of PetSmart wrote a check for the family, and Lamping was scheduled to pick it up from the store at 9869 S. Eastern Ave. on May 8, but store officials asked him to wait until Friday.
"They told me the employees get paid on Friday, and they wanted to put money towards the family, too," Lamping said. "The employees not only matched the company's check, they exceeded it."
Best Buy donated a television, a game system and two computers for the teens to do their homework on. One of the teens is a musician, and Guitar Center donated a guitar to replace one lost in the fire.
Local charities stepped up to the plate also, including Operation Fire H.E.A.T. (Holiday Emergency Assistance Team), a charity that helps children and their families who lose homes and presents around the winter holidays.
"This is the first time they went outside their mission statement to help out a family in another part of the year," Lamping said.
Shelly Avila is overwhelmed with the support she has received from the community.
"A lady from the Four Square Church came by and dropped off a brand new microwave and a crock pot," she said. "I've never had new kitchen appliances before. I had to get everything from rummage sales."
On May 14, the family was still living with neighbors but was looking at moving into another home in the Carefree Manufactured Home Community. Despite the loss, Shelly Avila said they love the neighborhood and that people look out for one another there.
"We need to get someone to check the wiring before we move in," she said. "I don't know if the electrical caused the fire, but we want to make sure there's no problem with that in the next place."
They hope to move into a new place soon, but money is still tight and Shelly Avila said they're very careful with the money they have. She doesn't feel they can afford the luxury of renting a storage unit to house their donations and urges anyone who wants to donate furniture to wait until they have a place to put it.
"It all comes down to the dollar now," she said. "I don't want a million dollars; I just want a house that's safe for me and my family."
An Avila Fire Relief Fund account to help the family has been set up with Bank of America under account number 501015632195.
Contact Sunrise/Whitney View reporter F. Andrew Taylor at ataylor@viewnews.com or 702-380-4532.