Tardy TV host Bourdain had Goodman broiling
November 13, 2013 - 9:28 am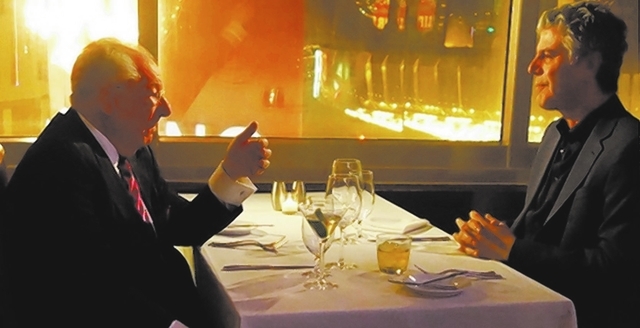 Anthony Bourdain's "Parts Unknown" interview Sunday with former Las Vegas Mayor Oscar Goodman was nearly over before it started with the chef-turned-CNN travel host.
Bourdain was running 40 minutes late and a fuming Goodman had no reservations about letting the media know he was beyond a slow boil.
"Where IS this guy?" he grumbled, fidgeting in front of a martini on a lounge table. Minutes later, Goodman was on his telephone, leaving a "I'm outta here" voicemail message for his wife, current Mayor Carolyn Goodman.
Bourdain arrived at Oscar's Beef Booze Broads Steakhouse at the Plaza before the 74-year-old ex-mayor had a chance to walk out and give the media some red meat, but the tone was set.
Goodman kept his cool during a 30-minute interview that was notable for its few light moments, a rarity for the wisecracking ex-mayor.
Bourdain didn't back away from tough questions. He asked Goodman to defend the excesses of Las Vegas, like $1,500 bottles of champagne being sprayed into nightclub crowds.
Goodman responded by saying those kinds of extravagant acts were not his cup of tea but in Vegas some bubbly is going to be spilled.
Bourdain brought up Goodman's days as a mob attorney. Goodman didn't apologize.
When the face-off airs next year, it has the makings of TV gold.
THE SCENE AND HEARD
Is the Miss USA Pageant going to do and about-face and return to Las Vegas after announcing it was heading for Miami? Vince Alberta, vice president of public affairs for the Las Vegas Convention & Visitors Authority, said Tuesday the rumor is out there that it could happen "as early as next year, but we have not had dialogue with any of their representatives." Donald Trump, who owns the Miss USA and Miss Universe organizations, was left looking for a new host city after Doral's City Council voted not to go forward…
I couldn't resist asking Goodman, who loves his sports betting, if he had the St. Louis Rams, who shocked the Indianapolis Colts 38-8 Sunday. His response, "I had angina."
SIGHTINGS
Actor Will Smith and family, celebrating his son Trey's 21st birthday at Hakkasan (MGM Grand) and Lavo (Palazzo) on Sunday night. The 50-member group included Trey's mother, Sheree Zampino, Will Smith's first wife. …
Si Robertson of TV's "Duck Dynasty" and "Buck Commander," attracting an estimated crowd of 600 at Sam's Club for his book signing of "Si-cology1: Tales and Wisdom from Duck Dynasty's Favorite Uncle."
THE PUNCH LINE
"We have no health care, but we have bacon-scented deodorant. Bacon-scented deodorant is perfect if you're dating Paula Deen." – David Letterman
Norm Clarke's column appears Sunday, Wednesday and Friday. He can be reached at 702-383-0244 or email him at norm@reviewjournal.com. Find more online at www.normclarke.com. Follow Norm on Twitter @Norm_Clarke. "Norm Clarke's Vegas," airs Thursdays on the "Morning Blend" on KTNV-TV, Channel 13.