Tea Party leader Niger Innis weighs Horsford challenge
November 5, 2013 - 3:39 pm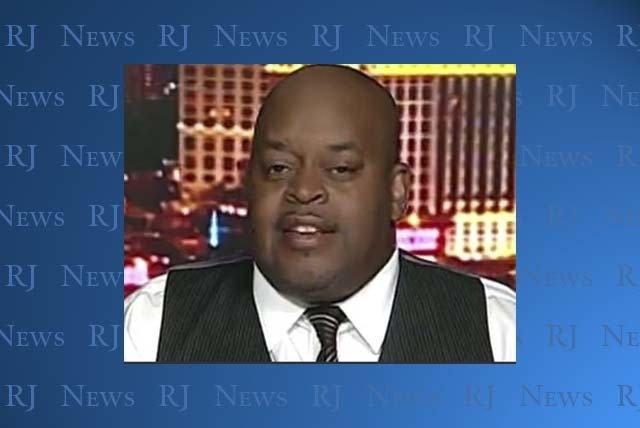 GOP money man Sheldon Adelson on Tuesday helped raise campaign cash for a potential challenger to Rep. Steven Horsford, D-Nev., the freshman congressman representing Nevada's newest district, which includes northern Clark County.
Niger Innis, who is exploring the congressional run, is a Tea Party leader and conservative African-American. He said he believes in immigration reform and in attracting more diverse people to the Republican Party. He calls himself a hybrid breed of politician who can appeal to minorities across party lines and reach non-partisan voters who decide close races.
Members of the Republican Party have started to realize they must attract more young voters and minorities to survive and win elections as national demographics change, Innis said. But he contends the GOP hasn't done enough to attract voters beyond its reliable older, white race base, mostly in rural parts of the country and Nevada.
The Republican Party has to be more effective in reaching out to a more diverse population," Innis said in an interview. "They are talking the talk. They're even thinking the talk. And that's good. That's progress. But they have to walk the walk."
Innis, 45, sees himself as a bridge to minority voters in Nevada's Congressional District 4, which is 54 percent non-white. Latinos make up about 27 percent of its population, African-Americans 16 percent, and Asians 8 percent. The district covers most of northern Clark County, parts of Douglas and Lyon counties, and all of Esmeralda, Lincoln, Mineral, Nye and White Pine counties.
Innis, the national spokesman for the Congress of Racial Equality, which his father heads, works to help minorities assimilate in U.S. society, including by learning English.
As the national outreach director of TheTeaParty.net, Innis has met with members of Congress to promote an eight-point immigration plan that includes tighter border security, assimilation and other measures to allow immigrants to become U.S. citizens. The Tea Party group doesn't support the current Senate "gang of eight" proposals, however.
More than 125,000 Tea Party members have signed on to the group's immigration principles so far.
Innis said Republicans should embrace immigrants, who built the United States.
"You have some members within the Democratic Party that demagogue the issue of immigration and use it as a political weapon," Innis said. "I'm going to confront that."
A native of New York, Innis has lived in Nevada since the end of 2007. He has been very active in politics, including in 2012. He supported Herman Cain's presidential bid until the conservative Republican dropped out of the race. Then Innis backed the eventual GOP nominee, Mitt Romney, who lost badly to President Barack Obama, in Nevada.
Innis' ability to raise money will determine whether he officially runs for Congress, he said. Also, he wants to avoid a primary. Assemblyman Cresent Hardy, R-Mesquite, also is considering a bid for Horsford's seat.
Tuesday night's fundraiser at Victor Chaltiel's Las Vegas home asked for contributions of $500, $1,000 or the maximum federal limit of $2,600 for members of the host committee. Chaltiel, a Republican, lost the race for Las Vegas mayor in 2011.
Adelson and his wife, Miriam, are both members of the host committee. During the 2012 elections, the Sands Corp. chief and his wife donated more than $100 million to GOP candidates and causes, more than any other individuals. Other host committee members include Jeb Bush, Jr., Paul Lowden whose wife, Sue Lowden, is running for lieutenant governor, and Amy Tarkanian, whose husband, Danny Tarkanian, lost the congressional race to Horsford in 2012.
Herman Cain also was scheduled as a special guest at the fundraiser, which is expected to attract more than 200 are people and raise at least $50,000, according to Innis.
Innis said he needs to raise $2 million to be competitive against Horsford, who had $117,682 on hand at the end of September after raising $477,233 for his campaign so far this year, according to the Federal Election Commission.
As the incumbent, Horsford, 40, the first African-American from Nevada to serve in Congress, has the advantage in the race. He also can count on more voters to tap with Democrats outnumbering Republicans in the district, 144,424 to 101,440, according to the Secretary of State website. Another 53,563 registered voters are non-partisan. Most live around urban Las Vegas.
David Damore, a political science professor at the University of Nevada, Las Vegas, said Horsford will be hard to beat even though there's no high-profile presidential or U.S. Senate race to lift him. The congressman has been spending a lot of time in rural parts of his district, where he's less widely known, to build support, Damore note.
"They're not taking that (the rurals) for granted," Damore said of Horsford's campaign. "He's been doing everything he should be doing as an incumbent."
Contact reporter Laura Myers at lmyers@reviewjournal.com or 702-387-2919. Follow her on Twitter @lmyerslvrj.