The eyes of the world were upon them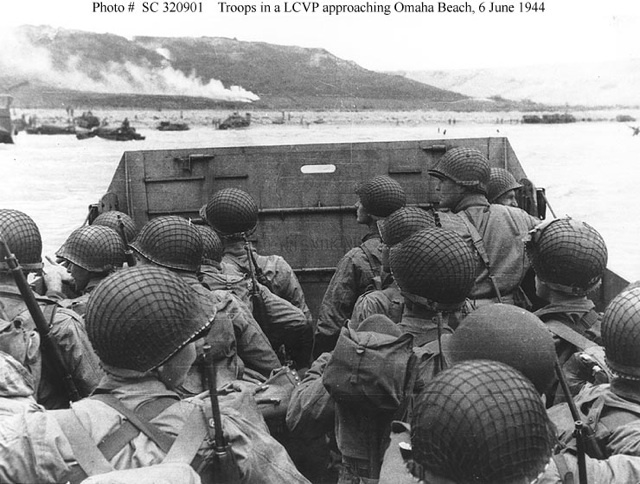 In the days leading up to June 6, 1944, as soldiers and sailors prepared to execute Operation Overlord, Gen. Dwight D. Eisenhower, the supreme commander of the Allied Expeditionary Forces, penned a message to his troops.
"You are about to embark upon a great crusade, toward which we have striven these many months. The eyes of the world are upon you. The hopes and prayers of liberty loving people everywhere march with you."
In fact, the seaborne invasion of France at Normandy, the largest such undertaking in the history of warfare, was critical to the war. If American, British and Canadian forces were unable to break through Hitler's vaunted Atlantic Wall, the allies would be dealt a crippling defeat. Germany and the Axis powers would retain control of Fortress Europe, and even if Hitler's imperial ambitions were curtailed, his stranglehold on France, and Belgium, and Poland, might never be broken.
Years in the making, the D-Day invasion was a carefully crafted ballet. Navy ships bombarded the shoreline before and during the invasion. (Among the flotilla: A battleship called the U.S.S. Nevada, the only vessel to get underway three years earlier when Pearl Harbor was bombed. Now she was back in the fight.)
The night before the invasion, paratroopers laden with gear took off from bases in England. They would jump behind enemy lines under fire, securing positions inland and clearing the way for the advancing troops.
By sea, thousands of soldiers were ferried across the English Channel in ships, loaded into Higgins boats for the ride to shore.
When they got there, German soldiers and troops under their control from occupied Europe were waiting, unleashing withering fire upon the beach. All told, an estimated 2,500 soldiers lost their lives that day, young men, really, many not old enough to legally take a drink. Back home, telegrams would be delivered to grieving families, as blue stars turned to gold by the score.
The eyes of the world were upon them.
These ordinary men, answering a call to duty that rang out with the air raid sirens in Hawaii three years before, crawled their way across beaches named Utah, and Omaha, Sword, Juno and Gold. They scaled sheer cliffs under enemy fire. They watched friends and comrades fall. But they kept going, yard-by-yard, inch-by-inch, until they secured a foothold, one that would allow Allied forces to free Europe from fascist tyranny.
There would be hard days and nights ahead, more fighting, more death. There would be feats of daring, acts of bravery, terror and heartbreak alike. We look on with amazement and awe at what ordinary men placed in one of history's most horrifying places could do and did do, under some of the most harsh circumstances soldiers have ever known. Although they would later become known as The Greatest Generation, to each other, they were merely friends, comrades-in-arms, fellow soldiers. But they were also America, and Great Britain and Canada, it's promise, it's future, it's last hope for a world undivided between good and evil, between the conquers and the conquered.
They eyes of the world were upon them.
Today, as we commemorate the 70th anniversary of D-Day, the beginning of what Eisenhower called a great crusade and a great and noble undertaking, the eyes of the world are still upon them. Their numbers have dwindled, their voices fallen silent, like the guns on those now-peaceful cliffs. But we must never forget what they did there on that longest day, and all the days that followed.
For those few who remain who were there, who still remember June 6, 1944, it will forever be the Day of Days, when the sea was gray with our ships, the sky dark with our planes, and the beaches and hedgerows red with our blood.
They eyes of the world were upon them. And they did not fail.