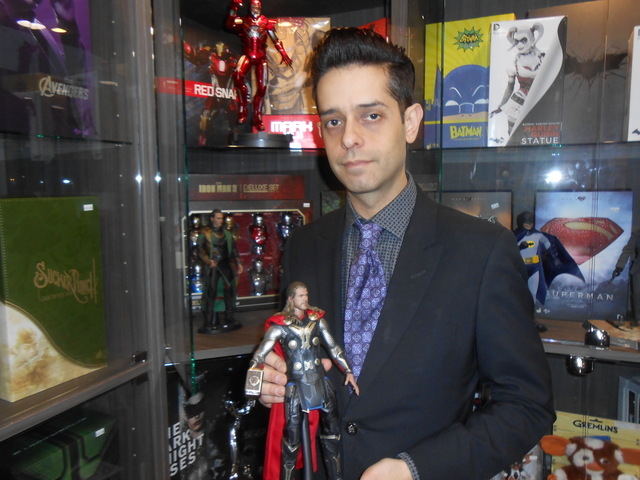 It's not just children who find intriguing items at The Toy Box at Downtown Summerlin.
Sure, the shop at 1980 Festival Plaza Drive, Suite 175, has prerequisite puzzles, dress-up items and play ovens, but older patrons who take a second look will find items they'd long forgotten about, such as Lionel trains, play instruments and My Little Pony.
"We were looking for the right location to bring our store, a high foot traffic location in a nicer end of town," said owner/operator Justin Archbold. "We saw a need for a toy store slash hobby store in this area."
Archbold already has a proven track record with his toy store The Collector's Edge in Edmonton, Alberta, Canada. He opened that store in 1994, but a desire to be in a sunnier climate led him and his wife, Nicole, to buy a home near Rhodes Ranch about seven years ago.
"We knew we wanted to open a store here," he said. "We just needed the right location."
He infused the 2,200-square-foot, open-ceiling space with eye appeal and tactile experiences, drawing visitors inside. Near the front doors are plush toys, with giant stuffed animals surveying everything from a high shelf. Farther down are stick horses, corralled in a barrel. Collector items are in glass display cases in the back.
The Toy Box's inventory runs the gamut from tried-and-true toys to rare and unique brands, including action figures, collectibles, board games and the latest pop-culture crazes such as The Munchkin, Zombies and Ticket to Ride.
The store's No. 1 seller is character figurines from Pop!, a line featuring large heads and big eyes. Pop! figures follow pop culture, movie, cartoon and TV characters — everything from Frankenstein and Simba from "The Lion King" to characters from "Teenage Mutant Ninja Turtles," "The Walking Dead" and "Breaking Bad." There are so many that one entire wall is dedicated to them.
"They're inexpensive to give as gifts or put them on your desk at work," Archbold said.
How many customers are parents shopping for their children and how many are adults shopping for themselves?
"I'd say it's split down the middle," Archbold said. "We have a lot of families coming in with their kids, and they end up finding something for themselves. Other people are collectors."
The Romero family was there recently with their son, Matthew, 3. Matthew was drawn to the Thomas the Tank Engine play table and was immediately engrossed in running the toy engine down the track and through the tunnel. The Mountain's Edge couple said they'd tried to visit the store soon after Downtown Summerlin opened.
"We knew it was here, but it wasn't open yet," said Robert Romero, who was there with his wife, Kasia. "It's awesome. They've got these rare action figures you don't see at (a big-box) toy store. It's one-of-a-kind stuff. I'm not a collector, but it's awesome to have, you know?"
Spring Valley residents Robert and Jessica Montero happened upon the store. They have two children, ages 10 and 3.
"We just popped in, just looking," Jessica said. "We'll bring the kids here."
"People may come in and not know what they (want), but there's always something for somebody," Archbold said. "They'll point something out and get a chuckle, and that makes us feel that we're doing our job right."
The Toy Box is open from 10 a.m. to 9 p.m. Monday through Saturday and 11 a.m. to 7 p.m. Sunday. For more information, call 702-776-8690 or visit toyboxlasvegas.com.
Contact Summerlin Area View reporter Jan Hogan at jhogan@viewnews.com or 702-387-2949.