Tiger impersonator appears at drag queen roast
October 6, 2013 - 7:47 am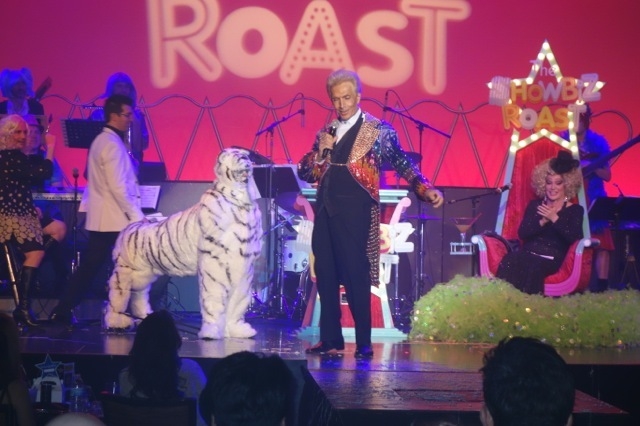 The claws came out for the Frank Marino roast on Friday inside a rollicking Stratosphere showroom.
Even a Montecore impersonator showed up with "Siegfried" lookalike Anthony Rais for some timely biting commentary.
Brian Thomas, best known around town as our favorite leprechaun, played Montecore to the hilt.
"I always wanted to work with Steve Wyrick," said Thomas, "but his shows have disappeared more than I have."
Comedy hypnotist Marc Savard was razor sharp as the roastmaster.
When Montecore was leaving the stage, Savard quipped, "he's slower than Robin Leach's metabolism."
Turns out when the organizers put the skit together, they were unaware that Roy Horn's birthday party was one day before the roast.
Leach channeled legendary chef Julia Child. He wore a super plus-sized blue dress and a brown wig.
Savard cracked, "We are so lucky to have you here tonight because we know it's shuffleboard night at the nursing home; we thank you, and Frank thanks you for being here. You are a barely living legend."
Mark Shunock, one of the leads of "Rock of Ages" (Palazzo), came out in leather short shorts and, while leading a troupe of showboys in a naughty version of "YMCA," worried aloud that he might be in trouble with his bosses.
YUMAN EXPLAINS
Notably absent from Roy Horn's 69th birthday party at The Mirage last week was Siegfried &Roy's longtime manager Bernie Yuman.
The evening was not only a tribute to Horn's inspirational battle since he nearly died from a tiger bite on his 59th birthday, Oct. 3, 2003, but a celebration of the iconic illusionists' success story.
The buzz began when Yuman didn't appear on the red carpet. Had he not been invited? Had the relationship soured?
The mystery grew when a reporter at the party tweeted: "Hearing that Bernie Yuman was actually at the sneak peak opening of Buddy Vi's @VenetianVegas tonight."
Yuman set the record straight when reached by telephone.
"I was invited and honored to be invited," said Yuman, who began managing Siegfried &Roy in the late 1970s.
But, he said, "my place on that night was to be next to my friend of 51 years, Muhammad Ali, for the first-annual Muhammad Ali humanitarian awards in Louisville."
"I had already committed long before I received the invitation (to Siegfried &Roy's event)," said Yuman, who became Ali's manager in 1999 and still operates Muhammad Ali Enterprises."
As far as his status with Siegfried and Roy, he is adamant.
"I was their manager, I am still their manager and I will always be their manager. When we came together we changed entertainment forever.
"They are retired in so far as their entertainment career is concerned but that doesn't change anything," he said.
He acknowledged for the first time that he studied the in-house video of the incident over and over looking for answers. He came away convinced "there were two heroes: Roy and Montecore.
"A lot of things happened that were out of order, through no fault of anyone," he said, referring to Horn's routine with Montecore.
Those circumstances had to do with lighting, he said, and "both (Horn and Montecore) were out of position."
"But Roy is a cat from another life. Roy's instincts made sure Montecore stayed calm and collected," he said.
And when Horn had a small stroke, "Montecore gently picked him up and took him backstage."
To characterize it as an attack, he said, "is nothing other than sensationalism."
While leaving Horn's party Thursday, I noticed he was departing as well, slowly walking behind us with assistants at his side. As he approached, I told him I hoped it was a special birthday.
"It was not an attack," he said in a scolding tone. He repeated it.
Not everyone is likely to agree with Siegfried and Roy's camp on that, given the severity of the bite wound, but his loyalty to his animals and his personal courage will never be questioned.
THE PUNCH LINE
"Whenever there's trouble, there's always a silver lining. Swing by the New York City Opera on your way home and you can get 75 percent off Viking helmets." ­­­—­ David Letterman, on the New York City Opera going bankrupt.
Norm Clarke's column appears Sunday, Monday, Wednesday and Friday. Reach him at 702-383-0244 or norm@reviewjournal.com. Find more at normclarke.com. Follow @Norm_Clarke on Twitter. "Norm Clarke's Vegas" airs Thursdays on the "Morning Blend" on KTNV-TV, Channel 13.