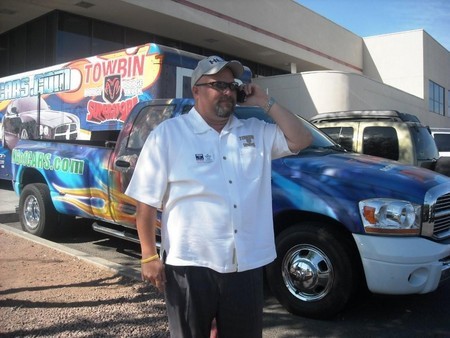 As a member of the Internet sales team at Towbin Dodge Superstore in the Valley Automall, Bo Simmons works around the clock. Although the car business is intense in all avenues, it's especially demanding in the Internet department where sales are handled seven days a week, 24 hours day.
"My phone goes off in the middle of the night many times," said the 44-year-old Simmons, a native of Mechanicsville, Va., who spent 23 years in the U.S. Army before retiring in February 2006. "Customers inquire online, so the lead will go automatically to our phone no matter what the time of day or night."
The creation of the Internet also established a vital element in the car business primarily because sales consultants need to respond immediately to inquiries or face the possibility of losing business. If Simmons is not on his cell phone, he's on a computer answering questions sent by potential buyers.
"Internet buyers are very smart," explained Simmons, who has been in the car business for more than two years. "They know their market and they also know that they can buy a car anywhere. If I don't respond, that same buyer will go elsewhere."
Simmons' customers come from all walks of life. He specializes in helping military personnel, considering his many years in the U.S. Army.
"The Internet buyer already knows what he or she wants," said Simmons. "Your typical Internet buyer is someone who purchases in 30 to 60 days, so we need to be educated about our product and very proactive."
Simmons said his customers come from all over the U.S.
"I sold a Corvette to someone in Austin, Texas, about seven months ago and I'm also working with someone in Ohio right now. In both cases, the customers found me through our Internet site."
The Texas customer wanted a '92 Corvette, which Simmons found for him in Las Vegas, while the Ohio customer wants a deep water blue Ram 1500.
"I just happen to have a Ram 1500 for the man in Ohio," said Simmons "The truck was in our inventory. We're going to work the numbers and he's either going to fly out here to pick up his truck or we will figure out how much it's going to cost to ship it to him."
Simmons said the dealership's most popular product for Internet customers has been the 2009 Ram 1500 pickup.
"The truck is redesigned in comfort front to back and top to bottom," explained Simmons. "Instead of the old leaf springs, it has coil over springs. The 'horse and buggy' springs are gone. And in addition, it has plenty of available horsepower since it can be purchased with the 5.7 Hemi, the 4.7 V-8 and the 3.7 V-6."
Simmons lauds Towbin Dodge, which has been an integral part of the Southern Nevada automobile business for several years and is rated the top-producing Dodge store in the nation.
"The energy here is unbelievable," said Simmons. "This is a very productive atmosphere and it's so busy that the days seem to end almost as fast as they begin. One day goes right into the other."
The Towbin Dodge Internet department has 10 employees.
"We have a great Internet team. I would put them up against any Internet team in the country. We are one team, one fight."
Towbin Dodge Superstore is situated at 275 Auto Mall Dr. Further information can be found at www.TowbinDodge.com or by calling 558-3800.