Tuscany Village offers single-story plans
September 17, 2010 - 11:00 pm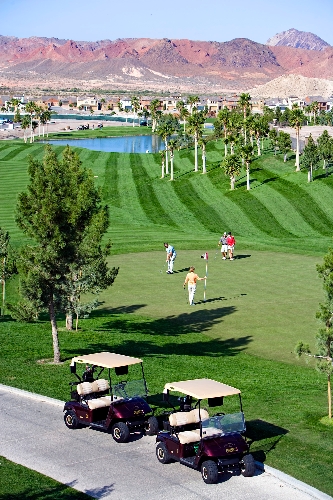 Dunhill Homes' Tuscany Village in Henderson is currently offering single-story homes.
These are prized by active retirees and people from all walks of life who no longer wish to maneuver two-story homes, according to Michael Blevens, Dunhill Homes sales agent.
The homes, which measure from 1,264 to 2,700 square feet, have price tags starting at $149,990.
Also, the attractive price and the community's abundant amenities are a drawing point for those looking to simplify their lives and who enjoy golfing and other recreational and social opportunities.
"There are more options in La Vita Tuscana (the community's clubhouse) than are offered at most country club communities, and for a fraction of the price," Blevens said.
"Active adults are finding they don't want to be tied to neighbors who are all of a certain age, but a true community where people of all generations live, work and play."
"Tuscany Village is a guard-gated community with roaming patrol," Blevens said.
Residents of the Henderson master plan also have exclusive access to a multimillion dollar recreation center that spans 35,000 square feet and includes dozens of social and fitness options.
The 35,000-square-foot clubhouse is a centerpiece of Tuscany Village and includes a lap pool, swimming pool, tennis courts and racquetball courts. The center also houses aerobics room, indoor and outdoor basketball courts, arts and crafts rooms, billiards and conference rooms, social areas and park areas.
"Whether you want to get involved in a group or start your own, you can meet people with similar passions and interests right in your own neighborhood," Blevens said.
In addition, the community offers the Tuscany Golf Club, designed by golf course architect Ted Robinson Jr. The 6,906-yard, par-72 course was named Golf Magazine's No. 1 Golf Course in Las Vegas in its annual BBQ (Bang for the Buck Quotient) rankings.
Dunhill Homes is offering incentives on all of its floor plans, according to Blevens. Currently, all new homebuyers receive free upgrades on kitchen countertops, cabinets and appliances. Dunhill Homes also is providing up to 3 percent of each home's sale price to be used for closing costs when using its preferred lender.
"These incentives can be used with any of our floor plans," Blevens said.
"Among our most popular homes are our 1,606- and 1,705-square-foot plans. Both include gourmet cooking islands and open great rooms. The 1,606-square-foot plan also includes a covered front porch," he said.
"They have an open feeling, with big gathering rooms and wide hallways. The 1,606-square-foot plan includes two bedrooms and a den for those who don't want three full bedrooms."
"We are also about 15 minutes from an international airport and the famous Las Vegas Strip, which makes living in Tuscany Village convenient for both residents and guests," Blevens said.
"You get all this without the pricing of a country club. And you'll be happily surprised that unlike many other master-planned communities, there are no improvement district fees (SIDs or LIDs) burdening the homeowner."
To visit Tuscany Village, take Lake Mead Drive in Henderson heading east. Follow the signs to the community and turn left on Mohawk Drive to the main entrance. Tuscany's sales office is located in the La Vita Tuscana recreation center and is open 10 a.m. to 6 p.m. daily.
For more information, call 873-7287 or visit dunhillhomes.com.