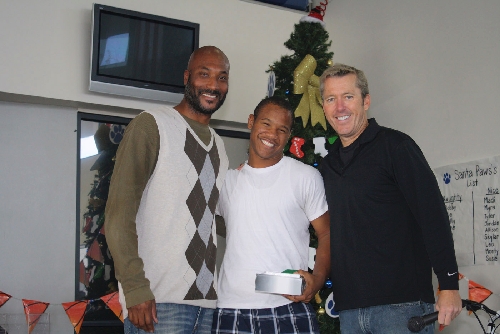 The Valley Automall held its 14th annual Foster Teens Holiday event Dec. 18. The daylong celebration gave 100 disadvantaged youths an opportunity to enjoy the season with free food, gifts and fun. The event brings seasonal cheer to a portion of the valley's roughly 500 teens in foster care that might not otherwise experience the holidays.
"We're proud to provide a seasonal dose of caring, happiness and cheer," Valley Automall Manager Valorie Staley said. "This event lets foster teens know they are loved and important, which is what the holidays are all about."
Staley said the holiday celebration plays a key role in developing and improving foster teens' self-confidence and self-worth, while giving them the support needed to succeed.
The event began with chaperoned teens arriving to a brightly colored Towbin Dodge showroom at 275 Automall Drive in Henderson where the festivities commenced with a breakfast . Next, teens each received a $100 gift card from the Valley Automall Owners Associationfor a shopping spree at local retailers, arriving by chartered coach buses.
"Teens in foster care don't get much to celebrate with the holidays," said Erin Carroll, youth support worker with Clark County Department of Family Services' Independent Living Program. "This gives them a chance to purchase a piece of clothing — something nearly everyone did – that expresses their own personal style as opposed to wearing hand-me-downs."
The teens bought clothes, tennis shoes, sporting goods and music, among other items. It was followed by a luncheon donated by Gothic Grounds Management consisting of barbecued hamburgers and hot dogs, with all the trimmings.
Lunch concluded with an inspirational talk from basketball star Ed O'Bannon, who led the University of California, Los Angeles Bruins to the 1995 NCAA National Championship. O'Bannon was selected ninth overall in the 1996 National Basketball Association draft by the New Jersey Nets. He later played for the Dallas Mavericks and the Orlando Magic, as well as in Italy, Spain, Greece and Poland.
"It's good to give back to the community," said O'Bannon, who has three teenagers of his own. "Everyone gets knocked down. The key is to get back up and fight for your goals."
O'Bannon suffered a potentially career-ending injury during his freshman college year only to rebound and become the NCAA Tournament's Most Outstanding Player. O'Bannon eventually won the John R. Wooden Award, had his number 31 retired by the Bruins and was inducted into UCLA Athletics' Hall of Fame.
O'Bannon was joined by Emmy award-winning KVVU Fox 5 anchor John Huck, who served as master of ceremonies. The duo helped conduct a prize drawing for teens that included mountain bikes, a personal laptop computer, an Apple iPod, digital cameras, among other gifts. Many teens also got spruced up before leaving thanks to complimentary haircuts provided by professional stylists Kerri May from Studio K Salon and Tricia Smith of Cut Me Loose.
Event sponsors included Gothic Grounds Management, Findlay Toyota, Chapman Chrysler Jeep, Lexus of Henderson, BMW of Henderson, Findlay Acura, Findlay Cadillac/Saab, Mercedes-Benz of Henderson, M&M Services, (Local) UFC Ultimate Fighting Championship, Swan Advertising, KVVU Fox 5, Starbucks and Insight Communications of Nevada Inc.
Valley Automall is the world's largest auto mall, with thousands of new and used vehicles. For more information, visit www.valleyautomall.com.
Dealers include Audi Henderson, Chapman Chrysler-Jeep, Courtesy Imports, Courtesy Mazda, Desert BMW of Henderson, Desert Pontiac-GMC, Findlay Acura, Findlay Cadillac-Saab, Findlay Honda Henderson, Findlay Lincoln Mercury, Findlay Toyota, Findlay Volkswagen, Ford Country, Henderson Chevrolet, Henderson Nissan, Lexus of Henderson, Mercedes-Benz of Henderson and Towbin Dodge.