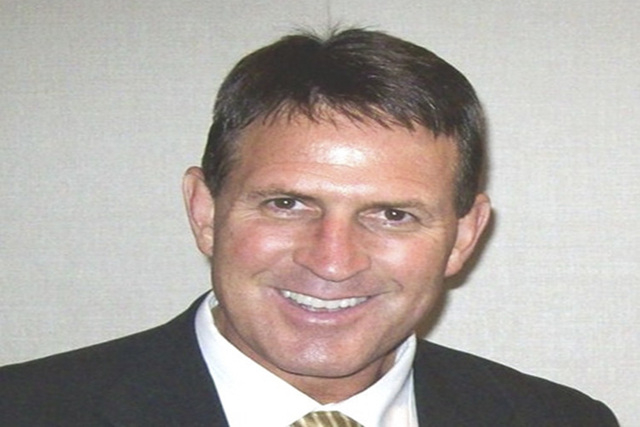 The Republican opponent of Assembly candidate Jesse "Jake" Holder filed a complaint with the Clark County district attorney's office accusing the Democrat of not living in Assembly District 10 in the central part of the Las Vegas Valley.
The complaint from Shelly Shelton included a sworn affidavit from the on-site manager of the Highland Villa Apartments at 505 Desert Lane, who said Holder isn't a resident now and "has never been a resident" of the complex.
The complaint names Secretary of State Ross Miller as a defendant along with several Clark County Elections Department officials, including Registrar of Voters Joe Gloria. It seeks an injunction from the officials to keep Holder off the ballot, including sample ballots, early voting ballots and the one for the Nov. 4 general election. And it accuses Holder of fraud.
"Mr. Holder did knowingly and falsely represent his eligibility as a candidate for AD10," says the complaint, which was filed Aug. 21 with the district attorney's office and on Aug. 22 with the secretary of state's office. "Mr. Holder has fraudulently intended to induce the voters of AD10 to elect him in AD10. This fraud is being attempted against all voters in AD10 and against all eligible candidates for AD10."
But Holder said Tuesday in an interview that he has lived in the condominium on Desert Lane since Jan. 15, when he moved there, so he could run for Assembly District 10. Holder said he lives with a friend, who is his roommate.
Holder did acknowledge that he's been spending less time at the apartment since mid-July when his roommate's girlfriend began living with him. He said he has slept there about half the time since and instead has stayed with friends.
Meanwhile, Holder said he has found a new apartment in the district and plans to move in on Sept. 5.
Under Nevada law, a candidate must be a Nevada resident for at least one year preceding an election. And the candidate must live in the district at least 30 days before the end of the filing period for the election. In this case, the filing period ran from March 3 through March 14 — ending about two months after Holder moved into the Desert Lane place.
"I'm not a carpetbagger," Holder said. "It's clearly within the rules."
Holder said he decided to run because it was an open seat in a Democratic-leaning district. The seat was previously held by Assemblyman Joseph Hogan, who was first elected in 2004 and decided not to run for re-election.
Holder, who works in real estate, has some political experience. He ran for the 3rd Congressional District in 2012.
At the time, Holder listed his address in the 800 block of Carnegie Street in Henderson. That's the same address he still lists on his vehicle registration and on his driver's license — two points made in the complaint against him to show that he doesn't consider 505 Desert Lane his real home.
Holder said he keeps that old address on his driver's license because the card doesn't expire until Sept. 8, 2015, and he didn't want to file the necessary paperwork to change his address until the card expires. Nevada law requires motorists to notify the Department of Motor Vehicles of a change of address within 30 days of a move.
There's also another address associated with Holder on East Agate Street, a condominium he said he still owns. He lived there beginning in early 2009 and moved out Jan. 14 of this year before moving into the Desert Lane place, he said.
Shelton, Holder's GOP foe, said her campaign collected "credible evidence" that Holder doesn't really live on Desert Lane.
"He has never had an actual residency or legal domicile in District 10 as required by law," Shelton said in an email Tuesday. "Under Nevada law the residents of each district are entitled to be represented by one who lives within the district. This close level of representation is the backbone of our State Government. It ensures that our representatives know the concerns of our neighbors because they live among the very people they represent."
She said voters lose faith in the political system when candidates lie about where they live.
It's unclear what might happen in the Holder case given recent residency challenges. During the 2012 election, Andrew Martin's residency was challenged by his GOP opponent when he was running as a Democrat for Assembly District 9. A judge ruled Martin didn't live there, but it was too late to remove his name from the ballot. He won and Democrats who control the Assembly decide who is seated and accepted Martin into the body.
Martin is running for state controller in this year's election.