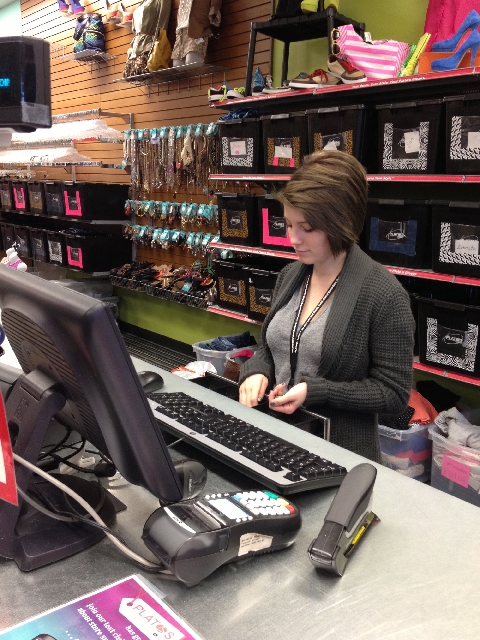 After two years pounding the pavement, John Atterton was getting nowhere with his job search in the information technology field. As a longtime local with significant family ties in Nevada, he didn't want to leave the area. And with his emergency savings account dwindling and his idle time growing tiresome, Atterton decided he was ready to go into business for himself.
"I know a bit about setting up businesses through my IT work, and I saw businesses come and go when I did some freelancing, so I saw mistakes I thought were glaring and I had an idea why those (businesses) failed," Atterton said.
The father of four school-age children still didn't feel confident enough to start a business all on his own. So he began to research franchising.
"About two years ago I started to reach out to some friends and ended up speaking to a lot of business owners and financial (professionals)," Atterton said. "Franchising seemed to be the best idea for what I needed, which was a guiding hand in a business model that was proven."
Franchise businesses can range from $15,000 to more than $350,000. International food chains such as Papa John's and Quiznos, and many dry cleaners and cleaning services, are now shopping franchise opportunities to interested job seekers in Southern Nevada. Much of potential franchisees' initial financial investment depends on their level of labor investment, chosen retail or service category and much more.
Most analysts agree that the first year after the opening of a franchise will be a loss, while by the third year, many franchises make a healthy profit, again depending on brand recognition and consistent support from the parent company.
Recently, Atterton attended a Papa John's pizza franchise seminar. He has attended more than a dozen seminars for international and national food chain franchises in the last two years.
"They've been around a long time," he said. "And pizza seems to do well in any economy, so I thought I'd sit down with them because they are in my price range to start up."
The nearly 30-year-old company is highly rated in customer satisfaction in the American Customer Satisfaction Index with all national pizza chains.
"I'm hoping I can find something that will do well before the usual three-year turnaround that is typical of most new businesses," he said.
Papa John's recently announced a zero franchise fee, zero percent royalty for 18 months and $50,000 in restaurant equipment and the chance to purchase two Middleby-Marshall ovens for $50 after operating for three years. The company recently exceeded 4,000 stores around the world.
When he originally began researching opportunities, Atterton was surprised at how many franchise businesses were hoping to build or expand in the Las Vegas Valley.
"I thought we, as a town so hard-hit by the economy, housing, job rates crashing, it'd be really hard out there," he said. "I'm still doing my work. It's a big job, but I'm narrowing down my decision. I hope to start a business this year."
Some questions to consider while you research local franchise opportunities are:
■ How much investment will the franchise require upfront?
■u2007How much operating capital should you have in reserve after the initial opening?
■u2007How long will it take to break even?
Longtime local couple Margie and Mark Sherman recently opened their first franchise business, Plato's Closet, in Centennial Hills. They had spent about four years looking at various business opportunities to invest their time, money and hopes before making the decision on this particular business.
Margie Sherman, president of the couple's only local franchise, was a driving factor.
"Margie loved the whole concept of resale," said Mark Sherman, treasurer of Plato's Closet at 5643 Centennial Center Blvd. "For five years we would visit garage sales and find the best deals on name-brand clothing for the kids and things for the house and then one day her sister-in-law mentioned Plato's Closet and we began our due diligence."
Plato's Closet is a teen-focused retail store with a core customer group ages 12 to 24. The company has opened more than 200 stores in the United States since 2010. It sells gently used brand-name apparel and accessories.
The couple, who have three daughters and a son, pored over investor and legal information before traveling to meet the franchisor, Winmark Corp., in Minnesota. There are two other Plato's Closet locations locally, in Henderson and Spring Valley.
"We found a (good) fit," Sherman said. "The company had an excellent business model, great margins and perfect timing given the economy."
The initial fee to start the franchise was $25,000. The other Plato's Closets in town assist in the Sherman's endeavor. This is the couple's only franchise so far. The franchisor is careful to ensure that each franchisee has been in business long enough and has adequate growth before opening a second location.
"By the time you include inventory and build out, etc., it was approximately $275,000" that they invested, Sherman said.
They officially opened the new store July 26. More than 100 people waited in line outside that summer morning after hearing the word-of-mouth about the trendy resale store.
"We actually opened just before what we would call our holiday season … back to school," Sherman said. "August was our best month, which allowed us to accumulate cash just before going into the slower months of September and October. Each month we see our sales increasing and, more importantly, our inventory buys from customers. We anticipate a strong spring and a huge summer. Unlike most retail stores, we buy our inventory direct from the public for cash on the spot."
The business model and detail from Plato's Closet's parent company figured greatly into their initial success, he said. For those looking to get into the franchise business, he offers a few tips.
"We would tell them not to reinvent the wheel," Sherman said. "The franchise has a system that has been proven time and time again, and if you simply follow the system you will have a much higher probability of success.
"Also, make sure that you are adequately capitalized. Many people start businesses without making sure to have plenty of cash to pull through the beginning stages of your business development.
"In this business, having adequate inventory is paramount. If you don't have the merchandise, you don't have the sales. Lastly, it is important to trust the people that work for you but as Ronald Reagan once said, 'trust, but verify.' The franchise has over 300 reports that you can run to check on the health of your business."
For more information, visit www.platosclosetnwlasvegas.com.
Someone with keen insights on franchising is Dina Mitchell, area developer and marketing director for Tropical Smoothie Cafe. She has operated Tropical Smoothie Cafes in Las Vegas for more than a decade.
"I purchased the right to develop the brand for Tropical Smoothie Cafe in (November of) 2000," Mitchell said. "I opened my first store on Eastern and Horizon Ridge in Henderson in April '01, the second a few months later and the third in January of '02. As of today, we have 21 locations and four more under development including one in the Stratosphere hotel and a new drive-thru in Pahrump."
She began after many years of research to understand the business and realize her potential and passion for the product.
"I didn't get into the business to make a lot of money," she said. "In fact, I think getting into any business to 'make a million dollars' is the wrong reason. I strongly believe that the real secret to success is doing something you are passionate about.
Being happy and proud of your job is tangible. I got into Tropical Smoothie Cafe because I was passionate about the concept and brand and directed all that passion into growing my individual stores by way of local events, getting involved with local charities and schools," Mitchell added.
First and foremost, she would advise anyone looking to get into any business, not just a franchise, to do their due diligence.
"Specifically for a franchise, I would ask existing franchisees about their experience, would they do it again, what are the positives and negatives," she said. "And then business specific questions (such as) food and labor percentages, profit margins, if they intend to be active or silent operators, as this would affect profits."
Originally, she decided on the franchise business because her lack of experience in the restaurant business left her feeling at a disadvantage.
"I knew that a franchise would supply me with a business model, train me and set me up for success by providing me with on-going support," she said.
Mitchell believes the most important reason to franchise is brand awareness. She also stresses the need to understand your responsibilities as a franchisee, locally and with the parent company.
"When you pay your royalties for a franchise it is not only the support, training and business model, but also the brand awareness that comes from a recognizable sign on the door," she said. "When you 'buy into' a franchise you are basically paying for the equity in the name, you don't actually own the brand, just the right to make money off the brand. You own the equipment and are responsible for the lease."
The idea of franchising a food store locally appeals to Atterton, who finds that talking to franchisors one-on-one and attending any seminars they may hold in Las Vegas, can give you a good idea of what's involved.
"If you still have a good feeling after talking to as many people you can and getting all the legal info you need," the 45-year-old future business owner said, "then go back and do it one more time before taking the leap. If it still feels right after all that work, I think you've got a winner. I hope I do."