When do you ban a ride? It depends
December 14, 2014 - 8:02 am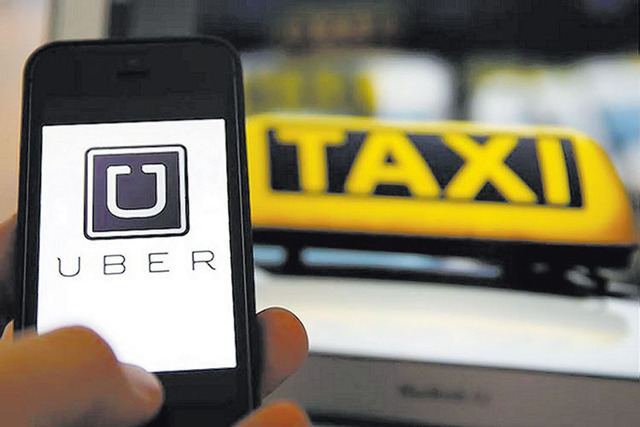 Somewhere in Las Vegas, Charlie Horky must have had a good laugh at the news that ride-sharing service Uber was temporarily halted from doing business in Nevada because of safety concerns.
At the end of a long hearing on Nov. 25 in Washoe District Court, Judge Scott Freeman granted a preliminary injunction against the San Francisco-based Uber, which continues to shake up the transportation establishment across the country. Freeman heard many of the Nevada Transportation Authority's concerns about driver background checks and vehicle safety shot down, but clung to his decision that Uber couldn't be trusted, in part, because it failed to randomly drug test.
"Uber's made a business decision not to do random urinalysis and to follow the app as to getting customer feedback," Freeman said. "By the time the customer figures out somebody is stoned in a car, that's too late, and that's troublesome to the court from a dangerous perspective, a harm perspective."
Although no one asked the authority to produce details of just how often cab and limo companies are drug testing their drivers in Nevada, surely Freeman would have been positively perturbed by the existence of Horky in the apparently otherwise pristine industry.
Horky, you may recall even if the judge of state officials fail to, has been the chief operating officer of CLS of Nevada, a longtime limousine service with big-time insider contacts on the Strip. Horky and eight others were indicted in December 2012 on federal racketeering charges involving an scheme to provide prostitutes and drugs to customers. They were charged with defrauding $2.8 million from customers by overcharging their credit cards.
Court-authorized wiretaps showed Horky at the center of a sophisticated drug and hooker dispatch system. Among the drugs provided were cocaine, methamphetamine and Ecstasy. Although he's yet to be sentenced, Horky agreed to plead guilty in June. At that time, Horky's defense attorney David Chesnoff said, "Mr. Horky has accepted responsibility for actions involving financial activity at the company and is ready to assume the consequences. He apologizes to those he disappointed, and we're hopeful that the court accepts the negotiations."
Bad news for Horky, the longtime state transportation service licensee. But the news wasn't negative enough to have him banned by the state. That's right — he's remained in business.
CLS was allowed to continue to operate, albeit under the supervision of U.S. Bankruptcy Court Trustee Tim Cory, even after wiretaps were made public that clearly showed Horky's hands-on culpability in a drug, prostitution, credit card fraud and check kiting racketeering enterprise.
But Uber's hip, popular and unlicensed ride-sharing service was declared sufficiently dangerous to passengers and the industry in general.
Here's a little free advice: The best argument the industry and its allies at the NTA and state attorney general's office can make is that Uber simply doesn't comply with Nevada law. If it gets too personal and tries to make Uber sound unsafe and scary — as NTA Director Andrew MacKay unsuccessfully attempted to do during the hearing — officials will end up looking at best naive and at worst like lackeys for the cab and limo industry.
At the end of the hearing, Freeman made his call even after Uber received a surprise endorsement from one of its unlikely customers, Nevada Department of Business and Industry Director Bruce Breslow.
"Again — I like the technology," Breslow told the court. "I like their public relations. I like the way they reach out to the public and they provide a service that you don't have to wait for a dispatcher. … But in Nevada, I suggested that they could apply with the NTA to become a common carrier."
Breslow was also critical of Uber. He questioned vehicle maintenance, criminal background checks, driver drug testing, and fare transparency.
Criminal background checks? Concern for drug use? Fare transparency?
Surely Charlie Horky laughed at that one, too.
John L. Smith's column appears Sunday, Tuesday, Wednesday, Friday and Saturday. Email him at Smith@reviewjournal.com or call 702-383-0295. Follow him on Twitter @jlnevadasmith.