White House honors Las Vegas Valley woman for gun law advocacy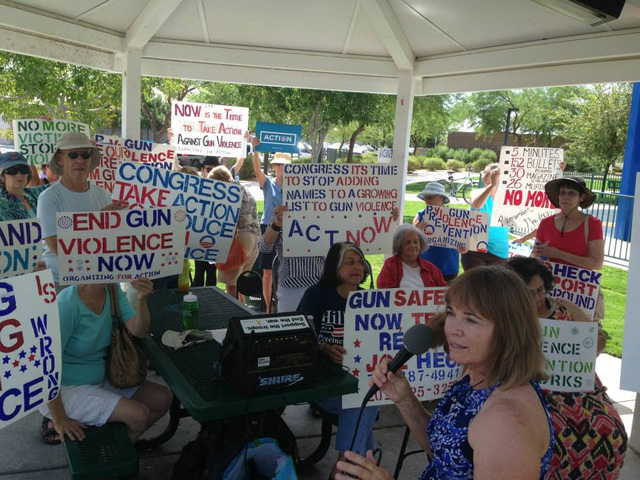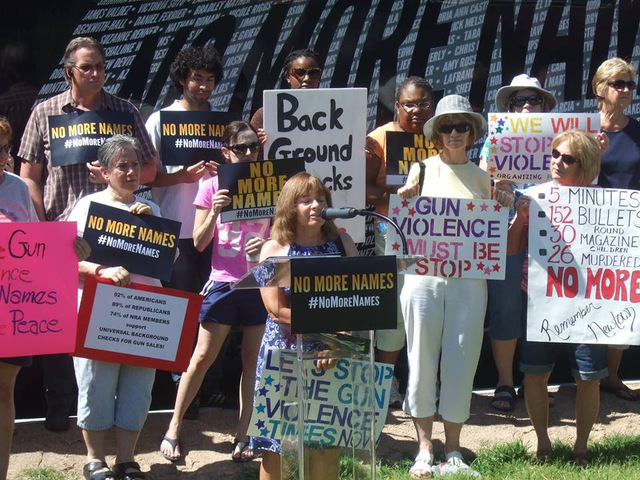 Listening to the stories of victims of gun violence, Teresa Crawford knows she has a calling to see passage of laws that curb senseless shootings in America.
Because of her activism in Nevada, Crawford, a Henderson resident, was honored by the White House April 3 with nine others from around the country as a Champion of Change for gun violence prevention.
"It's really humbling, frankly," she said. "I didn't think I belonged there."
Others honored included Mark Barden, whose 7-year-old son was killed in the Sandy Hook Elementary School shooting in 2012; the Rev. Glenn Grayson, who also lost a son due to gun violence; and Pamela Simon, a community outreach coordinator for Rep. Gabrielle Giffords, who was shot in Tucson, Ariz., in 2011.
During the ceremony, advocates and grass-roots activists discussed the issue, heard from survivors and garnered support from one another to continue the movement.
"We got to hear from survivors from every environment," Crawford said. "Some were bystanders of gang violence; others were from domestic violence. One man had been shot three times and still had the fragments in his body. They are begging for help. I do this for them."
Regardless of the story, they all were calling for solutions.
A retired nurse, Crawford first became involved with learning about gun legislation in the 1990s when Congress passed an assault weapons ban.
In 2000, she took a class at the University of Nevada, Reno, and wrote a research paper looking at Nevada's gun legislation, further immersing herself in the topic.
She went on to volunteer for many political campaigns and went to several political rallies for politicians such as U.S. Rep. Dina Titus, D-Nev., and former U.S. Rep. Shelley Berkley, D-Nev.
When the Tucson shooting happened in 2011, Crawford thought how easily that could happen in Nevada.
"It really struck me," she said. "All these congresswomen were doing community events where they would meet up at a grocery store or a mall to talk with people."
She said Titus has had similar events where 200 to 300 people showed up.
"That could have been her," she said. "That could have been me there. It could have been any of us."
This prompted Crawford to start raising awareness for gun regulation and legislation.
"There is a way to preserve your Second Amendment right while passing sensible legislation," she said.
Her quest has led her to speak out for Nevada passing expanded background checks to make sure guns don't end up in the wrong hands.
In 2013, she lobbied for the passage of Senate Bill 221.
The bill passed the Senate and the Assembly. However, it was vetoed by Gov. Brian Sandoval.
"I don't think he realized the day he signed it was six months after Sandy Hook," Crawford said.
Despite opposition, she is ready to press on. She has already talked to politicians about reintroducing another bill on background checks in the 2015 session.
"People in Nevada want something done," she said. "According to a poll by Public Policy Polling, 78 percent of Nevadans support expanded background checks. Stronger gun laws do save lives."
Along with rallying for legislation, Crawford has organized local vigils to honor shooting victims across the country.
Additionally, Crawford has been advocating for better mental health services to partner with responsible gun laws.
One of her next crusades is to increase the effectiveness of gun storage laws, which require owners to better store their guns — locking weapons in a safe — to keep out of the hands of children.
She said being a part of Champion for Change helps her realize she is not alone on her quest.
Contact Henderson View reporter Michael Lyle at mlyle@viewnews.com or 702-387-5201.