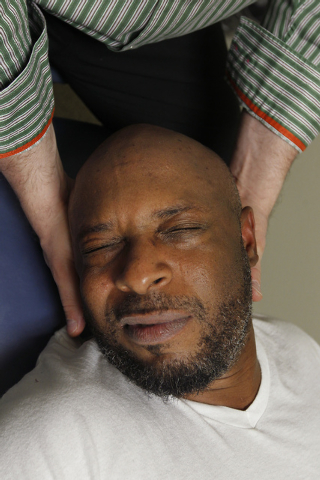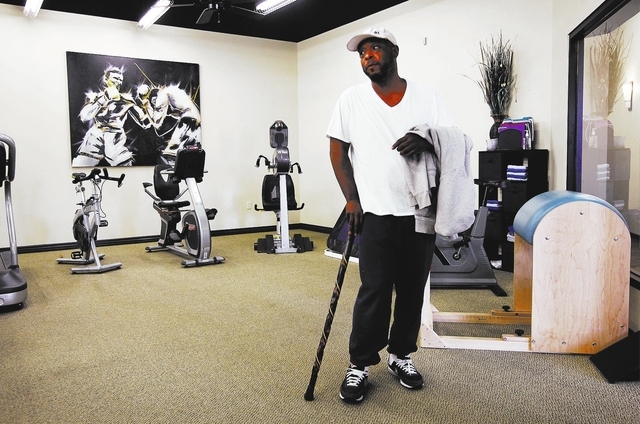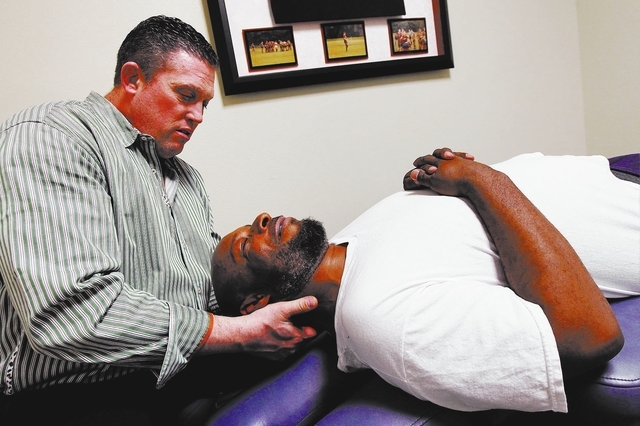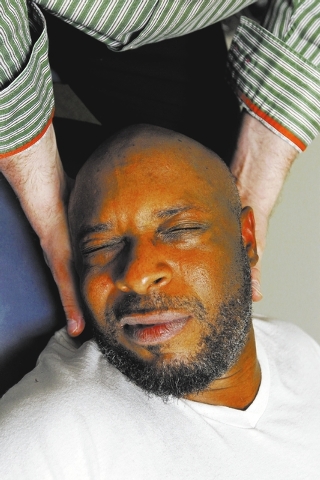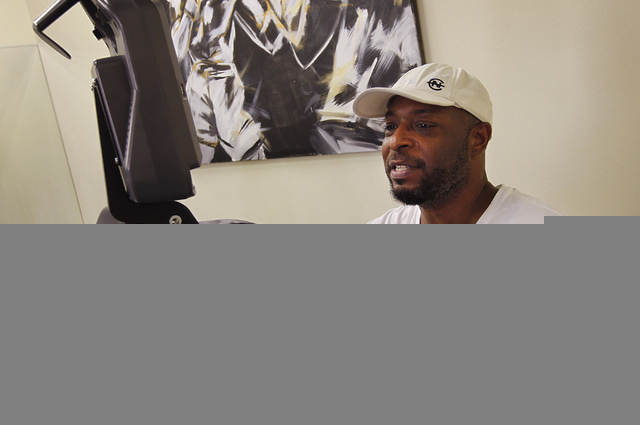 Brian Snoddy was at his wit's end.
Suffering from a spinal cord injury, uninsured, his medical bills piling up, he was in danger of losing his Las Vegas house and he was sitting in the dark because he couldn't afford to pay his power bills.
His life had become welfare, food stamps and collecting cans for recycling to feed himself when his neurological tremors weren't too bad. To make matters worse, Social Security had over the course of two years repeatedly denied his disability claim.
"It crushed me and my dreams," said Snoddy, 45, who had traveled the world working on private yachts until his 2010 injury handling an air conditioning line cost him his health and his job. His spinal cord was broken in four places in his neck, requiring emergency surgery. Now he sometimes wears a neck brace and walks with a cane.
At his lowest moment, someone suggested he call his congressman to get help.
"I said, 'That's so crazy it might work,' " he recalled in an interview last week.
Ten weeks after he contacted the office of U.S. Rep. Dina Titus, D-Nev., the congresswoman called with good news: he not only qualifies as disabled, but Social Security would cut him a $53,537.90 check for back benefits. Now, he gets $1,900 a month from Social Security for his disability, and he's on Medicare.
"I couldn't believe it," Snoddy said. "I have a whole new-found faith in the political system."
DOING MORE AT HOME
With Washington suffering from political gridlock, Nevada's congressional delegation has been focusing more on constituent services — the official term for helping people like Snoddy who have problems with federal agencies — than on pushing legislation. The top issues the state's two senators and four members of Congress deal with involve veterans, immigration, housing and Social Security. But anything can come up.
Titus tells of a time when she was a state senator and got a call from a constituent whose cat was stuck up a tree. Titus sent her husband, Tom, and a ladder to the rescue. More recently, her congressional office helped 74 Chinese performers with visa problems on their way to Las Vegas to open the acrobatic "Panda!" show on the Strip. After her intervention, the Chinese troupe got the visas. The show went on and has even been extended at the Palazzo.
"You never know what's going to walk through the door," said Titus, who represents the 1st Congressional District centered in urban Las Vegas. "We try to help everybody."
"When Congress is doing so little in terms of moving legislation, we want to make sure we're doing more for people at home," added Titus, who holds "Congress on the Corner" events to reach constituents.
Titus' staff also holds weekly "office hours" from 3 p.m. to 6 p.m. Wednesday at the East Las Vegas Community Center. Bilingual staff is on hand to help those who don't speak English well. The volume of constituents in need varies, but her office said in 2013 it met several hundred constituents and opened dozens of cases.
U.S. Rep. Steven Horsford, D-Nev., said his office last year helped constituents retrieve $1.5 million in owed benefits, ranging from veterans benefits to Social Security and Medicare. Six out of seven people who work full time in Horsford's 4th Congressional District office deal with constituent case work, said spokesman Tim Hogan. Two part-time employees also deal with grants and help with casework — for a total of 88 percent of his local staff.
In 2013, Horsford's office opened 962 constituent cases and closed 776, or more than 80 percent. The office continues to work on the unresolved cases, Hogan said, "to see what we can do for constituents."
Horsford, a former state Senate majority leader, said serving constituents across seven counties in his Southern Nevada district is the most satisfying part of his job. He was near tears recently when he introduced a young man whose abused mother his office helped to save from deportation.
Bryan Rivera, 20, had told his story to Horsford and two other members of Congress during a public hearing in Las Vegas on immigration. He said his mother, Thelma Martinez Soto, 49, had been held by immigration authorities in Henderson for four weeks and was going to be deported. Her ex-husband had turned her in after she complained he wasn't paying back child support. Horsford and U.S. Rep. Luis Gutierrez, D-Ill., intervened, and the mother was released within a day under a legal provision that lets immigrants living in the country illegally who are victims of domestic abuse remain in the United States.
"His story just moved me," Horsford said, adding he favors comprehensive immigration reform because the law is open to abuses such as this case, where people can seek retribution against immigrants "living in the shadows."
Horsford said his office deals a lot with veterans' issues, particularly because his district includes Nellis Air Force Base. His office helped veterans get some $170,000 in VA benefits in the past year, for example.
"We get a lot of people who call and say, 'The VA says they keep losing my paperwork,' " Horsford said. "If someone calls and has a need, our job is to help them find a solution. It's just another way to serve people."
Horsford said he purposely hires staffers with experience in the nonprofit world and contacts in local interest groups that can help. Sometimes Horsford and other members of Nevada's congressional delegation get personally involved.
"There are times when you have to call or write a letter," he said. "We typically have more success."
Alan Powell, a 67-year-old Vietnam veteran, got help from Horsford's office to get 10 years of disabled veterans benefits and the full 100 percent benefit after being exposed to Agent Orange, developing prostate cancer and suffering other illnesses. He was in the Air Force from 1967 to 1971 and worked as a combat engineer in Vietnam from from 1969 to 1970.
He got a $118,000 check for back payments and now gets $3,073 each month in veterans' benefits. He's now cancer-free, though he still suffers from diabetes, neuropathy and had triple-bypass heart surgery.
Powell, who lives in Centennial Hills, said he turned to Horsford after a year of waiting for word from the VA about whether he would receive his full benefits.
"They tried to drag it out as much as possible," Powell said of the VA. "My claim was sitting in the warehouse. Honestly, I'm not the exception. … But I don't give up. I'm a warrior when it comes to that. I wanted to make sure we get everything we have coming to us. They make you work for something you should have got from the beginning."
Powell, a staunch Democrat, first appealed to first lady Michelle Obama in 2011. He asked for her help to reopen his case years after he was awarded a 70 percent disability benefit in 2004. Nothing happened, so he wrote to President Barack Obama, which resulted in his benefits getting bumped to 90 percent in mid-2011.
"I knew I was supposed to get 100 percent, and so I went to Congressman Horsford" after his 2012 election, Powell said. "He's a great man, and we need to keep him in there."
EXPERT HELP
U.S. Rep. Joe Heck, R-Nev., who represents the 3rd Congressional District in Southern Nevada, said he always has focused on constituent services. Before redistricting in 2010, he represented nearly 1.2 million people — now it is about 750,000 — and his office was overwhelmed with requests for help, especially on housing issues as the region saw record-high foreclosures.
Heck said he hired case workers who are experts — a Realtor to handle housing issues and a veteran for VA issues, for example. His constituent work focuses on those areas but also includes a lot of immigration and health care.
Heck's office handles about 100 to 125 cases a month, he said. In 2013, his office resolved 1,265 cases. So far in 2014, 283 cases have been resolved, said spokesman Greg Lemon.
"There's no more satisfying thing than to be out to dinner and someone says, 'Aren't you Congressman Heck? I just want to thank you for helping me. I had a vet claim languishing for two years, and you got it fixed in two weeks,' " Heck said. "That's what makes this job rewarding and worthwhile."
U.S. Rep. Mark Amodei, R-Nev., who represents Northern Nevada's 2nd Congressional District, said he has tried to help other Nevadans while maintaining a trim office. He has returned about $370,000 in office funds to the U.S. Treasury to apply to the budget deficit since he was first elected in September 2011.
"In the face of a $17.3 trillion federal debt, I think it is a sign of basic respect to Nevadans and Americans to run a fiscally conservative office while offering the greatest possible service to my constituents at the lowest possible cost to taxpayers," Amodei said in a statement.
Amodei has a district director, four constituent caseworkers in Reno and a rural representative in Elko. The office had a total of about 100 pending cases as of late March, more than half involving veterans or military issues.
Amodei's office recently handled a headline-grabbing immigration case in Reno.
Paula Guzman and her husband, Ramiro, lived separately for about 31 months as he waited in Mexico to be allowed back into the United States. Their story began a dozen years ago, however, when Ramiro Guzman, a Mexican, was caught illegally working in the United States. after his visa had expired. He left the country as ordered but was caught here again. As a result, he was barred from returning for 10 years.
So the Guzman family, including two daughters now in high school, lived together in Mexico for a decade. Paula Guzman, a Reno native, returned to the Biggest Little City nearly three years ago and her husband started working with immigration to return, as well. He ran into roadblocks and asked Catholic Charities for help. Finally, the family turned to Amodei.
The family was reunited on March 14 when Ramiro Guzman landed in Reno with a new pair of wedding rings for the couple, according to his wife. He proposed again, and the couple celebrated their 18th anniversary on March 23, she said.
"Oh my gosh, it's so amazing" to be back together, Paula Guzman said. "My husband just called me a few minutes ago and he got a job, too," at John Ascuaga's Nugget. "He's really excited."
Guzman said she had "no idea" a congressman could help constituents navigate the federal bureaucracy. She found out only because her story became known in the immigrant community and she started going to political events. One was at Amodei's office. After she told her story, Arturo Garzon, Amodei's regional representative, pulled her aside.
"He said, 'I can help you,' " she recalled.
On March 19, the couple attended a Hispanic breakfast at Amodei's invitation, and they thanked him personally, she said.
"We took pictures with him and everything," she said.
Nevada's two senators have heavy constituent caseloads as well. Sen. Dean Heller, R-Nev., who represented the 2nd Congressional District until he moved up to the Senate in mid-2011, said he always put a premium on constituent services.
"Many of the services that Sen. Heller provides are focused on helping Nevadans navigate complicated federal bureaucracies," Heller spokeswoman Chandler Smith said. "At a time when Nevadans are so frustrated with Washington and federal bureaucracies continue to expand, helping Nevadans is more important than ever."
Smith added that constituents often come to Heller "when they are extremely frustrated and are already unsure whether their representative can help. Sen. Heller considers providing Nevadans with the assistance that they need is one of the most satisfying aspects of the job."
Retired Marine Lt. Col. Richard Bowen of Reno is a case in point. A former military pilot who served in Operation Desert Storm, Bowen applied for an increase in his veterans' disability benefits about four years ago when he began losing his hearing. Nothing happened until Heller's office helped.
That effort took two years, and Bowen still wasn't completely satisfied because the VA didn't recognize his 20-year marriage and as a result was still shortchanging his benefits.
"The VA treats you as a single person until you prove you're a married person," Bowen said.
He sent in more paperwork to prove his marriage, which took place in Las Vegas. Then he waited. Nothing.
Bowen, 59, approached Heller at a Republican lunch in October.
"He said, 'Let me see if my office can help you out,' " Bowen recalled.
It took Heller's intervention, but the VA finally recognized his marriage after 500-plus days of trying, he said. The issue took on more importance after his wife was diagnosed with nonoperable liver cancer in August.
"I was afraid she would pass away and this would never be resolved," he said.
Bowen said he feels a bit guilty when he thinks of his problem compared to those of veterans returning from the wars in Iraq and Afghanistan with serious injuries and wounds.
"If it takes them that long to figure that out for me, how long does it take for guys and gals that are really hurting?" Bowen asked. "Who have post-traumatic stress syndrome or missing legs? I have both my arms and both my legs, and I wanted to be in the back of the line. I hated asking Sen. Heller. He has a lot more things on his plate than this."
BIGGER ISSUES
Sometimes constituent work leads to new policies or changes in the law.
U.S. Sen. Harry Reid, D-Nev., for example, got the Obama administration to update its immigration policy so the law no longer penalizes minors who lie to authorities, which could block children from entering the United States.
The change in policy grew out of the case of Edith Fawkes and her son, Brahyam Zurcher, 17, who were reunited after more than a decade apart as he lived in Mexico, she in Las Vegas.
The boy was barred from entering the United States because at age 11 or 12 he told immigration authorities he was a U.S. citizen, according to Reid. It's still an administrative violation to lie to immigration officials, but now children aren't held responsible for statements they make, Reid said.
Fawkes said she came to the United States in 2002 to find work, but she had to leave her son behind in Mexico.
"They never gave up," she said of Reid's staff, who helped her cut through federal red tape.
"I'm really thankful," she said at a February news conference with Reid in Las Vegas. "I finally get to have my son with me. I have been able to wake him up, see his eyes and take him to school. … After 12 years, we share the same roof, the same house. I'm a full-time mother again. That's what I wanted. We're having a normal life."
For Brian Snoddy, the constituent Titus helped, life never will be normal again. But at least he can help support his five children. He said he hopes to stay in his home, which has a lien on it because of about $208,000 in unpaid bills from University Medical Center.
"Now life is a lot better for me," said Snoddy, who shed tears of gratitude as he told his story. "Before Dina and (Titus casework director) Susan Petersen got involved, I didn't have anything. I was just really in a bad place. I was on welfare and food stamps. It was so humbling. I was so embarrassed how I was living."
Sometimes he had to decide between paying a bill or eating, he said.
"I couldn't afford clothes; I just had sweat pants," he said. "That was so stressful every day. Now I can sleep again."
Contact reporter Laura Myers at lmyers@reviewjournal.com or 702-387-2919. Follow her on Twitter @lmyerslvrj.