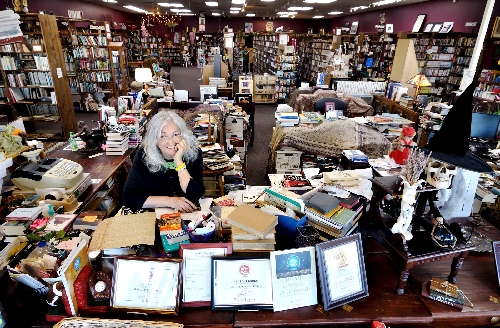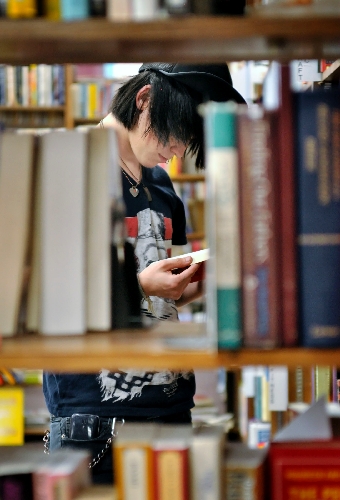 Borders has closed, and e-books are making traditional publishers think twice about signing new authors. Still, the written word is alive and well in Summerlin, according to Jeanne Goodrich, executive director for the Las Vegas-Clark County Library District.
"There will always be a market for thrillers, mysteries and romance books by tried-and-true authors," she said. "Good escapist fiction is more popular than ever, especially with the economy the way it is."
LIBRARY USE ON THE RISE
Library usage has increased each year since the economy tanked, and people are turning to the libraries for various programs, Goodrich said.
When it comes to checking out books, circulation is down by 6 percent. Goodrich attributed it, in part, to the 17 percent cut in library district hours due to a budget shortfall.
At each branch, the computers are "busy from the moment we open until the moment we close," she said, as people look for jobs online.
Downloading books is more popular than ever, she said, even though it accounted for only 1.5 percent of library circulation last year. There was a reason: Kindle was being particularly stingy. When the ability to download to a Kindle from the library became available in September, Goodrich said, "The Kindle floodgates opened up. In the first three days, 1,000 people downloaded to their Kindles."
Used books sold at libraries are seeing an uptick in sales as the economy limps along. That program brings in $250,000 a year.
The library district branches in the Summerlin area are the Summerlin Library, 1771 Inner Circle Drive; the Sahara West Library, 9600 W. Sahara Ave., and the Rainbow Library, 3150 N. Buffalo Drive. For more information, visit lvccld.org.
BOOKSTORES BUSY WATCHING THEIR BOTTOM LINES
Local bookstores are watching their bottom lines with a wary eye after Borders, the nation's second-largest bookstore chain, fell into bankruptcy and handed out pink slips to its 19,500 employees this year.
Mark Miller, a source in the book industry, said sales went "pretty flat" at other book retailers when the economy tanked in late 2007. However, the pinch wasn't felt by best-selling authors —- it was just the opposite. When digital delivery was added to actual book sales, Miller said those authors saw higher sales.
Like other brick-and-mortar retailers, the industry sees its share of shoppers who check out merchandise in the store, then go home and order it online.
How to combat that? Service, Miller said.
"And with books," he said, "if they're in the store, they start reading, and they generally end up buying it."
Small bookstores are seeing a drop in sales.
The Psychic Eye Book Shop, 6848 W. Charleston Blvd., sells everything from crystals to incense. Despite its name, books are a small part of the business. Its bread and butter is less mundane —- psychic readings.
Mary Kara, business partner, said it's the reality of the business that the profit margin is very slim with books. But a certain genre appeals to its clientele —- anything on metaphysics.
"We never make money in the book (department)," she said. "It's ancillary."
Likewise, Linda Piediscalzi, owner of Dead Poet Bookstore, 937 S. Rainbow Blvd., said metaphysical books sell well. It used to be that at least one customer was in the store at any given time. The last two years, not so much.
She has added DVDs and CDs to her stock. Her store includes a chess set and a seating area for meetings. But sales of books are down. Piediscalzi said today's on-the-go adult is "used to pushing a button for something to read."
Summerlin-area resident Dr. Carole Altman is a renowned therapist and the author of numerous books. She said the changing publishing scene is indicative of this fast-paced world.
"We're still being pretty literate," she said, "but … everything is instant gratification."
Even the schools, Altman said, are seeing the change.
"They no longer teach penmanship in school," she said. "And when students are given reading assignments, 'Here, read this book,' they go to the Internet and just read the synopsis. It's the Cliffs Notes (of today)."
But there's hope. Young children often have an easier time of being exposed to printed books.
FOSTERING A LOVE OF READING IN CHILDREN
Kidville at Tivoli Village, 302 S. Rampart Blvd., hosts storytelling time using real books. Fairytales and Tutus, 7071 W. Craig Road, Suite 104, immerses children in books with Cinderella and Snow White, with the instructor reading from an illustrated book. Likewise, Soulfire Studios, 8540 W. Lake Mead Blvd., Suite 110, uses storytelling in its young children's ballet classes. Whether the early introduction translates into a lifelong love of books remains to be seen.
Diane Mifsud-Giusti and Erica Deutsch keep books alive for children with their nonprofit organization Project Imagine, which creates a professionally printed book "written" by a hospitalized child who is in for a long-term stay.
Mifsud-Giusti helps them describe their perfect adventure while Deutsch illustrates the scenes they describe. Everything is put together on a computer and packaged by a specialty printing company.
FROM PAPER TO SCREEN
The modern method of buying a book, be it a Nook or a Kindle, has a major drawback, Piediscalzi said.
"With e-books, it's a little tough to stumble onto something you didn't know you wanted," she said. "It's not like browsing the shelves and coming upon a book that (appeals) to you."
Lori Steele, manager of one of the six Psychic Eye stores, said, in the discussion of books versus digital readers, "The reality is that information is still there, no matter its form."
Kara plans to stick to books. She likes the weight of the paper, she said, and the "romance" of a book in her hand. But she agreed electronic readers are here to stay.
"I saw this coming," Kara said. "The Internet is like the printing press —- it's changed the world."
Kindle and Nook are changing the way books get to the masses with instant access. But they also present stumbling blocks. How, for example, does an author hold a Kindle or Nook book signing?
Even the way manuscripts are turned into books is changing. The New York Times reports that Amazon's publishing department plans to release 122 books soon, both in book and electronic form, totally cutting out book agents and publishing houses.
Some readers have trouble accepting an e-reader as a book replacement.
Summerlin resident Rosa Russell got her love of books from her father. She browses Barnes & Noble Booksellers' shelves once a week for mysteries, as well as checking out books at the library. She has no plans to buy an e-reader.
"I enjoy the whole experience, sitting down with a book, holding it, turning the pages," she said.
She said an e-reader simply can't duplicate that.
Lynn Sutton visits the bookstore twice a week. She has a special spot at home where she curls up with a book and enjoys a glass of wine. She said one day, if she has grandchildren, she'd share her love of literature —- in the form of actual books —- with them.
Carol Ann Kimble gets up early so she can spend an hour reading the newspaper. It's part of her morning ritual. She also is a lover of books, citing the way they feel and their fragrance. A Nook or a Kindle? Not for her, she said. They can't capture that tactile sense or emit that scent.
"Of course, they'll probably come up with a 'smell' button on your Kindle that you just hit," she said.
Gosia Wojde received a Kindle for her birthday. She gave it back because she said her mind had flashed on how society was in Ray Bradbury's "Fahrenheit 451," where government controls the media, and books are to be burned.
"In a weird way, things are gravitating that way," she said. "It kind of scares me. I'd rather have actual books."
Contact Summerlin/Summerlin South View reporter Jan Hogan at jhogan@viewnews.com or 387-2949.
Summerlin-area bookstores
Dead Poet Bookstore, 937 S. Rainbow Blvd. For more information, call 227-4070.
Psychic Eye Book Shop, 6848 W. Charleston Blvd. For more information, call 255-4477 or visit pebooks.com.
Barnes & Noble Booksellers, 8915 W. Charleston Blvd. For more information, call 242-1987 or visit barnesandnoble.com.
Deseret Book, 7650 W. Sahara Ave., Suite 101. For more information, call 877-2066 or visit deseretbook.com.
Summerlin-area libraries
Summerlin Library, 1771 Inner Circle Drive. For more information, call 507-3860.
Sahara West Library, 9600 W. Sahara Ave. For more information, call 507-3630.
Rainbow Library, 3150 N. Buffalo Drive. For more information, call 507-3710.