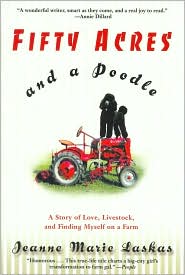 "50 Acres and a Poodle" by Jeanne Marie Laskas is laugh-out-loud funny. I listened to the audio version in my car, and I laughed so hard, I almost became a traffic hazard.
  "50 Acres and a Poodle," one of my all-time favorites, is a true story that teaches us the lesson to be careful what you wish for. Laskas and her boyfriend play a game with destiny. They envision finding the perfect farm in the Pennsylvania countryside. Every weekend they look for listings in the classifieds, then drive around to check them out. Content to believe they will never find their dream, they return home and repeat the process the following weekend.
  However, the law of attraction tells us that desire plus action manifests our vision. Laskas and her boyfriend find the farm of their dreams! What to do? What to do? Well, buy the farm, of course!
  Much like the many fish-out-of-water stories we've read that are based in Europe, this one proves that you don't have to fly across the pond to encounter quirky neighbors. And, her boyfriend's poodle — no, not the little yappy kind — is the hit of the town.
  Certainly, the property needs to be renovated. And, for a very urbanized and organized writer, the adjustment to farm living, tractor operation and livestock care initially present an escape from life, followed by insights to life itself.
  Definitely read this book. Just make sure you're in a safe place when you do.