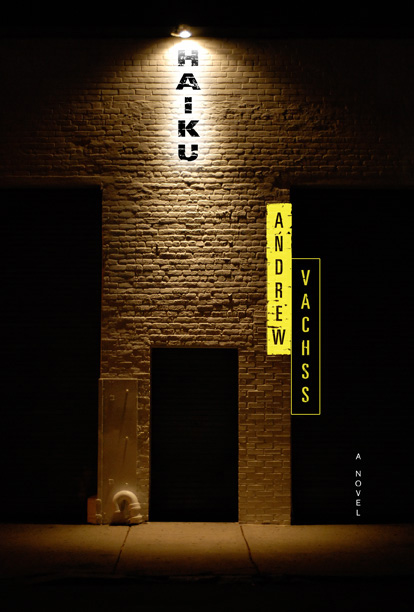 I find it refreshing that the new novel from Andrew Vachss, "Haiku," is similar on many levels to the famous poetry form: It's short, simple and elegant.
  But those might be the only similarities between the real haiku and Vachss' story. Students usually don't associate haiku (a type of Japanese poetry which consists of three unrhymed lines of five, seven and five syllables) with violence, misfits and the gritty subterranean world of a modern American big city. That's the setting for "Haiku," and Vachss has written a provocative story with surprisingly sympathetic characters who have a penchant for getting into trouble.
  The story is told from the perspective of Ho, an aging martial arts master who helped cause the death of a favored student. Feeling horribly guilty, he renounces all worldly possessions and joins an unnamed city's mean streets as a homeless outcast.
  He quickly develops a reputation and a group forms around him: Michael, a former stockbroker but now an addicted gambler; Ranger, a Vietnam vet who is haunted by the ghosts of his past; Lamont, a former gang leader who drinks way too much; Target, an impaired oddball who speaks only in repetitive homonyms ("Old! Cold! Bold! Told!" he chimes) and serves as comic relief; and Brewster, an obsessive collector of paperbacks who is borderline insane.
  One night, Michael witnesses a woman in a white Rolls Royce throw something in a river. Together, this motley crew decides to uncover the mystery — and maybe, in the process, rediscover themselves and make amends for their past sins.
  But they get sidetracked by a seemingly more urgent problem: The place where Brewster keeps his books is slated for demolition. They hatch a plan to save the books, but — surprise, surprise — things fall apart, and the group is tested in more ways than one.
  Vachss' prose is scintillating and a joy to read. I just wish the adventures of this ragtag group hadn't ended so quickly — too quickly in a frustrating way. Such is life in the big city.