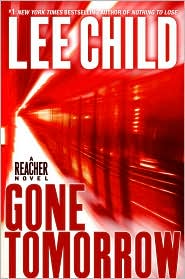 In "Gone Tomorrow" by Lee Child, Jack Reacher becomes suspicious of a female passenger during an early morning subway ride. He believes she could be a suicide bomber, and when he confronts her, he sets in motion a chain of events that will have him chasing after the woman's secrets, a pursuit that could get him killed.
  Also expected out this week is Larry King's "My Remarkable Journey," in which the TV host shares stories from his life in Depression-era Brooklyn to his many marriages and his climb up the ladder of success in radio and television.
  Also hitting shelves: "Home Game: An Accidental Guide to Fatherhood" by Michael Lewis; "How the Mighty Fall: And Why Some Companies Never Give In" by Jim Collins; "The Secret Speech" by Tom Rob Smith; "The Sign" by Raymond Khoury; "Who's Got Your Back: The Breakthrough Program to Build Deep, Trusting Relationships That Create Success — and Won't Let You Fail" by Keith Ferrazzi; "Whispers of the Dead" by Simon Beckett; "Martyr" by Rory Clements; and "Map of the Invisible World" by Tash Aw.