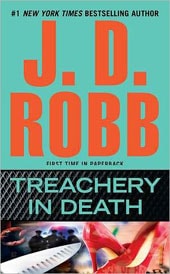 The worst betrayals come from within.

Homicide Lt. Eve Dallas is smacked hard with that lesson as she takes on cops gone wrong in the New York Police and Security Department in "Treachery in Death," coming out in paperback next week.

The entrenched corruption threatens her partner, herself and the institution at the professional heart of who she is. Her investigation may very well blacken the names of colleagues who've become her friends and mentors and do substantial damage to the department's reputation.

Faced with those consequences, Dallas does what she always does. She declares all-out police procedural war.

Fans of J.D. Robb's Eve Dallas know there's no such thing as a bad book in this futuristic series, but this one, the 32nd full-length novel featuring the hard-boiled heroine, is a blade of a story that pins readers to the page until the end. That's no mean feat since Robb (aka Nora Roberts) outs the villain at the start of the book.

Lt. Rene Oberman, queen bee of the illegals department and daughter of the sainted former police commander, is making her fortune by dealing the same drugs she's sworn to take off the streets. She's been doing it for a long time and has surrounded herself with a squad of cops willing to profit the same way. She's not above killing to keep her secret, and Dallas goes into a professional rage when she finds out Oberman's victims include cops who won't play her way.

"From where I stand, that line breaks for a wrong cop, or it means nothing," Dallas says when reminded of the loyalty cops owe one another. "For a cop who uses her badge, her authority to fill her own pockets, and worse, the line breaks."

The story centers on the cat-and-mouse game that develops between Dallas and Oberman, which draws in the cast of series regulars that readers can't seem to get enough of. Detective Delia Peabody is front and center, the near victim of Oberman and one of her cop thugs who meet secretly in a seldom-used NYSPD gym. Except Peabody is there, all ears and unarmed, praying she isn't caught as she overhears the details of Oberman's operation.

The book revisits many of the themes explored by the series previously — the nature of corruption, the lack of morality in a child with good parents, the line between loyalty and duty. But those issues recur regularly in Dallas' world and they don't become stale, partly because there's never really a good explanation for them. Sometimes, all you can do is find a problem and put it in a cage. Which is what Dallas does. Every time.