NFR cowboys make cancer victims feel like champions in Las Vegas
December 10, 2018 - 12:51 pm
Updated December 10, 2018 - 5:21 pm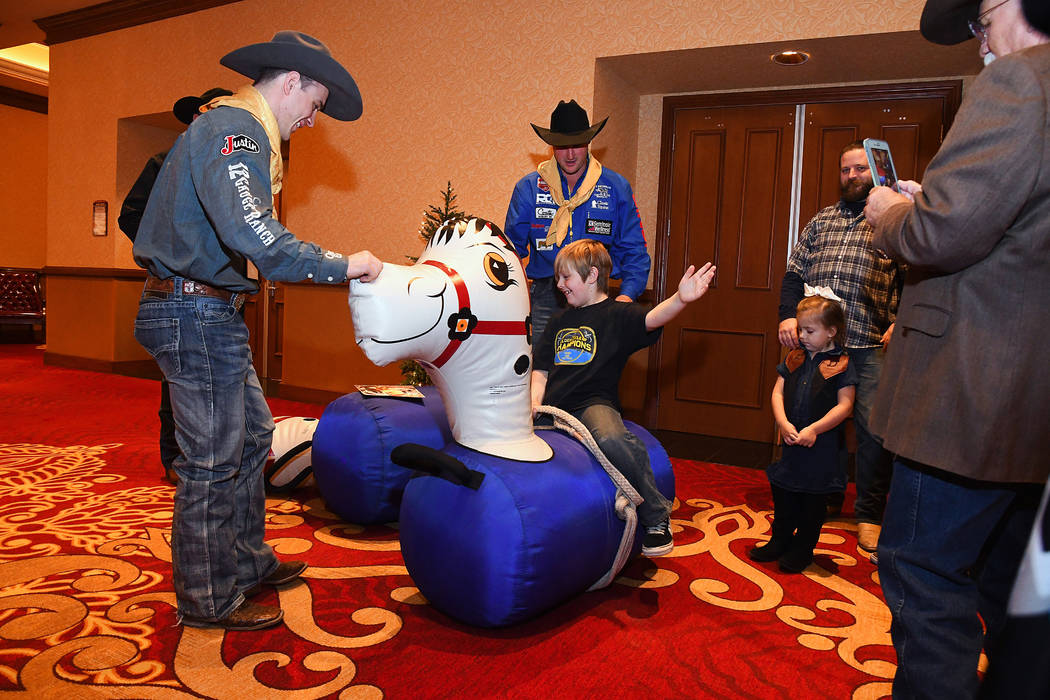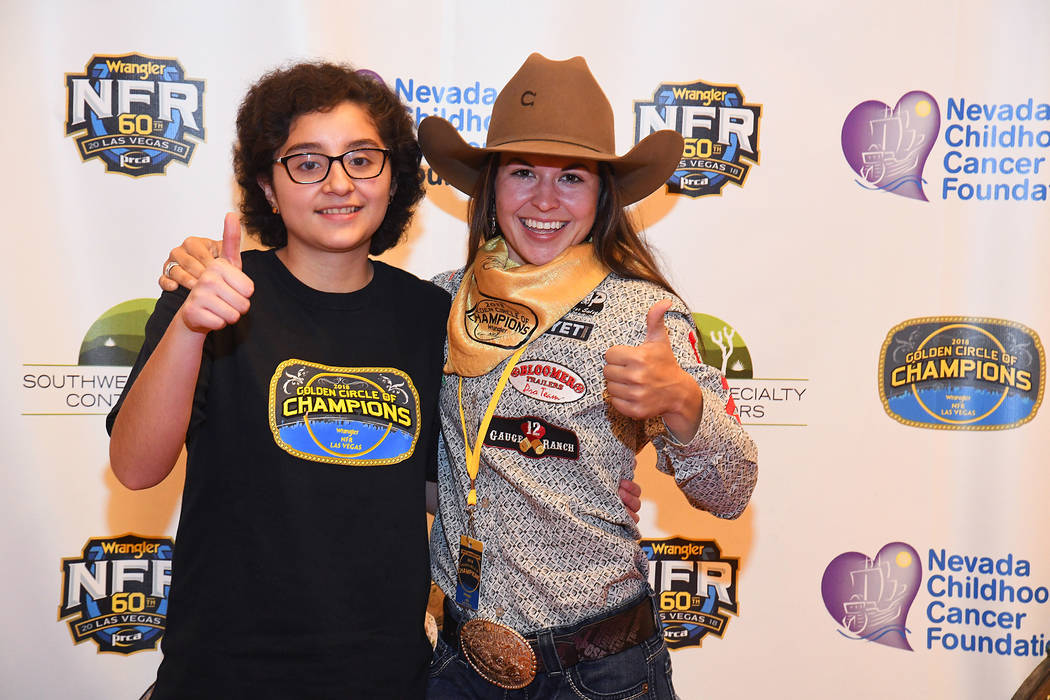 The Wrangler National Finals Rodeo is a massive event, no question. But the sport of rodeo has always been about community. After all, the Wrangler NFR is built upon hundreds and hundreds of rodeos across the country, all year long, far from the glitz and glamour of Las Vegas.
Such as the Santa Maria (California) Elks Rodeo, one of countless PRCA events that look to connect with the community it represents. But in one of the most recent examples, the Santa Maria rodeo quickly went way beyond its borders and is on the brink of going nationwide for a fantastic cause: helping children battle cancer.
In May 2016, 12-year-old Lexi Brown died. She fearlessly fought cancer, advocated on behalf of other kids with the disease and was a big rodeo fan in Santa Maria. Tina Tonascia, chief operations officer for the Santa Maria Elks Rodeo, wanted to carry on Lexi's fight.
"That's where we started," Tonascia said. "When Lexi passed away, I promised her family I'd do something to carry on her vision and her legacy. I didn't know when or how, but we would carry on her message."
From that small start came the Golden Circle of Champions, now a staple of the Santa Maria Elks Rodeo. Along with raising awareness and funds for pediatric cancer patients, children and their families are also invited to the rodeo each year and treated like royalty for a day.
Initially, it was just a local event. Not anymore.
With an assist from James Miller, general manager of the Red Bluff (California) Roundup, Tonascia got in touch with Wrangler NFR and Las Vegas Events officials this past June about her local charitable effort. Then the Nevada Childhood Cancer Foundation was brought in. And in short order, the Wrangler NFR was on track to host a Golden Circle of Champions this week.
"It came together immediately. They didn't hesitate, didn't skip a beat," Tonascia said of the response from the PRCA and Las Vegas Events. "It wasn't, 'Can we do it?' It was, 'How do we do it, how do we make it awesome?' "
On Sunday, they all did it. Tonascia's event back home honors 10 pediatric patients each year from the Santa Maria community. At the NFR, that expanded to 20 children — 10 from around the country, and 10 from Southern Nevada. Ultimately, the goal is to have rodeo committees around the country add the Golden Circle to their calendar.
At the Wrangler NFR, kids were first treated to the Golden Circle of Champions Banquet at the South Point, where each child was paired with a contestant as a buddy. They got to try their hand at roping and riding bouncy inflatable horses, got a great meal and learned more about the sport of rodeo.
Then they got to attend Sunday night's fourth go-round at the Thomas & Mack Center, with another dinner inside The Shoe, then seats to take in all the action the Wrangler NFR could serve up.
Eight-year-old Dorian Millett of Las Vegas, diagnosed with leukemia at age 3 but thankfully now in remission, was paired up with steer wrestler Kyle Irwin for a day he won't soon forget.
"I've never been to a rodeo. This is my first time," Dorian said, before relaying his time with Irwin at the banquet. "My cowboy was cool. I got to rope some things with him, and I got to ride the blow-up pony. You have to ride those for eight seconds. I did it for eight seconds, and I won. My cowboy only did it for six seconds."
Indeed, Irwin was dealt a defeat — one he happily accepted.
"Dorian is telling the truth. That horse jumped out from underneath me," Irwin said with a laugh. "He covered his horse, and I didn't cover mine. He got the buckle today."
In fact, all the kids got a rodeo belt buckle, from Montana Silversmiths, the same company that gives out the nightly go-round buckles for events at the Wrangler NFR. And although it was all the kids who came out winners Sunday, Irwin felt like he won as well, with his day brightened as much or more by Dorian.
"That was the most upbeat, very energetic, bright-light-in-his-eye kid that I'd ever seen," Irwin said. "He had leukemia. As an adult, hearing that, it just shakes you to your core. But man, he made my soul happy, just to be around him."
So happy, in fact, that Irwin took second in the steer wrestling on Sunday night, collecting a check for $20,371.
"I believe it's divine intervention. I do, I do," Irwin said.
It was a divine intervention day for William Strange, too, as the Golden Circle event went a bit beyond pediatric cancer to include the 10-year-old from Reno. At 6 years old, William was diagnosed with autoimmune encephalitis, and that developed into a still unknown type of autoimmune epilepsy.
As his mother Lora Strange explained, seizures became so frequent at one point that William had to be put in a five-day coma to stop them. Immunotherapy has helped get William back on track, but he's still working to overcome learning disabilities, and the seizures, though not as persistent, continue. Rather than contract the typical childhood maladies such as colds, William's body responds by having seizures.
But Sunday was an opportunity for William to forget about all that, and for his family to educate others, so that his unknown condition can become better known and ultimately treated.
"We got this amazing experience here, and we hope to spread the word about his condition," the happy mother said.
With the Golden Circle of Champions now casting a much wider net, the word on William's condition definitely spread, as did awareness for Dorian and the rest of the pediatric cancer patients. As the pre-rodeo dinner wrapped up and the kids prepared to take their seats in the arena Sunday night, Tonascia marveled at the events of the day.
"I'm numb right now. In my wildest dreams, I would've never anticipated this turnout," she said. "The luncheon today and rodeo tonight, the joy of these kids and their families. Some of them have never been to a rodeo before, let alone a rodeo of this status.
"For the Wrangler NFR contestants who participated, I've got no words for them. Some of them had tears in their eyes, because they were so passionate about the kids they partnered with. You don't expect that — that they'd embrace it like they did."
They embraced it much like Lexi Brown did the battle against cancer. Her parents also attended Sunday's festivities, and dad Jon Brown put the most amazing positive spin on all that his daughter's life has become, 2½ years after she passed away.
"She's in a better place now," Brown said. "She didn't lose her fight. She passed the fight off to us, and we continue the fight."