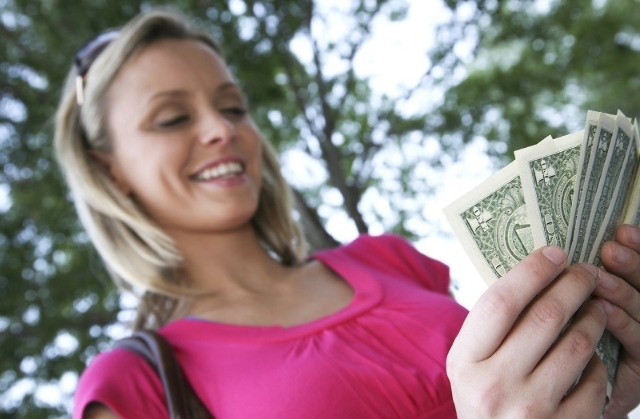 In today's still-struggling economy, people are always looking for the proverbial free lunch. From coupons to giveaways, everyone loves to get stuff for free. In fact, the only thing better than getting goods for free is figuring out how to get free money.
Some opportunities to get freebies only last a few days or weeks while others can go on for months or even years. With that in mind, here are seven unique ways to get free money.
1. Take Advantage of Credit Card Arbitrage
Credit card arbitrage is a great way to make free money but only if you have good self-discipline and read the fine print carefully. The basic idea behind credit card arbitrage involves using cash advances from a credit card company to make safe investments while earning interest. The money is then repaid to the credit card company before the cash advance starts to accrue interest. Typically, credit card cash advances can be used for any purpose — in fact, that is often the point.
Many credit card companies offer their customers cash advances with some sort of grace period, during which the borrowed cash does not accrue interest. In some cases, customers can take advantage of a no-interest grace period before interest starts to pile onto the balance. Clever customers can make free money taking this interest-free cash and investing it in high-yield savings accounts, CDs with the same maturity as the grace period, or very safe bonds. The invested money racks up interest while the credit card company's money remains free until the end of the grace period.
Both the grace period and the amount of money offered vary dramatically depending on the customer in question. Additionally, some cash advances carry transfer fees. Customers need to do their homework and read the fine print.
If a credit card company charges a transfer fee on the cash advance, or does not offer a sufficient grace period, it's usually not worth taking the advance. However, if you choose safe investments, read the fine print and have the discipline to avoid spending a big chunk of money that is not yours, then credit card arbitrage can be a great opportunity.
2. Open a Bank Account
With interest rates so low, banks are competing with one another for customers using a new technique: upfront cash payments. One of the best opportunities right now comes courtesy of Chase Bank. The bank is national, so it's not just available to people in one or two states but across the country, and the cash payouts for signing up for accounts are strong.
Currently, customers can earn $150 for opening a basic checking account and $300 for starting a premium checking account. Few things are better than getting paid to sign up for a service that most people need anyway.
3. Get Paid to Take Surveys Online
Taking surveys online as a mystery shopper, potential customer or just an everyday citizen is a time-tested way to earn free money. Several sites let you make money taking surveys, but one of the best is PineCone Research. Not everyone qualifies for PineCone's program — the firm is looking for representatives of very specific groups to take surveys — but if you do qualify, the firm promptly pays $3 per completed survey, which isn't bad for a few minutes of work sitting at your home computer.
Another great deal comes courtesy of Toluna. Survey respondents who get past the sign-up process can rack up rewards points, which accumulate quickly. Once you have enough points — the number you receive varies based on the type of survey — you can trade the points in for cash or gift cards.
In the case of both sites, if you represent an unusual demographic that is highly coveted, you could find opportunities to complete surveys paying much more. For instance, wives of physicians are highly unusual as a percentage of the overall population and sought after by marketers. As a result, survey sites often offer people fitting this profile more money to compete surveys.
4. Live in Alaska
If you happen to live in Alaska — or are moving there for any reason — you are in line to receive a free, ongoing cash payment from the government. Most states tax you for the right to live within their borders. In Alaska's case, however, the state will pay you.
Alaska pays every resident a lump sum once a year from the Alaska Permanent Fund, an oil wealth trust fund set up to provide a perpetual stream of payments to residents. The amount of that payment varies every year, but in 2015, it was more than $2,000. Keep in mind that residents must have lived in Alaska for at least one year to be eligible for the payout.
5. Let a Restaurant Know About Bad Service
From impolite service to food that doesn't meet expectations, most people have had bad experiences while dining in restaurants. While many customers tend to ignore these instances, individuals who choose to report poor food and service might have an opportunity to get free money for their efforts. This is particularly true at chain restaurants like Subway that regularly provide gift cards by way of apology.
Complaining about bad service can put a damper on an evening, so there is no need to do so at the restaurant location itself. Instead, most restaurant chains have websites featuring customer review sections. If you take the time to submit a negative survey about your dining experience online, a representative of the restaurant will likely call you back to acquire more information. If the representative believes your account of events, the restaurant might opt to send you a free gift card to compensate you for your time and trouble and help ensure you remain a customer in the future.
The surveys and phone calls generally take no more than a couple of minutes to complete, so a $10 to $30 gift card is usually welcome compensation for the effort. Of course, sometimes you don't even have to complain to get a free gift card; in some cases, simply taking the time to give a restaurant positive feedback will get you free perks.
6. Apply for a Grant

Available from both the federal and state governments as well as various private nonprofit institutions, grants can be a serious boon to your business or organization. Typically, individuals must be members of special groups in order to qualify for these monetary gifts. However, women, minorities, seniors, people with low to no income, disabled people, and many other groups can all qualify for grants.
The government also gives grants to many individuals in order to go to college, start a business, "go green," and cover healthcare costs among other activities. Of course, you have to do some research and complete the application process. If you qualify for the grant, however, the money is generally available with no strings attached.
7. Invent Something
If you are a creative person with exciting ideas on how to solve specific challenges faced by various government agencies, then you might want to consider applying for a small business innovation research grant. SBIR grants are given only to small businesses run by individuals, and they range in size from a few hundred thousand dollars to $1 million. Further, the small business can be a one-person startup with no actual revenue or operations or an existing company with an income.
The grants are given in response to ideas presented by small business employees on how to solve specific challenges faced by groups like the Department of Defense, the National Institutes of Health, the Department of Energy and many others. The basic idea is that solving these challenges should eventually lead to a new commercial product that the small business can manufacture and sell. For instance, the DoD might be looking for a better way to inspect the hulls of its ships. If a small business can present a compelling way to solve that problem, the DoD will give the business a grant to pursue the solution and eventually develop a product around it. As a small business owner, SBIR grants are among the best ways to get free money.
From GobankingRates.com: 7 ways to get free money
Related Stories:
–Why everyone needs an estate plan
–5 things to know about college savings plans