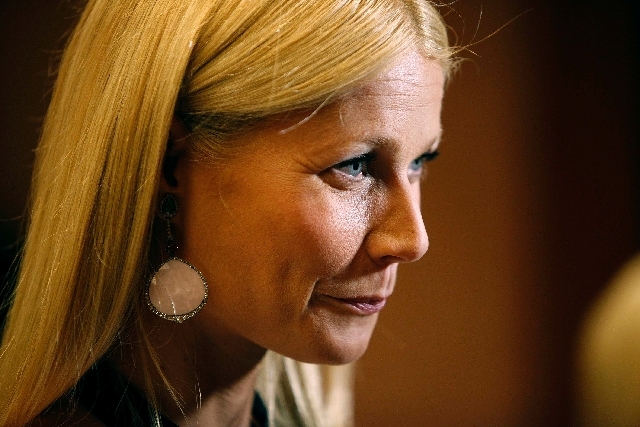 Even Gwyneth Paltrow knows the Las Vegas motto.
In her recent keynote presentation at Licensing Expo 2013, Paltrow opened by telling the crowd the last time she was in Vegas was in 2010 "for an insane New Years Eve." She then made the first of what would be a series of jokes peppered into her speech.
"You know that saying, 'What happens in Vegas stays in Vegas'? Well if you're me, what happens in Vegas stays on TMZ," Paltrow said.
Later, as she was talking about being out of place giving a keynote at a licensing expo, Paltrow said the situation could be likened to "a pepper out of its pot." Then she said quickly, "That was a terrible joke."
No reference to Iron Man could ever be terrible, Gwyneth. Well done.
• • •
Hey small businesses, here's another resource for you.
The Association for Enterprise Opportunity recently launched a new website that provides information and resources for microbusinesses, called One In Three. The site, oneinthree.biz, provides statistics and resources to small businesses with five or fewer employees. The project's aim is to encourage owners to hire and expand.
• • •
Former Las Vegas resident Vishaal Melwani is making headway in business.
His online store, Combatant Gentlemen, is heading into the next level with $1.84 million in seed funding secured. The money will be used for brand development, expanding the product line and hiring. Investors include the Vegas TechFund, MHS Capital, Greycroft Partners, Naxuri Capital, Blazer Ventures and Jake Bornstein of Flint and Tinder.
Former Gucci board member, Enrico Beltramini, is the brand's new chairman of the board.
Melwani is the co-founder and CEO of the online menswear store.
• • •
Ticket Summit, a conference and trade show for the live entertainment and ticketing industry, is executing a new strategy for this year's Las Vegas show from July 17-19 at Bellagio.
Attendees are encouraged to collect Ticket Summit tokens, redeemable for prizes. They can be collected in a variety of ways, including visiting each exhibitor in the trade show, filming a testimonial about their conference experience, and attending a speaker question-and-answer roundtable session. Attendees can also receive tokens for arriving early on the first day.
Tokens can be redeemed for prizes, and attendees who collect all of them will be eligible to receive a complimentary pass to the next Ticket Summit conference.
• • •
While it didn't have the most places on the list, Nevada did make the cut.
OpenTable recently selected its 2013 Diners' Choice Award winners for the Top 100 Hottest Restaurant Bars in the United States, and three Nevada eateries made the list. STK, Tao Restaurant and Nightclub, and Todd English P.U.B. are the Las Vegas winners.
"The honorees have embraced the cocktail and craft beer movements to create the ideal places to bookend a dining experience," Caroline Potter, OpenTable chief dining officer, said.
The awards reflect the combined opinions of more than 5 million reviews submitted by verified OpenTable diners for more than 15,000 restaurants in all 50 states and the District of Columbia.
California restaurants had a strong presence, with 27 honorees, followed by Florida, which had 14 restaurant bars. Establishments serving American fare account for the majority of winners.
Do you have a news tip for Intel? Email lcarroll@
reviewjournal.com. Be sure to include contact information.