After a hiatus, enthusiasm for Nevada drone flights returns
December 18, 2014 - 3:01 pm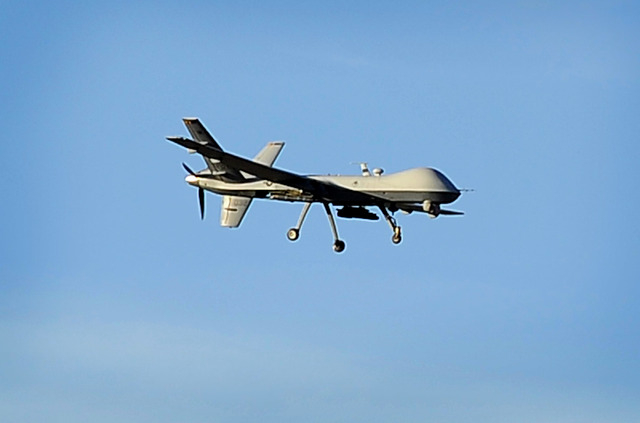 When the Federal Aviation Administration first identified Nevada as one of six states authorized to test unmanned aerial systems — we call them "drones" — the state was heralded for its wide-open spaces far from population centers.
The FAA has a goal of integrating unmanned aircraft into U.S. commercial airspace by September and Nevada, which has the history and heritage of supporting drone flights through military programs at Creech Air Force Base north of Las Vegas, was off and running.
Gov. Brian Sandoval, enthused with Nevada being selected to be a part what is expected to become an $11 billion-a-year commercial industry, dedicated resources through the Governor's Office of Economic Development to put the state on the front line of unmanned aerial system technology.
But some of the enthusiasm soon turned to frustration. Nevada's core of drone experts went to work at Mach 2 while FAA administrators seemed destined to putter like a zeppelin.
After a team from the state's program management office vowed to lead the nation into the drone era, Alaska, one of the other six states chosen for test flights, hosted the first commercial drone test over land in the United States on June 8.
While some team members quietly criticized the FAA's pace at meetings of the Economic Development board and its supporting Nevada Institute of Autonomous Systems board, leaders agreed to be patient.
Today, the enthusiasm is back.
Nevada will host its first unmanned aerial systems flight when Minneapolis-based Sensurion Aerospace flies its flagship Magpie vehicle before Sandoval, FAA officials and representatives of Nevada's congressional delegation.
Because the flight is not an event open to the public, the governor's office has asked the media not to disclose the location and time of the flight.
MAKING DRONE FLIGHTS ROUTINE
Officials plan a ceremony to mark the Institute of Autonomous Systems' first test site special airworthiness certificate before Magpie takes off into the desert sky with its pilot controllers on the ground.
The nonprofit institute has contracted with Bowhead Systems and Technology Group to monitor unmanned system flights and report data to the FAA.
Eventually, the FAA's goal is to make drone flights over land as common as their manned counterparts, and it will use data accumulated from hundreds of test flights to develop necessary rules and regulations.
The agency already has authorized some organizations to use drones commercially in special circumstances. In September, it issued exemptions to six film companies to use unmanned vehicles to film movies.
Other companies and individuals have flown drones illegally in Nevada. The FAA issued a series of flight restrictions and defined the difference between a commercial drone and a hobbyist's flight.
One order banned drone flights within five miles of an airport, essentially making it illegal to fly along the Strip. The ban was instituted after several near collisions between drones and manned aircraft in other states.
The FAA also said the difference between a commercial flight and those of hobbyists is in whether the pilot receives compensation for the flight or for any products resulting from the flight, including photographs and videos. The agency's restriction on hobbyist flights also includes a directive that the pilot maintains visual contact with the vehicle at all times.
In the time since Nevada was designated a test location on Dec. 30, the state has identified four locations for future tests: a facility at Boulder City Municipal Airport, the closest to the Las Vegas metropolitan area; Stead Airport north of Reno; Fallon's municipal airport; and Desert Rock, a private airfield near Mercury associated with the Nevada National Security Site.
The state initially authorized $5 million to set up the state's testing program and in July, Bowhead, under native Nevadan Mike Bradshaw, opened a new western regional office in Las Vegas.
While awaiting certification for the first flight, the state office has begun digging into developing rules addressing privacy concerns and establishing contacts with resorts owning large convention halls that could support indoor flights for small vehicles. Bowhead and the autonomous systems board are hoping to establish a network of potential indoor sites that wouldn't require FAA clearance for testing.
WIDE RANGE OF USES SEEN
Supporters of the drone industry see a vast potential for vehicle use, from fighting forest fires to prospecting for precious metals and minerals with special sensor equipment. Advocates also say they can be used in support of irrigation for agriculture, tracking wildlife and as an attention-grabbing advertising vehicle.
Within a decade, the unmanned aerial vehicle industry is expected to employ 15,000 people in Nevada — about the size of the state's mining industry workforce.
Programs have been established at the University of Nevada, Las Vegas, and the University of Nevada, Reno, for drone specialists. Systems operators make an average of more than $80,000 a year and the average annual salary of a pilot is more than $110,000.
But for now, backers are just looking forward to that first flight.
Contact reporter Richard N. Velotta at rvelotta@reviewjournal.com or 702-477-3893. Find on Twitter: @RickVelotta.