After four-year battle, homeowner gets mortgage modification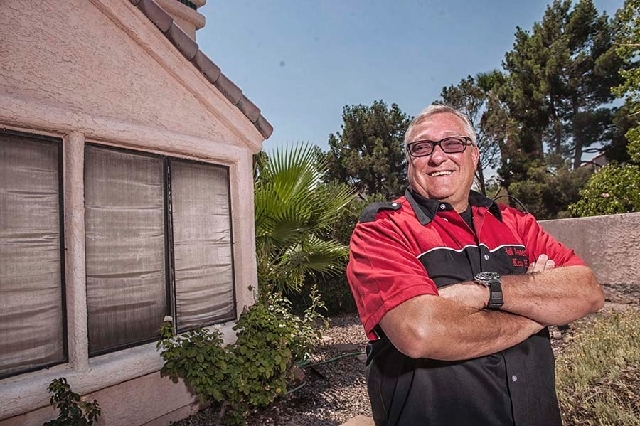 Even as the Las Vegas housing market improves, a large number of homeowners who bought at the peak of the real estate boom are struggling to avoid foreclosure.
It's well-known that the numbers who lost their homes to foreclosure far exceed the number of homeowners who have received mortgage assistance.
Then there's Ken Hall.
Hall, who has worked as a consultant with Las Vegas police's SWAT team, struggled to get his mortgage refinanced as he was confronted with multiple requests for the same paperwork and his bank transferring his case to another office.
"It wasn't easy," said Hall, CEO of Hall Associates Machining. "It took us four years to complete our loan modification. It also took a lot of patience and a lot of paperwork."
Hall, 54, and his wife, Julie, also own a house in Torrance, Calif., but because of their business and their desire to eventually move to Las Vegas, they bought a house here.
Hall found his ideal home in a planned community. The couple bought the two-bedroom, single-story house for $254,000.
"We loved it," Hall said. "We bought it in 2007 when we thought the market and prices would never come down from where they were. We were really wrong."
About a year later, the Las Vegas real estate market crashed, leaving Hall with a house for which the loan was greater than its value.
"When 2008 hit, the budgets dealing with security dried up," Hall said. "Our business dropped by 70 percent, our credit line was reduced, and all our real estate dropped in value."
Hall said that in one case, a line of credit was reduced from $300,000 to $120,000. He also needed to refinance his house in Southern California.
"We started slipping in our payments, because we needed to decide what bills to pay with our cash," he said. "We had to make all of the hard choices. That's when I made a call to Chase (Bank) about getting help with a loan modification."
Hall said that when he called his bank in early 2009, the economy was worsening. At the time, he was a couple of months behind on his mortgage payments.
"Nobody knew what was going on at the time. It was really confusing."
Hall, who was skeptical of what Chase was offering, made an appointment at one of the homeownership centers the bank was operating in Southern Nevada.
He said that after filling out mountains of paperwork, he heard nothing for more than a year.
"Time went on and, a year and a half later, they transferred me to a Henderson office. The longer this went on, the paperwork became null and void, so I was filling out new paperwork every couple of months. We were getting depressed."
Hall said Chase changed the criteria three times. But earlier this summer, they closed on a loan modification on their Las Vegas house.
"Never did we not qualify for a modification; it took so long that the criteria and paperwork kept changing before anyone could make a decision about our case," he said. "In the end, we were granted a modification and the bank put what we were behind on the end of the loan."
Chase officials said Hall remains a customer.
Hall's advice to others is to be patient.
"It took a long time and a lot of patience," he said. "Nobody wants to go through three to four years to get a loan modification. I'm happy with the results. You hear these really bad stories."
He said Chase also refinanced their house in Torrance. As of Monday, no word on when Ken and Julie Hall were moving to Las Vegas permanently.
Not everyone in the Hall family was lucky. Hall said his daughter, Amy, who also bought a house in Las Vegas, lost it because "she couldn't get a loan modification."
Contact reporter Chris Sieroty at csieroty@review
journal.com or 702-477-3893. Follow @sierotyfeatures on Twitter.
Tips for getting a mortgage loan modification
Loan modifications are simply changes to your loan agreement to lower your monthly payments to avoid you defaulting on your loan. There are still homeowners in Las Vegas looking for a loan modification.
To start the process, call your bank and explain your financial situation and ask what options are available to you.
Here are several tips from Bankrate.com for getting a mortgage loan modification.
— Complete the package: Homeowners need to submit paycheck stubs, a hardship letter, a budget and any other document the loan servicer. If even one document is missing or outdated, the entire file can be denied.
— Stay in touch: Homeowners should call the servicer at least once a week and check on the status of his or her request. Ask whether the file is complete. Review the documents. Explain any special or changed circumstances.
— Be persistent: Homeowners feel frustrated when they're asked to resubmit documents. But those how can hang in there long enough may be rewarded.
— Be flexible: Loan modifications come in many types and not everyone is qualified for the federal government's Home Affordable Modification Program or HAMP.
— For more information, Las Vegas homeowners can go online to the Office of Mortgage Settlement Oversight at https://www.mortgageoversight.com/state-information/?st=Nevada
SOURCE: BANKRATE.COM