After hours, some NAB attendees go retro — with amateur radio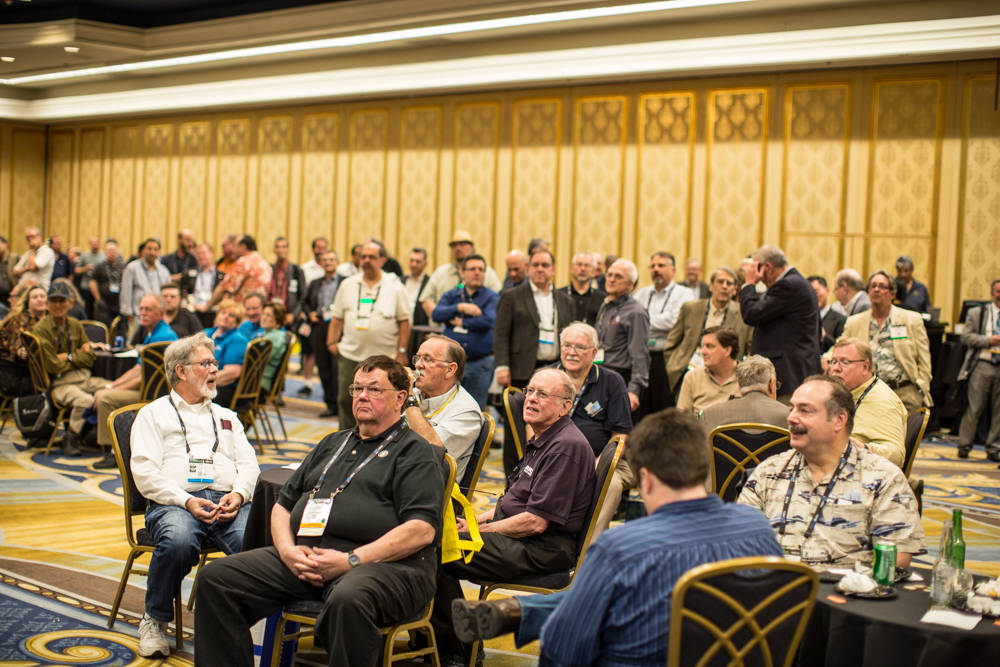 As the third day of the National Association of Broadcasters Show came to an end, a few hundred people made their way past the booths showing off the broadcasting technology of the future — virtual reality, live streaming, Next Gen TV and connected car.
They made their way from the Las Vegas Convention Center to Ballroom B at the Westgate Las Vegas to relish in what many would consider the broadcast technology of a long gone era.
About three hundred in all — mainly men older than 50 with titles like sound engineer, senior engineer, chief technology officer, the brains behind the new technology on the NAB Show floor — gathered in this room to take part in the Amateur Radio Operators Reception and share their deep passion for communicating with people via radio waves.
In this digital era when most Americans have a wireless phone that can connect with billions of people around the world on social media platforms with a mere click or right swipe, the idea of finding and communicating with people via walkie-talkies, digital signals or Morse Code may seem antiquated and downright frustrating. But that has become part of the allure, say operators.
"As we become more of a digital society, connected by our iPhones, amateur radio is what is left of terrestrial communication,'' said David Ahrendts, a TV news recruiter from Los Angeles. He said plenty of time can pass without making a connection. "Exchanging a few words with another operator may not seem sexy, but if that communication is 13,000 miles away, that is pretty darn exciting.''
During the day, many of the men in the room work at NAB trade show floor booths, explaining their company's latest technology to attendees.
Goodbye happy hour
When the day is over, they often skip the happy hours and other nighttime events to operate radios from their rooms, tuning into the repeater on the top of the Westgate, said Chuck Farnham, public information coordinator for the Nevada section of the American Radio Relay League.
"People say that amateur radio is dead. Well, there are ham radio operators every 3 feet on the NAB floor,'' said Farnham, who is working the ARRL booth at the NAB Show.
Farnham said many amateur radio enthusiasts bring their handie-talkies — handheld, portable two-way radio transceivers the size of a phone with an antenna — when they travel to NAB. Gary Epstein, a sound engineer and product marketing manager for Dolby, and Bryan Rusenko, a post production consultant, were among those that brought their radio gadgets to NAB.
"I have my handie-talkie with me in my hotel and I can talk to the repeater on top of the Westgate,'' said Epstein. "A lot of people in this room use that to connect with one another when we are in town.''
Epstein said he takes the walkie-talkie during his long morning drives to work, communicating with people in the broadcast community.
"It helps me pass the time. It is often little technical conversations,'' he said.
Written off as nerds
Farnham says outsiders often don't understand the hobby and write people like himself off as nerds. He says the reception is where people like him can feel at home.
In addition to cheese, celery, cola and beer, the reception featured a raffle with antennas, walkie-talkies and operator manual books. Epstein won a Yanseu handie-talkie during the raffle.
"You walk into that room and there is that camaraderie — like you are talking to your best friend," said Chuck Farnham. "They will tell a story about a radio contact they made, or about equipment they built or what they used to do back in 1958. It feels good,'' said Farnham.
Part of the excitement with amateur radio is using as little power as possible to achieve distant connections, Farnham and Ahrendts said.
"I can randomly talk to a guy in Croatia on a Tuesday afternoon with a two-watt radio and a chunk of wire in my backyard. And that is a big deal,'' said Farnham.
Ahrendts said he made radio contact a few years ago with an operator in the Congo using just 5 watts of power, one of his most memorable connections.
"That is unheard of,'' said Ahrendts. "We both added an extra 'oh my god' in our communication. It was by chance. The Earth's magnetic structure was favorable at that moment to this path of communication.''
Distant connections
When operators make such distant connections, they often send a postcard or letter with their picture and equipment, said Farnham. He would need to send several photos.
Farnham has the equivalent of a homemade shrine to amateur radio with more than 50 models going back to the 1930s. He also has more than a dozen microphones.
While amateur radio is mainly a hobby, many operators, like Ahdrendts and Farnham, are trained to provide service in emergency situations, such as natural disasters.
Ahrendts said he will be ready to help emergency service with his portable radio equipment when "the big one happens in southern California."
Contact Todd Prince at tprince@reviewjournal.com or 702-383-0386. Follow @toddprincetv on Twitter.
RELATED
NASA to present 4K live-stream from space during NAB in Las Vegas
NAB sees TV's growing presence in vehicles
Exhibitors evolve as NAB Show kicks off in Las Vegas