Airline exec using Las Vegas band to help 'connect' to people
February 16, 2015 - 5:10 pm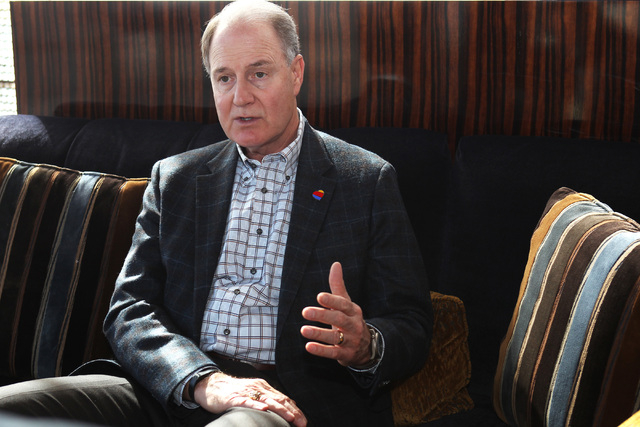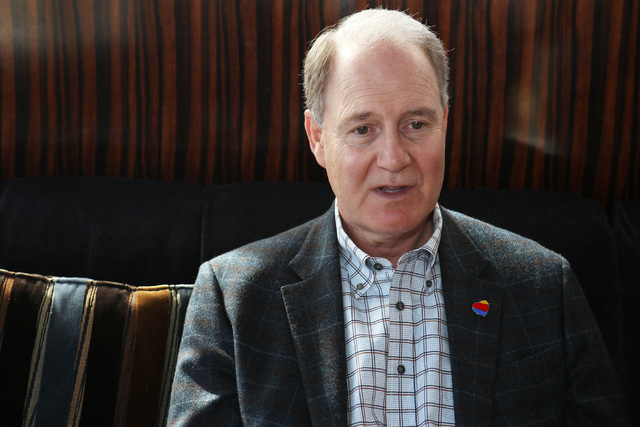 Southwest Airlines is a sponsor of the National Hockey League so Chairman and CEO Gary Kelly is well aware of Las Vegas' bid to bring big-league hockey to Las Vegas.
So does that mean we could someday see an MGM-Southwest Airlines Arena in our future?
"We've never done that," Kelly said in an exclusive interview with the Review-Journal. "Never say never, but we've never done that."
Kelly, 59, said the airline has never put its corporate name on a sports arena despite having sponsorship ties and regularly running television advertising during National Football League and National Basketball Association games as well as with the NHL.
"Part of our purpose is to be friendly and reliable, but also low-cost, so we've never thought that was the most cost-effective way to connect with a community," said Kelly, a 29-year Southwest employee who became CEO in 2004 and was named president and chairman in 2008.
Kelly succeeded James Parker, who inherited the top executive post from Southwest co-founder Herb Kelleher, who was CEO from 1981 to 2001.
Southwest, the busiest operator at McCarran International Airport with 192 daily flights, isn't afraid to try new things to connect with a younger audience and it's doing so with a hot musical commodity that happens to be from Las Vegas.
"Our purpose is to connect people to what's important in their lives and were looking for an opportunity for our people to connect with our customers. Sports has always been a major passion point for cities and communities and music is another," Kelly said.
That's how Southwest connected with the indie rock band Imagine Dragons, which is releasing its new "Smoke + Mirrors" album Tuesday.
Southwest and the band are collaborating on a series of concerts, including one that will occur on a Southwest flight.
Imagine Dragon concerts sponsored by Southwest are planned in Los Angeles on Friday, Salt Lake City on Saturday, Las Vegas on Feb. 23 and Atlanta on Feb. 25. When the band flies from Las Vegas to Atlanta, it will perform a "Live at 35" concert at 35,000 feet in what is being called "Southwest's Ultimate Destination Dragons Flight."
The promotion is part of Southwest's relaunch of service in Atlanta where AirTran, a former Southwest subsidiary, had a major presence.
'ANOTHER VEHICLE TO REALLY CONNECT'
"We've identified ourselves with sports for a long time," Kelly said. "We've done sponsorships and television advertising. We've been NFL football sponsors, NBA, NHL. Music is another vehicle to really connect with people."
And connecting with people is more important than ever to Southwest, now that it has announced an initiative to grow capacity by 6 percent to 7 percent in 2015 with even more growth in the forecast for 2016 and 2017.
It's the first time Southwest has made plans to expand capacity systemwide since 2010. Prior to late last year, Southwest has made minor tweaks in its schedule.
Southwest is able to take on immediate growth after retooling all the planes it got in its AirTran acquisition. After that, there's a steady stream of deliveries of Boeing 737-800 aircraft scheduled.
"The earnings are strong, the travel demand environment is very healthy, fuel prices have collapsed, surprisingly," Kelly said. "When you couple that with the completion of our transformation, for the first time in a long time we have tremendous opportunities to grow and that certainly applies to Las Vegas."
Since 2010, Southwest has upgraded its Rapid Rewards frequent-flier program, acquired and integrated AirTran into the airline, launched international service and upgraded its aircraft, adding a larger version of its Boeing 737 twin-engine jet.
All that's left on Kelly's five-item to-do list announced in 2010 is the development of a revamped reservation system, which the company already has begun. Although transparent to most customers, the updated reservation system eventually will provide benefits to passengers, including an automated system to rebook alternative flights after last-minute cancellations resulting from weather delays and equipment changes.
Las Vegas was at the top of the list when the Dallas-based airline launched nonstop service from its Love Field headquarters in October after the repeal of the Wright Amendment.
Southwest is still looking at whether it will offer any nonstop international flights to and from McCarran. International flying represents a tiny sliver of Southwest's business but the city's marketers have international expansion high on its priority list.
It would make sense for Southwest to join the international wave since it has inaugurated service to several Caribbean destinations, Mexico and, in March, Belize.
Southwest has invested $156 million to build its own international terminal at Houston's Hobby International Airport and the airline connects to Mexico through Orange County's John Wayne International Airport in Santa Ana, Calif. Kelly acknowledged that an international presence from Las Vegas is an option but Southwest is now in a position in which it can pick and choose from any number of options on how to expand.
MORE FLIGHTS FOR LAS VEGAS
For Las Vegas, that could mean additional flights to the 56 cities it already serves from McCarran, larger aircraft on existing routes or connecting the city to 50 new destinations Southwest has under consideration.
Southwest quietly grew traffic in Las Vegas in 2014, mostly by assigning more Boeing 737-800 jets to existing routes. The larger model of the twin-engine jet carries 175 passengers, 31 more than most of the 737s in the fleet.
Add in the four new Dallas flights and Southwest served a record 17 million passengers on flights to and from McCarran, a 2.9 percent increase over the previous year.
Las Vegas is Southwest's second busiest station behind Chicago's Midway Airport.
Where might Southwest fly next from Las Vegas? Airlines typically are close to the vest on those kinds of conversations and Southwest is no exception.
"In 29 years, I don't think we have ever had so many opportunities to choose from," Kelly said. "It's a high-quality problem that we're delighted to have."
Kelly said Southwest is studying 50 potential destinations, 98 percent of which are beyond the lower 48 United States. The list includes destinations in Mexico and Canada, Central and South America, Alaska and even Hawaii.
"Las Vegas already has such a mature and robust route map. There are bound to be additional destinations that we can consider. but at least in the 48 states, we're pretty well covered," Kelly said. "So we've got opportunities to add additional frequencies."
Contact reporter Richard N. Velotta at rvelotta@reviewjournal.com or 702-477-3893. Find him on Twitter @RickVelotta.