Allegiant flight attendants picket for labor contracts in Las Vegas
August 23, 2017 - 12:49 pm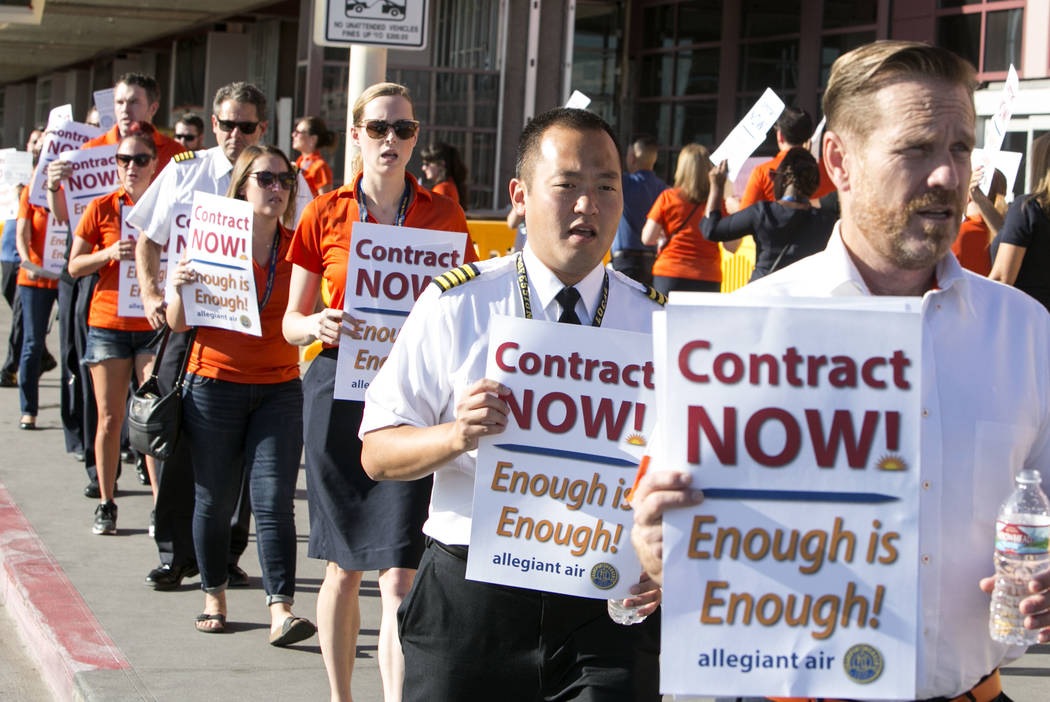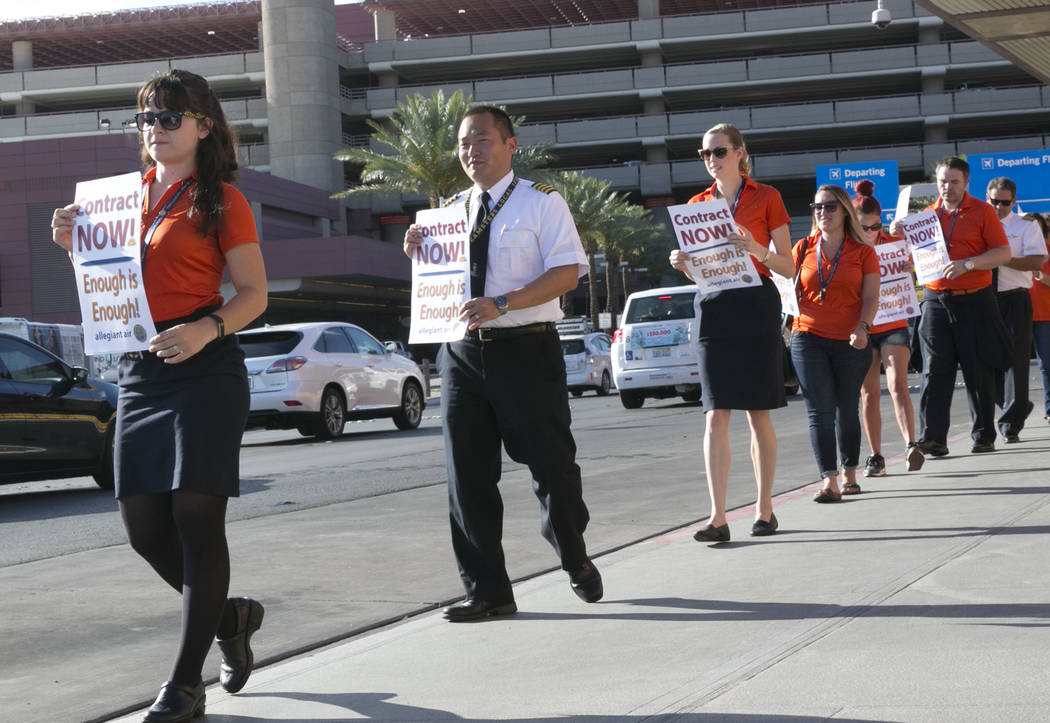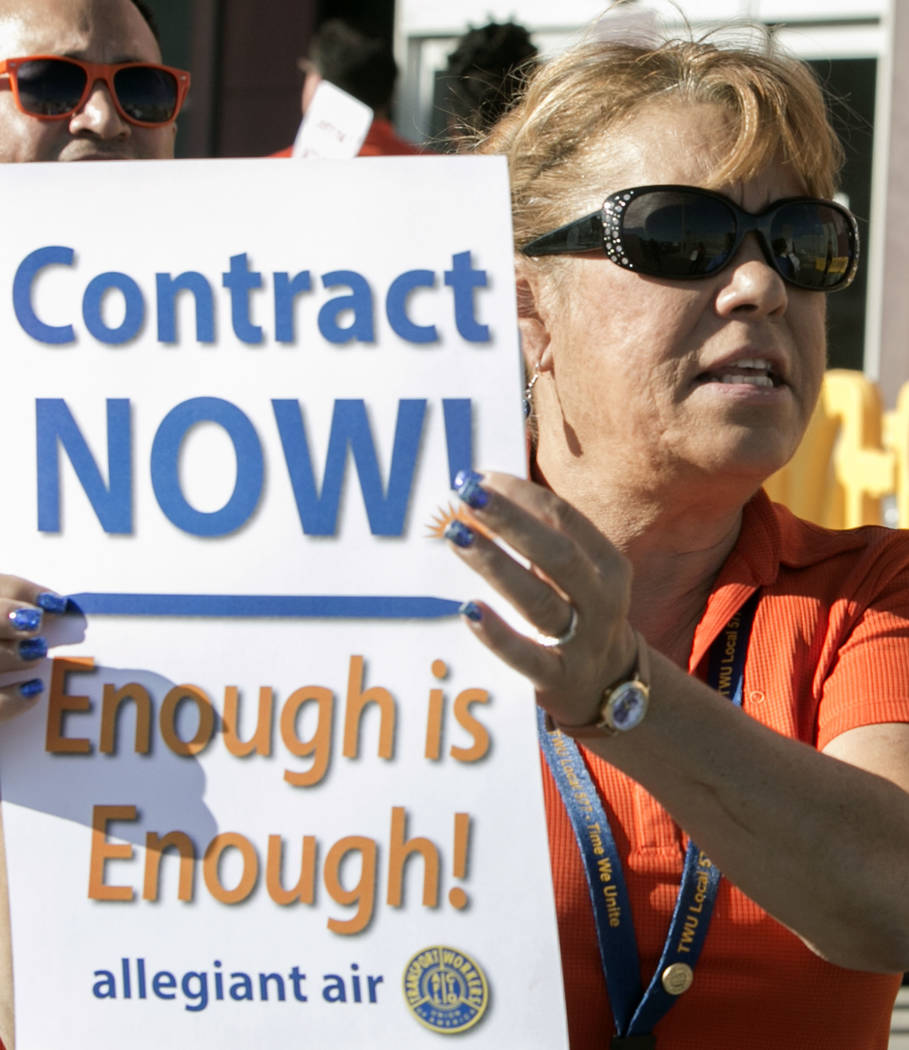 Roughly 50 off-duty flight attendants with Allegiant Air picketed outside McCarran International Airport on Wednesday to demand a labor contract after six years of negotiations with the company.
The flight attendants, represented by the Transport Workers Union of America Local 577, are among the lowest paid with hourly wages capping at $34, compared to the industry average of more than $50 per hour, union representative Rey Chapparo said.
Additionally, Chapparo said that on-duty flight attendants are not paid when waiting for Allegiant planes that may be delayed due to scheduling or mechanical problems.
"We haven't got a raise in 10 years," said Chapparo, who has worked as an Allegiant flight attendant since 2005.
"The planes break down every single week, leading to long duty days upwards of 22 hours that we don't get paid for," he said. "We're here to make sure we're compensated correctly."
The demonstration did not impact Allegiant's operations, officials with the Las Vegas-based discount carrier said. Flight attendants on Wednesday also picketed near The Mirage, Planet Hollywood Resort, the Fremont Street Experience and in Arizona at the Phoenix-Mesa Gateway Airport.
Union and company officials are at the bargaining table through Thursday with the National Mediation Board in an attempt to hammer out their first labor pact. If a deal isn't reached, the union could ask for a 30-day "cooling off period," followed by a strike authorization vote by its members.
"Informational picketing is an entirely anticipated activity at this stage in a long negotiation process," Allegiant spokeswoman Hilarie Grey said. "We remain committed, as always, to negotiate in good faith."
Allegiant pilots, working with the Teamsters union, ratified Allegiant's first union contract about a year ago.
About 76 percent of the 1,100 unionized flight attendants rejected a contract offered last September by Allegiant. Airline officials have said that both sides had previously agreed to the proposal.
"Six years of waiting for a contract is too long," said Lorraine Mahoney, an Allegiant flight attendant for 10 years. "It doesn't feel too good."
Contact Art Marroquin at amarroquin@reviewjournal.com or 702-383-0336. Find @AMarroquin_LV on Twitter.
Notice sent
The Transport Workers Union of America Local 577 sent a letter to the National Mediation Board earlier this month asking for intervention in a six-year contract negotiation with Allegiant Air.
The union, representing Allegiant's flight attendants, set in motion a process that could ultimately lead to a strike.