Allegiant takes a rare hit; fuel prices blamed
February 1, 2011 - 2:02 am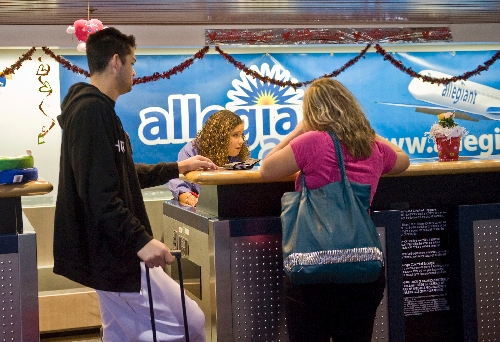 The industry bane of rapidly rising oil prices has hit Allegiant Travel Co., playing a large role in a cutback in the company's flight schedules for the second quarter and a drop in annual earnings.
Net income for the year dropped 13.9 percent to $65.7 million, or $3.32 per diluted share, even though revenues rose 18.9 percent to $663.6 million, the company reported Monday. Jet fuel bills jumped 47 percent, more than double the rate of any other cost category due to a combination of rising prices, more flying and because Allegiant's fleet is composed entirely of gas-guzzling derivatives of the MD-80.
This was only the second time since operations were reconstituted in 2002 that the company's annual profits fell.
The fourth-quarter earnings of $20.9 million, or 64 cents per share, marked a 17.5 percent gain from one year ago even though fuel again outpaced all other expenses. Revenue rose 20.3 percent to $162 million, as airline ticket sales, add-ons such as seat assignments and bookings for other travel items rose at about the same pace. At the same time the maintenance and sales and marketing budgets grew at a much lower pace than other expenses.
The 64 cents per share earnings came in below the average of 70 cents estimated by seven analysts covering the company. As a result, the stock closed down 70 cents a share at $46.54 and continued to retreat in after-hours trading.
Fuel prices, which Allegiant management expects will continue to rise, will curtail expansion plans in the coming months. In November, the company projected it would fly 6 percent to 9 percent more seat miles during the second quarter, but has now scaled that estimate back to 4 percent growth. If fuel continue on its present upward curve, that outlook could come down even more.
By contrast, the number of available seat miles rose 16 percent for all of 2010.
"Control of capacity, we have found, is the best weapon against sharply rising energy costs," said Chairman and CEO Maurice Gallagher during the conference call with analysts. "Ironically, given the performance of fuel, it appears the travel sector is better off with an economy that muddles along versus one that is aggressively recovering" because growth boosts oil demand.
Other airlines have wasted no time in raising fares to cover fuel bills, a point highlighted in their quarterly earnings announcements. But this is less of an option for Allegiant, said President Andrew Levy, because it relies heavily on tourists who are very sensitive to price hikes, while other airlines carry a higher share of business travelers who buy tickets on expense accounts.
"I don't think there is some silver bullet out there that we can just shoot and get a whole lot more money out of our customers," Levy said.
Management also commented in detail for the first time on flight attendants voting in favor of union representation in December. Flight dispatchers, however, stayed independent on a tie vote in January.
Gallagher repeated what some flight attendants noted at the time, that pay was not the friction point so much as how shift schedules were assembled.
Moreover, he did not extend an olive branch to the Transport Workers Union, which won the right to represent the flight attendants.
"In this industry and others that are heavily unionized, you ultimately end up with bankruptcy as the primary driver," he said. Later, he added, "Unionization is one of those things that clogs the arteries and makes you less quick and not as nimble as you need to be on top of your game."
However, he and several labor experts have said it could take several years before a contract is in place. Levy previewed the negotiations by cautioning that unions should not expect to include provisions that are standard at other airlines.
In the middle of last year, Allegiant instituted new compensation packages for pilots and flight attendants that helped boost salary and benefit expenses 30 percent.
Contact reporter Tim O'Reiley at
toreiley@reviewjournal.com or
702-387-5290.