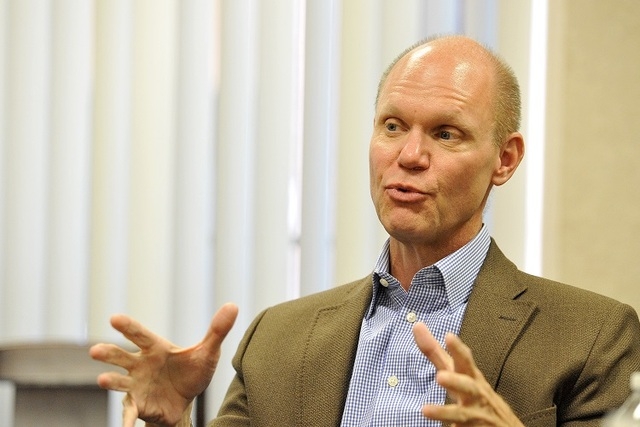 The Board of the Directors of the Las Vegas Global Economic Alliance extended for two years the contract of Tom Skancke as its president and CEO.
"Economic development and diversification are two of the most pressing issues facing Southern Nevada as this region accelerates its growth out of the Great Recession, and it's vital to have continuity in leadership as the LVGEA continues its mission," said Missy Young, chairman of the LVGEA board and executive vice president of colocation at Switch. "Tom Skancke has elevated Southern Nevada's economic development efforts, and this board has asked him to continue his valued leadership for positive change in our community."
The board first appointed Skancke during its October, 2012 meeting. At the time, Gov. Brian Sandoval and the Nevada Legislature had directed the State of Nevada to reorganize its economic development structure. Skancke, the first executive officer of the LVGEA, has been responsible for relaunching the former Nevada Development Authority as the Las Vegas Global Economic Alliance and transforming the way economic development is done in Southern Nevada.
In addition to overseeing business attraction, retention and expansion efforts in Southern Nevada, Skancke has led efforts to grow budget and staffing capacity at the LVGEA; shepherded the creation of an organizational strategic plan and a federally recognized Comprehensive Economic Development Strategy; advanced a communitywide dialogue with regard to the role of Las Vegas in the global economy; and tackled large community issues around water, transportation, and education.
"I'm glad to have the opportunity to continue the work that we've started," Skancke said. "We've built an amazing team of people to help grow Southern Nevada's economy, and I'm looking forward to the next two years of continuing the cultural shift that our community needs for long-term economic sustainability."
The board took this action during its October meeting.
■ ■ ■
ATHENA awards set
The Women's Chamber of Commerce of Nevada will host the 11th Annual ATHENA International Leadership Awards on Dec. 11, from 11:15 a.m. to 2 p.m. at the Monte Carlo Resort &Casino in Ballrooms 1, 2 and 3.
The theme for the event is "Bridge of Peace," presented by the Women's Federation for World Peace. The "Bridge of Peace" represents repentance, forgiveness, reconciliation, healing, brother and sisterhood, and new beginnings that will culminate with winners coming together on the bridge.
Net proceeds from the raffle and silent auction will be donated to the Women's Chamber WCCNV Legacy Foundation recognizing higher education scholarships for women and underprivileged high school students (male and female) and grant programs for business certification and trade schools.
For more details or information, call the Women's Chamber at 702-733-3955 or email athena@womenschamberofnevada.org. To reserve seats and VIP Tables visit www.womenschamberofnevada.org.
■ ■ ■
NYSE anniversary
Southwest Gas Corporation (NYSE: SWX) management attended the Closing Bell at the New York Stock Exchange on Oct. 20. CEO Jeff Shaw rang the bell and was accompanied by John Hester, president; Roy Centrella, senior vice president and chief financial officer; and Kenneth Kenny, vice president/finance and treasurer.
Southwest Gas common stock began trading on the New York Stock Exchange 35 years ago on July 19, 1979. In 1981, Southwest Gas became the first natural gas company to offer common stock to its customers through a stock purchase plan.
"We're pleased to mark the 35th anniversary of Southwest Gas common stock trading on the New York Stock Exchange by ringing the closing bell," Shaw said. "This is a milestone for our company and speaks to the dedication of Southwesters throughout our 82-year history who have contributed to the growth and success of Southwest Gas."
Headquartered in Las Vegas, Southwest Gas Corp. provides natural gas service to approximately 1.9 million customers in Arizona, Nevada, and California.