Amazon may be considering Southern Nevada distribution center
October 18, 2016 - 4:58 pm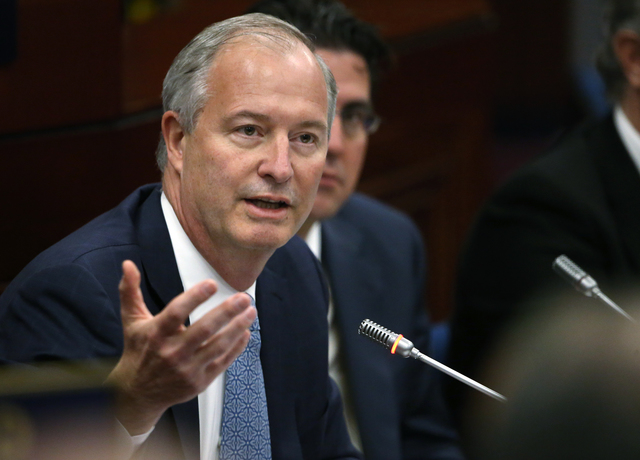 Amazon may be considering opening a distribution center in Southern Nevada.
On Nov. 17, Gov. Brian Sandoval and his office will consider tax abatements for new and existing companies to Clark County.
According to a Notice of Proposed Actions by the Nevada Governor's Office of Economic Development, which was posted late Tuesday, those companies include Amazon.com.kydc LLC, which provides warehousing and storage services.
According to Bloomberg, Amazon.com.kydc LLC operates as a subsidiary of Amazon.com Inc. and provides warehousing and storage services. Amazon.com.kydc LLC was founded in 1994 and is based in Lexington, Kentucky, according to Bloomberg.
Amazon.com Inc. is headquartered in Seattle.
The posting corroborates comments by Steve Hill, the governor's top economic development officer, made earlier this month.
Hill, director of the Governor's Office of Economic Development, said at the Nevada Economic Forum in Las Vegas on Oct. 7 that an announcement would be made on two companies that would bring more than 1,400 jobs to the Southern Nevada region. At the meeting, Hill said one company is "a big brand name" and the other is a "really exciting company."
Hill and other economic development officials have repeatedly declined comment.
Officials with the Las Vegas Global Economic Alliance also declined comment.
Other companies to be considered on Nov. 17 include The Honest Company Inc., which was founded by actress Jessica Alba and sells nontoxic household products; CML Media Corp, which builds mobile responsive websites for small businesses; Superior Duct Fabrication Inc., which manufactures duct work and sheet metal products for the heating, ventilation, and air conditioning industry, as well as industrial dust collection and exhaust systems; and Slice of Life LLC.
A Review-Journal source said two of the listed companies would locate in North Las Vegas.
Review-Journal reporter Art Marroquin contributed to this report. Contact Nicole Raz at nraz@reviewjournal.com or 702-380-4512. Follow @JournalistNikki on Twitter.