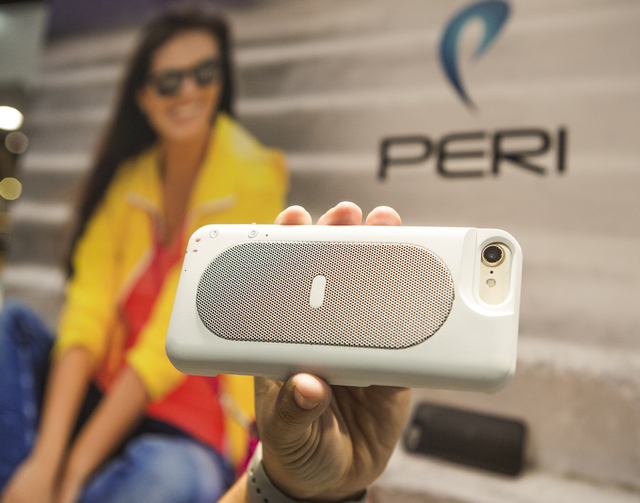 Enter a room looking at an exo-bionic racing robot, and end up on the other side with 3-D-printed cars.
A wide array of gadgets awaited visitors at CES 2017, the mammoth trade show that is expected to draw 175,000 this year.
The 50th anniversary version of the electronics trade show had more items to peruse than ever before.
Among the 3,800 exhibitors across 2.5 million square feet, these are some of the items that stood out.
KSCAT headphones
Listen to music while you swim.
"It has Bluetooth and MP3. Two in one," said Mingjun Chen, with Shenzhen RDT Digital Technology Co. Ltd, which is behind the KSCAT (pronounced "kiss-kat") brand.
The device can store 8 GB of data, which translates to about six hours of continuous MP3 play.
Triple layered earbuds block water from going into the ear canal and protect audio quality.
The headphones have a secure, snug but comfortable fit around the back of the head, freeing up hands for out-of-water Bluetooth-enabled wear as well.
Polaroid Loop Home Security System
Posting photos to your Facebook account while on vacation can be an invitation to criminals to break into your home. To keep your mind at ease whether your are 10,000 miles from home or just 10, Polaroid Hoop offers an easy-to-use and affordable home protection system. The stylish, wide-angle cameras shoot at 1080p, have a capture range of 140 degrees and are embedded with sensors to detect movement.
When the camera captures an event, a notification is sent to the homeowner's phone via Polaroid Loop's app. The homeowner can then stream live footage. Several cameras can be set up around the home and accessed via the app. What distinguishes Polaroid Loop from competitors is an algorithm that enables it over time to distinguish between normal movement at home and unusual activity. The camera retails for $199.
Duo Slim iPhone Speaker and Charging Case
The iPhone offers many features, but quality audio isn't one of them. And while you can attach your phone via Bluetooth to high-fidelity speakers, that isn't convenient if you are going for a walk in the park. California-based PERI has developed an affordable, compact solution by integrating a stereo system into a standard iPhone battery case. Billing itself as "two accessories for the price of one,'' the Duo Slim will retail for $129 for the iPhone 7 and $149 for the iPhone 7 Plus. However, shrewd buyers can order one for as little as $69 through Kickstarter. The backside of the Duo Slim contains two circular, silver speakers offering rich sound. It turns your iPhone into a 100-decibel boombox while giving 100% battery backup. The Duo Slim is an Apple-certified product.
Speck Presidio iPhone case
Drop your phone from 10 feet high and your phone is supposed to survive unscathed.
At Speck's booth people lined up to have a go at making a phone take a nosedive. Throw a beanbag at the right spot, and a crowd clapped their hands as the phone hit the ground.
Speck spokeswoman Carly Rickards said the company discovered a new shock-absorbent material, called IMPACTIUM.
"When the phone falls it absorbs the fall really nicely and there's some geometry inside the case that kinds of acts like springs, so when you drop the phone you'll be protected," Rickards said.
Denso barista robot
At the display for Japanese manufacturer Denso, the smell of roasted coffee beans guided many passers-by past an autonomous three-wheeled bike and other items from the auto parts maker.
The trend in all industries is more and more machines replacing humans, and now, based on the quality of the coffee brewed by Denso's Cobotta robot, the Starbucks and local coffee shops of the world should take pause.
Two robot arms packed and shook the grounds into a bitter brew for six spectators at a time. The robot is meant to help people accomplish tasks, from cooking to conducting lab research.
HPB hand-motion blender
The focus of Taiwanese manufacturer HPB Optoelectronics' display for its hand-gesture recognition technology was meant to show passers-by how they can take a call from their car with a wave and control volume with a twirl of their finger.
But it was a blender filled with pink liquid — orange juice, insisted HPB worker Yiwen Huang — that attracted the eyes and delight of CES visitors.
Carlos Martinez de Leon, a partner at Mexican investment fund EFM Capital, laughed when a roll of the wrist clockwise sped the blender up and a roll the other direction slowed it down.
In a car, those movements would raise and lower call volume, respectively.
"That is so cool," CES attendant Weidan Fan said when an HPB worker waved her hand to the right to shut the blender off, the waved her hand up to turn it on. The rightward hand wave ignores or hangs up a call in a car. The upward wave answers.
The technology works in the dark and senses movement at least 4 inches away.
Produced by the Arlington, Virginia-based Consumer Technology Association, CES 2017 concludes Sunday.
Contact Wade Tyler Millward at 702-383-4602 or wmillward@reviewjournal.com. Follow @wademillward. Contact Nicole Raz at nraz@reviewjournal.com or 702-380-4512. Follow @JournalistNikki on Twitter. Contact Todd Prince at tprince@reviewjournal.com. Follow @toddprincetv on Twitter.