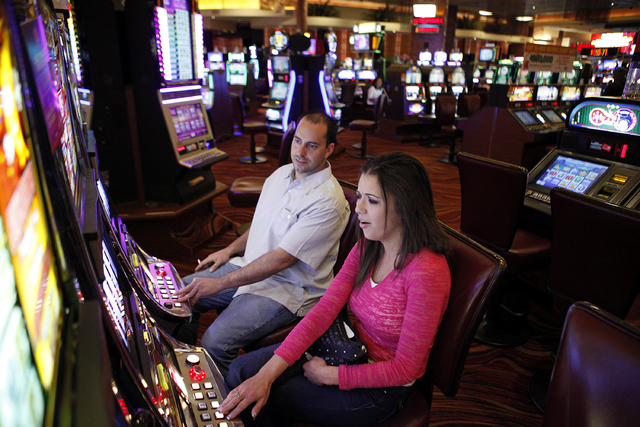 Baccarat helped boost Strip gaming revenue to a second-straight monthly double-digit increase in September, but analysts told investors not to read too much into the results.
The house again played lucky.
Fueled by a larger-than-average hold percentage in baccarat, casinos throughout Nevada collected $958.8 million from gamblers in September, a 7.4 percent increase compared with September 2012.
The Gaming Control Board reported the results Thursday.
On the Strip, gaming revenue increased 13.4 percent to $563.1 million.
September's results followed an 11.17 percent increase statewide in August, which included a nearly 20 percent increase on the Strip.
Baccarat was the primary revenue provider.
On the Strip, casinos collected $115.5 million from the game, an increase of 49.1 percent compared with September 2012. Betting on baccarat increased 7.6 percent to $734.9 million. Casinos held an abnormally high 15.72 percent of all wagers on baccarat, compared with 11.35 percent last year.
"We view the headline as somewhat misleading, given the result was aided by luckier house play," Stifel Nicolaus Capital Markets gaming analyst Steven Wieczynski told investors. "Strip baccarat volumes continue to prove resilient. The positive baccarat volume performance was offset by generally underwhelming slot volumes."
Gaming Control Board Senior Research Analyst Michael Lawton said the Strip's $66.3 million one-month revenue increase was the result of two games; baccarat (up $38.1 million from a year ago) and blackjack (up $28.7 million).
"Some of it was given back in other games, but baccarat is really driving the results," Lawton said.
Casinos statewide also had a good month in sports wagering. A single-month record $337 million was bet on college and professional football and the sports books held 8.92 percent of the wagers. However, the comparison to an abnormally high hold percentage in September 2012 of 13.9 percent meant the actual revenue from football betting fell by $15.6 million.
For the first nine months of 2013, gaming revenue statewide is up 1.4 percent over 2012. Strip gaming revenue is up 3.3 percent.
Newmark Grubb Knight Frank Director of Gaming Consulting Brent Pirosch said Nevada is bucking a nationwide trend of declining casino results in regional markets.
"State gaming revenue figures continue to be weak," Pirosch said. "Nevada, Kansas, and Louisiana are still the only commercial casino states marking gains in 2013 thus far, while other states are looking at either greater declines or reversal of gains from year-to-date 2012."
The Nevada gaming revenue results for September were released the same day MGM Resorts International reported third quarter earnings. Analysts said the company, which operates 10 resorts on the Strip, provides the best insight to the economic recovery in Las Vegas.
Wieczynski said the Strip is well-positioned to build on visitation trends and a momentum for gross gaming revenue.
"While the Strip's recovery appears to be in full swing, we believe an encouraging 2014 group and convention outlook and strong events calendar could accelerate the improving trends," he said.
In September, Clark County as a whole saw an 8.74 percent increase in gaming revenue. The Strip's results were offset by losses in Laughlin, Mesquite, on the Boulder Strip and the balance of Clark County.
However, downtown Las Vegas casinos experienced a 2 percent increase in gaming revenues while North Las Vegas casinos saw gaming revenues jump more than 14 percent.
Northern Nevada gaming revenue totals were mixed. Washoe County, which includes Reno, saw gaming revenue fall 4 percent. However, South Lake Tahoe's casino market saw gaming revenue increase 23.2 percent.
Gaming taxes collected in October based on September's revenue were $62.9 million, a decline of 11.5 percent. For the first four months of the fiscal year, gaming tax collections are down down almost 3.4 percent.
Contact reporter Howard Stutz at hstutz@reviewjournal.com or 702-477-3871. Follow @howardstutz on Twitter.