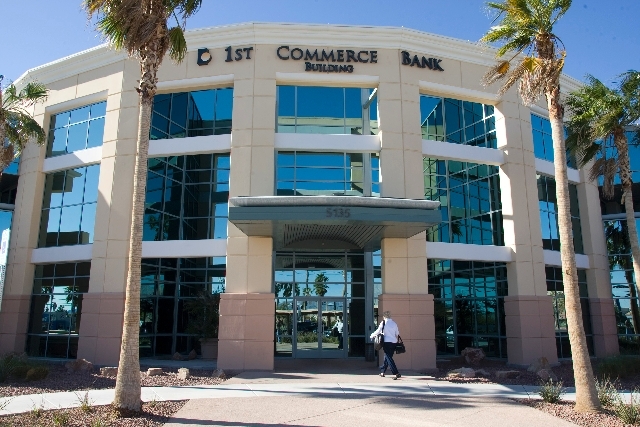 At one time Capitol Bancorp Ltd. owned some 60 banks. But the real estate bust tied to the recession and regulators demanding they raise badly needed cash have seen the company that owns Bank of Las Vegas and 1st Commerce Bank in North Las Vegas shed dozens of affiliates in the last four years.
Since 2009, Capitol Bancorp has lost $475.6 million and is now seeking to sell its Southern Nevada banks along with six other banks, according to a liquidation plan filed late Tuesday with the Securities and Exchange Commission.
"We have always been in play," Pete Atkinson, president and CEO of Bank of Las Vegas, said Thursday. "There hasn't been a lot of interest in Nevada in the last four years. We see some interest now."
The 130-page plan must be approved by the federal bankruptcy court in Michigan and by Capitol's shareholders. Capitol filed Chapter 11 re­organization in bankruptcy court in August.
Capitol spokeswoman Angela Kimber was unavailable for comment.
Capitol warned if the liquidation plan is not approved, it would consider converting to Chapter 7 liquidation under the bankruptcy code, the filing said.
As of Wednesday, the Lansing, Mich.-based company had consolidated assets of $1.28 billion.
"If the plan is not approved, it is likely Capitol will not be able to raise new money and FDIC (Federal Deposit Insurance Corp.) receivership of additional banks is probable," the filing said.
The bank holding company also owns Sunrise Bank of Arizona, Indiana Community Bank, Michigan Commerce Bank, Summit Bank of Kansas City, Sunrise Bank of Albuquerque and Bank of Maumee in Ohio.
Capitol noted that many of its subsidiary banks have "experienced capital erosion" resulting from the general economic downturn of the past few years.
In its SEC filing, the company said a number of its banks "are dangerously close to failing to meet the minimum capital requirements necessary to avoid seizure of the banks by the FDIC."
The FDIC is legally required to seize banks that fall below 2 percent in Tier 1 capital ratio.
The filing added that banking regulators want to see an 8 percent Tier 1 capital ratio at its banks that are under federal regulatory orders.
Bank of Las Vegas and 1st Commerce Bank are among the five Capitol banks with FDIC consent orders to raise their capital ratio levels.
As of Dec. 31, Bank of Las Vegas posted a Tier 1 capital ratio of 2.60 percent, while 1st Commerce Bank stood at 2.77 percent, according to the FDIC.
Atkinson said Bank of Las Vegas posted net income of $189,000 in the first quarter, its first profitable quarter since June 2009.
"We still need to raise capital," Atkinson said. "We have been very fortunate, the bounce in the real estate market has allowed us to make some gains."
In January 2010, the recession forced Capitol to merge Desert Community Bank, Red Rock Community Bank and Black Mountain Community Bank into Bank of Las Vegas. Capitol opened 1st Commerce Bank in 2006.
Since May 10, regulators have closed three Capitol banks in Arizona, Georgia and North Carolina.
In its filing, Capitol warned the FDIC could use cross-guarantee liability provisions or assess those losses against the remaining banks to recover any losses.
"Such a liability would have a material adverse effect on the financial condition of any assessed subsidiary institution and on Capitol as the common parent," the company said. "Such liability could also have a material adverse effect on Capitol's ability to emerge from bankruptcy."
Capitol said two other subsidiaries "are currently involved in proceedings with state regulators regarding their potential closures. "
The filing did not name those two banks.
Contact reporter Chris Sieroty at csieroty@reviewjournal
.com or 702-477-3893. Follow @sierotyfeatures on Twitter.