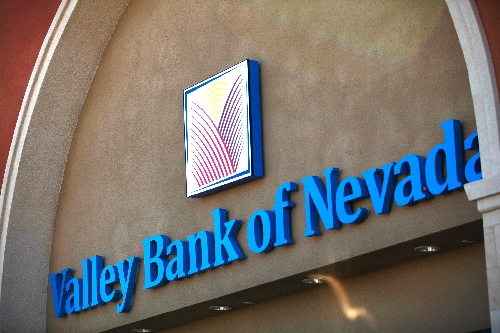 Bank of North Las Vegas is history. The bank, which opened six years ago, has been replaced by a more familiar name to longtime residents of Southern Nevada.
The single-branch bank opened for its first day of business Thursday as Valley Bank of Nevada, which was the name of a bank that operated locally for 40 years until its was purchased by Bank of America in the early 1990s.
James York, president of Valley Bank of Nevada and founder of BNLV, said the name change reflects his goal of further serving the region outside its North Las Vegas base. He said the bank's executive offices would be moved to downtown Las Vegas, although he did not announce a location for the downtown offices.
"Valley Bank is only considering moving executive offices for now. Branch locations will be developed down the road as the economy recovers."
In recent months, bank officials had considered a second branch in Henderson or Summerlin by 2013.
The name change, new signage and downtown headquarters were completed at the same time the bank is working through its stock offering trying to raise $5 million in new capital.
The offering is for $3 per share with a minimum investment of $15,000 and a maximum investment of $1 million. It is limited to investors with a minimum net worth of $1 million or an annual income of $200,000.
The offering was set to expire on April 15. York said the stock offering would continue until the end of the year.
"We have raised $2 million so far, and new money continues to come in," York said. "The new capital is for loan growth. Valley Bank has been putting about $1 million per month on the books since June."
He said the name change pays tribute to Valley Bank's once thriving past.
"Because of their vision, they ushered in a whole new way of doing things," York said. "We believe in the spirit of those early innovative banking principals, that's why we took on the Valley Bank name."
He said the community bank was "committed to supporting valley businesses" with equipment or construction loans. Founded in 2005, Bank of North Las Vegas, and now Valley Bank, has more than $82 million in total assets.
The name change was announced in March. York said he has been "very pleased" with the response from the community to the decision to rename the bank.
E. Parry Thomas and his late partner, Jerome "Jerry" Mack, built the original Valley Bank in the 1950s by making loans to casinos, before he sold the company to Bank of America.
The Valley Bank name emerged for a second time in 1998, when Barry Hulin opened a branch in Henderson. Community Bank acquired the second Valley Bank in 2006.
Contact reporter Chris Sieroty at csieroty@reviewjournal.com or 702-477-3893.