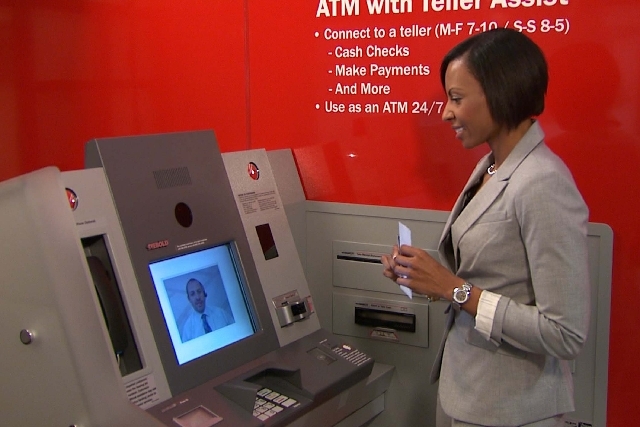 Bank executives who oversee automatic teller machine operations in Las Vegas know that with new technologies, consumers are slowly shifting away from visiting local branches and relying on mobile or ATMs to meet their financial needs.
The ATM has undergone multiple technological enhancements in recent years as banks look to improve operational efficiency and customer service.
"We needed to refresh our ATMs," said Alicia Moore, head of ATM Banking with Wells Fargo & Co. "We felt it was necessary to keep up with consumer demand. The customer feedback we received was that they wanted faster ATM transactions."
Wells Fargo, which operates 81 branches in Southern Nevada, upgraded 12,000 ATMs nationwide this year with a layout that is easier to use, Moore said.
She said the new software allows Wells Fargo to include "favorites" that appear in green based on a customer's ATM use, as well as a customized screen based on their preference. The upgrades also include a balance dashboard for updates of their most used accounts.
"It took us a couple of years to develop and then to start rolling out," Moore said.
Several other major banks, including U.S. Bancorp, City National Bank, J.P. Morgan Chase & Co. and Citigroup Inc., are upgrading their ATM networks in Las Vegas or have plans to do so in the near future.
The original ATM concept was to eliminate or reduce the need for a human teller to assist with customer transactions. Moore said consumers today do more "withdrawals and deposits at ATMs than with tellers."
However, banks are considering adopting a new feature to its ATMs — actual human tellers.
Bank of America is among the first to roll out new ATMs with Teller Assist, a feature that allows customers to video chat live with a remote teller. The bank introduced its first new ATM in Boston in April.
The bank has plans to introduce the ATMs at banking centers in select U.S. markets this year and in 2014, but cities and locations have not yet been released, a company spokeswoman said.
Customers using the new ATMs will be able to call the remote teller for services that a machine is unable to provide, such as cashing checks for their exact amount, including change, and getting a withdrawal in smaller denominations than the usual $20 bills.
Bank of America also is planning to offer customers the option of paying their credit card bills from the ATM, as well as splitting deposits across multiple accounts.
"There is a lot of movement toward video tellers," said Moore, of Wells Fargo. "We are taking a look at them. It's about using technology to create the right customer experience."
Nevada State Bank operates 63 ATMs statewide.
Ken Lee, senior vice president and property management manager with NSB, said that the bank has been shown the new ATMs, but that the concept is something to consider in the future.
Nevada State Bank would add a call center with video to handle the new ATMs, Lee said.
Vince Hruska, senior vice president of product management at City National Bank, said the bank sees the new ATMs "as another convenience."
City National operates nine ATMs in Nevada.
Hruska said the video access will allow City National to offer more than teller services, branching out to financial advisers and other client services.
"We are exploring those options," Hruska said. "We are not located on every street corner. ATMs help us provide as many touch points as possible for our clients."
Other ATM improvements starting to be rolled out in Las Vegas and nationwide include varying bill denominations, cardless ATM access and the ability to make credit card or loan payments.
Citibank and Wells Fargo are two banks that let customers receive a digital ATM receipt via email, eliminating the use of paper and those ugly piles of receipts that end up on the floor next to the automated teller machine.
Contact reporter Chris Sieroty at csieroty@review journal.com or 702-477-3893. Follow @sierotyfeatures on Twitter.