Barclaycard has a new landlord in Southern Nevada.
American Nevada Co. sold the credit card company's two office buildings in Henderson last month to New York investors.
The buildings, off Green Valley Parkway and the 215 Beltway, are home to a Barclaycard call center. Both are two stories and fully occupied by the company, American Nevada President Phil Ralston said.
One building, 2280 Corporate Circle, is about 54,000 square feet, and the other, 2290 Corporate Circle, is around 64,000, he said.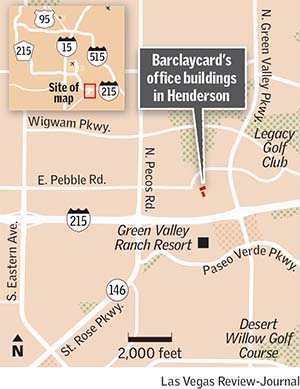 New York-based Gramercy Property Trust acquired the buildings, and records indicate that it teamed with TPG Real Estate on the deal.
The sale closed Oct. 25.
Property records show the buildings sold for $36.3 million combined. Ralston said the total sales price was actually $23.9 million and that he wasn't sure why county documents indicated the larger amount.
Gramercy and TPG announced in September 2016 that they had formed Strategic Office Partners to build a portfolio single-tenant office properties in high-growth metro areas. They set out to acquire up to $1 billion in assets over a three-year period, according to the news release.
Ashley Mancuso, vice president of investor relations and capital markets at Gramercy, confirmed the purchase with TPG. She referred additional questions to a Gramercy official who did not return calls seeking comment.
TPG declined to comment.
Barclaycard, the payments business for British lender Barclays Bank's U.S. operations, announced in 2013 that it would open a customer service center in Henderson and that the facility would employ 1,000 people when fully operational.
The center opened in 2014.
Zappos occupied Barclaycard's buildings before the online retailer, led by CEO Tony Hsieh, moved to the former Las Vegas City Hall in 2013.
DeAndre Esteen, assistant vice president of community relations at Barclaycard, said it appears the recent sale would not affect the company's operations.
"We're still business as usual," he said.
This story has been updated to include comments from Barclaycard.
Contact Eli Segall at esegall@reviewjournal.com or 702-383-0342. Follow @eli_segall on Twitter.