Bells jingle, registers, too
December 14, 2010 - 12:00 am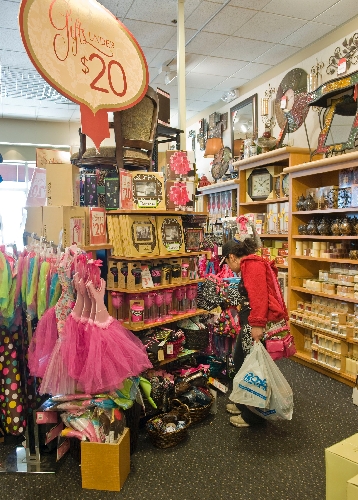 Now that the rush for Black Friday's doorbuster deals has subsided, retailers are worried about sustaining robust holiday sales in an environment of cautious spending and budget consciousness.
Pete Torsiello, owner of Sideline Sports apparel and memorabilia stores in Las Vegas, had his employees stocking inventory and rearranging floor displays during an afternoon lull at his Boca Park Marketplace location.
Retail business is coming back, Torsiello insisted. He wouldn't divulge specific figures, but he said sales have been strong throughout the football season.
The National Retail Federation projected a 2.3 percent increase in holiday spending this year and most retailers reported strong sales and traffic on Black Friday and the following weekend.
Big-box retailers such as Costco Wholesale Corp., Best Buy and Wal-Mart Stores benefited from an improved consumer attitude as people lined up for Black Friday sales. Cyber Monday, the heaviest day for online shopping, posted more than $1 billion in e-commerce orders, Reston, Va.-based ComScore reported. For the holiday season to date, more than $17.5 billion has been spent online, a 12 percent increase from last year.
How long will that enthusiasm last? As long as people feel confident about the economy, retail analyst Brian Sozzi of New York City-based Wall Street Strategies said.
Positive news about the nation's unemployment claims and a healthier housing market may boost holiday spending, he suggested.
"I think it'll be a little better than the retail federation's number," Sozzi said Friday. "I wouldn't be surprised if it's up 3.5 percent to 4 percent. There's a lot of pent-up demand, especially on the East Coast because of the weather."
After two years of buying socks and toasters for Christmas gifts, Americans are opening their wallets for jewelry, electronics and luxury items this holiday season, several retail reports suggest.
"A lot of people went more cautiously in 2009," Sozzi said. "They saved up and now they're loosening up with their savings. They're going out to buy maybe a few extra gifts for their family and they're self-gifting, maybe not a Movado watch, but maybe a couple of shirts."
Consumers may be spending more, but they're still looking for deals.
Nicole Compton was shopping at Target for Christmas decorations and video games. She plans to spend an equal amount on Christmas gifts this year, but she's already in the hole for $300 on decorations and probably has $100 more to go.
"We just moved into a new house, so we had to start over with the decorations, just getting everything new," the shopper said. "We'll decorate more, but the presents will be about the same. Every year you say, 'Nobody needs anything,' then you end up splurging."
Spending can be contagious and sometimes people "go mad" buying gifts to impress family and friends when they really can't afford it, said Damian Falcone, president of Falcon Credit Management in Las Vegas. A shopping binge can lead to a credit binge, which brings a miserable new year, he said.
"I think people are in the habit of going over their Christmas budget by 20 (percent) to 50 percent," Falcone said. "People do speak about not spending so much. It seems like they're more concerned about it. Making a Christmas budget used to be fun. When people talk about it now, they feel the pain before they normally do."
Falcone said he has "problem clients" like an unemployed casino worker with more than $1 million in extended credit.
"If she got credit, there was no regulator," the credit manager said. "You don't want to go from having a high credit score to an average credit score just because you participated in a Christmas spending frenzy for one or two months of the year."
Ally Bertrand, assistant manager for Wet Seal, a young women's clothing store at Boca Park, said customer traffic has been good, considering the store just opened in late October. She came from the Las Vegas Outlet Center on Las Vegas Boulevard, which picks up a lot of business from tourists.
Holiday dresses for Christmas and New Year's Eve parties are popular sellers at Wet Seal, Bertrand said. Sequin tank tops are on sale for $16.50 and nothing in the store costs more than $39, she said.
Retail analyst Sozzi said boot makers have a lot to cheer about this holiday season. Women's duck boots from Coach and Decker's Outdoor are displayed front and center on tables at leading department stores.
"The main trends I see — outside of a touch more style from the omnipresent Uggs for women and kids — are within the men's category and revolve around the classic chukka," Sozzi said. "Some designers are playing off the military chic theme occurring in apparel, while others have elevated the chukka to a position in which a pair could be worn proudly to work."
Contact reporter Hubble Smith at hsmith@reviewjournal.com or 702-383-0491.