Better by the slice: Hsieh traces genesis of business operations to pizza
August 12, 2013 - 6:13 pm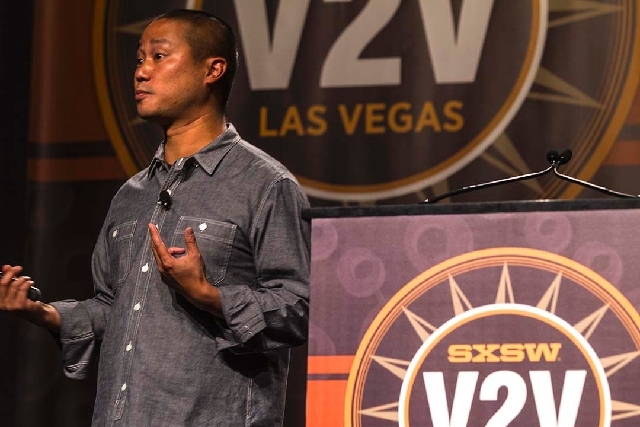 The story begins with pizza.
In college, Zappos CEO Tony Hsieh and his friend won a bid to operate a pizza restaurant in their dormitory at Harvard.
One friend, Alfred Lin, who was known for his large appetite, would sometimes order a large pie to go. On other occasions, after having already ordered a pizza, he would return hours later and order another.
Although Lin was known as "human trash compactor" and "monster" for his appetite, even two large pizzas in an evening seemed suspect.
"Alfred was taking the pizzas upstairs and was selling them off by the slice," Hsieh told the audience. "That's why he became our CFO."
Hsieh was the first keynote speaker at SXSW V2V, a first-time South by Southwest conference that connects venture capitalists and entrepreneurs. The conference is being held at The Cosmopolitan of Las Vegas through Wednesday.
During the hourlong speech to about 900 people, Hsieh outlined his work history, from the pizza parlor to LinkExchange where he made his first millions, to VentureFrogs venture capitalist fund to Zappos, where he has remained since 1999.
In 2009, Amazon bought Zappos for $1.2 billion, but the company's culture has remained intact.
Hsieh recommended two books. "Good to Great" by Jim Collins and "Tribal Leadership" by Dave Logan and John King, which he says would have saved Zappos a lot of time in shaping his company.
Success, he said, comes down to company culture and vision that has a higher purpose beyond profit.
"Don't chase the paper, chase the dream," Hsieh said, quoting rapper Sean "P Diddy" Combs.
The rest of the presentation focused on Downtown Project's mission, a community-investment plan Las Vegans are already well versed in, with one small change.
Rather than a goal of 100 people per square feet, Downtown Project now aims to bring 1,000 "collisionable community hours," or hours where residents might cross paths and generate new ideas.
Most innovation comes from principles from outside your industry being applied to your own line of work, said Hsieh, who wore jeans and a blue button-down shirt.
Hsieh told the crowd about the Downtown Project's plan of investing $200 million in real estate, $50 million in education, $50 million in small businesses and $50 million in startups. He said 30 startups have relocated to Las Vegas to be a part of the project.
He mentioned the opening of Eat restaurant, Coterie clothing boutique and the Container Park, which is under construction.
He gave an overview of Downtown Project's weekly speaker series, which includes Las Vegas "subscribers," or people who don't live in the city but visit regularly to participate.
He also explained the project's themed weeks.
The first week of the month focuses on First Friday, the second tech, the third fashion and the fourth is catalyst week.
Finally, Hsieh shared a motto he hopes will catch on among Las Vegas visitors and residents: "Downtown Vegas will make you smarter."
It's not something a person would expect from the land best known for gambling and showgirls, he knows, but it's the goal.
"I can't wait to see what happens next," he said.
Contact Review-Journal writer Kristy Totten@Review journal.com.